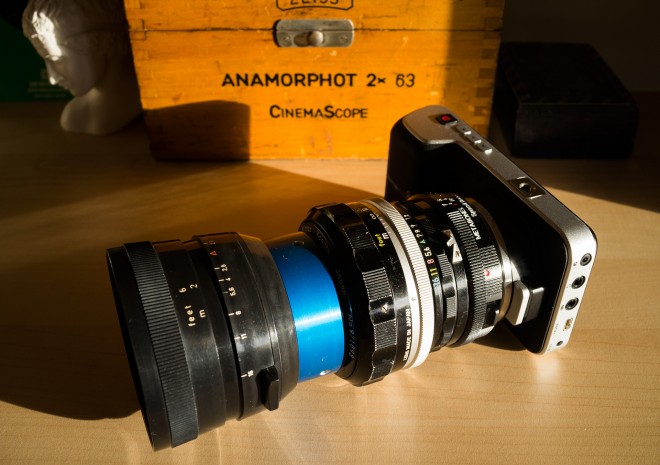 Beware! This review is LONG! Have ten cups of coffee at the ready, or print it out and give it as a (late) Christmas present to someone you don't like.
The Blackmagic Pocket Cinema Camera is already good, we've established that much. But what's really making this a unique camera what is going on around it.
It may seem in some ways like a limited and incomplete camera compared to something as well rounded (and on its third generation) as, say, the Panasonic GH3. When you step back and take a birds eye view of things though, the Pocket clearly has a unique place in the filmmaking world.
'Small' shouldn't have to mean less powerful. Given another 2 years of development and double the price, could the Pocket camera have been even better? If not quite as ridiculously cheap I am sure it would have been even better already! Had it been so I'd still have bought one at $3000 let alone $999. I've love to see a premium version of this, with a 4K Super 35mm sensor and global shutter – mainly because I dislike the form factor Blackmagic chose for the larger cameras but love the form factor they chose for the Pocket.
Big is not always better though. The Super 16mm sensor size they chose for the Pocket works wonders when paired with the Metabones Speed Booster designed especially for it. The world is going large sensor, high frame rate crazy and 4K-ready but there's still a lot of stories you can tell with 1080p on the Pocket Cinema Camera.
And tells them it does – beautifully.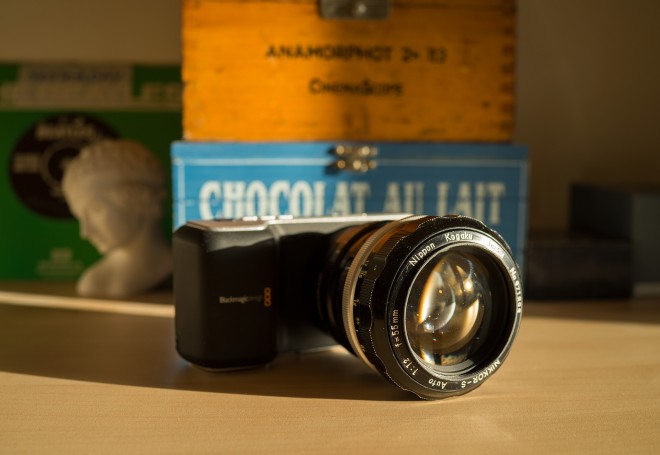 The role of the Pocket Cinema Camera
Let's get the obvious out of the way first. For most commercial shooters it won't be a C100 or C300 replacement. Those who rely on the proven convenience and workflow offered by Canon and Sony's pro line-up, along with built in NDs and professional audio will probably not want a Pocket as their A-camera. (Despite it having more dynamic range and less compression than the C300's image!
Nor is it isn't a substitute for a heavily rigged up camera you put on your shoulder. Choose the BMCC for that instead. Having a small and light camera and making it big and heavy just seems pointless! If you're going to hook up a huge battery and shoot hours and hours of footage in fact, why not just use the original BMCC 2.5K? In fact for hours of footage a compressed codec is handy, so a Sony FS100, Canon C100 or a GH3 might be better suited to filming live events for example.
So is it a DSLR replacement for video? Now things get complicated. It is not full frame like a 5D Mark III and it doesn't have as complete a feature-set as the GH3. What it does do is offer convenience and a big step up in video quality from pretty much everything else DSLR-related. That it does so at $999 is pretty amazing.
When you look at some of the silly flaws like auto-iris (see later) and the smaller than really necessary Nikon batteries, remind yourself that shooting muddy 8bit mush full of moire and aliasing is a much bigger flaw on something like a Canon 70D. A few misplaced buttons on a camera that shoots footage akin to a digital film negative for $999? I'd take the shorter battery life thanks! In terms of what has the bigger impact on the end result and the image, I'd take the Pocket over just about any DSLR (with a few exceptions) for almost any task. The exceptions would be full frame (for that I'd use the 5D Mark III with Magic Lantern raw video or Sony A7R) and compressed codec (for that I'd use the feature packed GH3 or pocket sized GM1).
No it isn't perfect (no camera is) but the Pocket is a free pass into the world of pro image quality for those who thought DSLRs were good enough. Most of them are not good enough any more. Sell your 60D and get the Pocket instead!
Magician's bunny
The making of this camera really is in the lenses, accessories and software.
ProRes onboard the Pocket invites a convenience factor and it's an invitation to get your edit done faster. I have found through using raw on the 5D Mark III and original Blackmagic Cinema Camera that huge dollops of time get lost in post. The image is just constantly begging to be changed and pushed one way or the other. With the Pocket, skipping transcoding altogether and popping a Film Convert filter over the ProRes which you've just dropped directly into Premiere greatly pleases the instant gratification monkey in me.
With raw I usually make my own presets and LUTs Resolve anyway and apply them to an entire sequence. Film Convert Pro does this for you and does it well. The Pocket has the convenience of a GH3 with the image quality of 10bit 4:2:2 at 220Mbit. Grading raw is an expert job and I am a filmmaker not a colourist. I love raw but Film Convert is a massive time saver that anyone can get to grips with in seconds.
Next to add to the mix there's the new Zacuto Z-Finder and other loupes on the way (like from Kinotehnik) which gives you a much steadier way to handle the camera, whilst staying true to what the pocket form factor is all about – fuss free, lightweight shooting with no spidery arms and monitors attached.
[vimeo]http://vimeo.com/81566323[/vimeo]
As a director / cameraman doing both roles, you really feel liberated by this. You're basically directing 100%. You are recording with a director's viewfinder. That makes the Pocket a very pure filmmaking tool, one that gets out of the way to an almost invisible degree, even so far as removing tripods from a set. With Warp Stabilizer or Lock and Load, you can control in post just how much of a handheld feel you want. Lock and Load is so powerful it's able to mimic a tripod pan or tilt.
[vimeo]http://vimeo.com/80418498[/vimeo]
It still helps to have a steady hand though as the more violent the movement the more of a crop and blow-up will be needed, and that isn't good for the image. Of course you still can't do very audacious shots without a rig but then this isn't what the Pocket is about for me. It's about pure directing. Pick up your own camera like Lars Von Trier and shooting the scene.
Then we come to the next vital ingredient in making the Pocket work wonders – it's the Metabones Speed Booster designed especially for the Pocket Cinema Camera. The low light capabilities at F0.74 and ISO 1600 are really quite unexpected. Here it resolves more than the human eye in pitch black darkness. The low light abilities of the Canon C300 and Sony FS100 were big attractions to me and I thought I'd be sacrificing this going to the Pocket. Not so!
Even by the best Super 35mm low light cinema standards (usable ISO 6400 at F1.2), the BMPCC's ISO 1600 and F0.74 satisfies my lust for natural light shooting and the moody beauty you can get with it.
Again, this low light ability gives you a natural way to shoot, unburdened by the complexity and bulk of lighting an outdoor location with Arri lights and a generator. Let's be clear here. That isn't a statement to the effect of "lighting isn't important". The light still matters TONS. It's just that the light already exists and the Pocket is capable of capturing every subtlety of it. Good natural light is quite rare and can be challenging to chase and to fit your shooting schedule around but it's very rewarding when you get it right. I'd rather be chasing good natural light and locations than to be stuck setting up a lighting rig or transporting extra gear around with me.
Added to the mix next is an innovation that will last a decade – the Sigma 18-35mm F1.8 is the first zoom I've ever had success with on any camera for filmmaking. The reason is simple. It is as good as using a set of three primes. There's absolutely zero trade off for it being a zoom. The aperture is fast. It is constant. It is sharp. Incredibly sharp with Speed Booster. I'm talking Leica and Zeiss sharp wide open and Angenieux Optimo sharp when stopped down just slightly by half a stop. This lens is not cheap but it's worth every penny to say the least.
Check out the EOSHD Sigma 18-35mm review here

I'm also a big fan of the BMPCC cage from Wooden Camera though I've not had the chance to own one long-term yet. I have the BMCC cage from them and the materials, build and design are all top notch. Just adding a top handle to the BMPCC and giving it a few extra mounting points makes it much more useful ergonomically. Wooden camera have understood that keeping the size and weight down is the whole point of a Pocket camera.
You can of course rig it up however you like. Here's an early try of mine – with Wooden camera top handle and Kinotehnik LCDVFe, used as a small lightweight articulated monitor. I've since dumped the Roland R26 audio recorder on top – it really needs to be handled by a separate operator and not as part of the camera.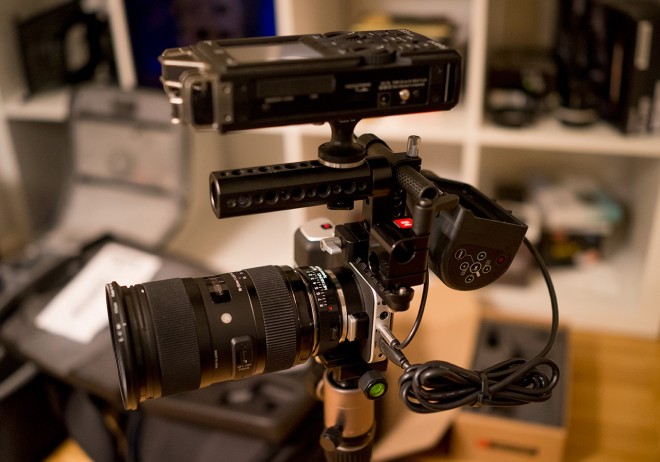 Picture making box
So the camera has barely been around for a few months and all this magic has happened around it. There's still more to come. I'm just waiting for a really good, compact handheld battery grip to be added to that list.
Let's look at the fundamentals, that apply to any cinema camera. The codec is stronger than what Canon will give you for $15,000. The sensor is never 'too small' with Speed Booster, it's much closer to Super 35mm giving you plenty of control over depth of field. Exposure is not a problem even in low light thanks to Speed Booster. Focus is rarely an issue with a peaking system that works far better than on DSLRs and the new loupes coming onto the market. A fast workflow is never a problem with ProRes and Film Convert. A endlessly creative and immersive workflow is also an option if you shoot raw and use Resolve 10 to grade it.
Audio is the only major weakness of the camera.
The internal pre-amps are poor, the circuits are noisy, monitoring it is tricky and there's hardly any audio features.
But considering how much hassle, manpower, time and expense is saved with other areas using the Pocket in a pure directing sense like a viewfinder with a record button, it isn't much to ask to have a sound guy on location with you.
For basic interviews with a shotgun mic you're better off with a Canon C100 or C300 but for documentary and short-film stuff you would need crew members dedicated to the job of sound anyway, so the fact that the internal audio circuitry on the Pocket isn't really very good, kind of fades in significance.
To raw or not to raw – and why not just use the 5D Mark III for Cinema DNG?
For those shooting on DSLRs which are anything other than special or exceptional (like 5D3 Magic Lantern and GH3), remind yourself that no F0.74 DSLR glass exists, that Cinema DNG raw and Resolve 10 are a potent mixture and that the Blackmagic's image quality is in a different league with 13 stops of dynamic range and 10bit 4:2:2 colour, with crisp resolution and fine detail.
So for me, to upgrade from something like a Rebel to the Pocket for video is a no-brainer. It's more of a dilemma when it comes to choosing between a raw camera or the Pocket Camera and using ProRes.
Raw on this camera is not quite the must-shoot that it is on the 5D Mark III (to avoid H.264 mud) or on the BMCC (to gain the 2.5K resolution). That you don't really need to shoot raw on the Pocket camera is kind of a relief, especially for my hard drives.
[vimeo]http://vimeo.com/79160137[/vimeo]
The ProRes files are just so nice looking and so good to grade from the built in LOG curve, that I shoot ProRes on the Pocket far more than I shoot Cinema DNG raw. The complexity comes when you consider raw on the 5D Mark III or BMCC vs raw on the Pocket – which to get? For those who have allocated the time and effort for a more involved post production, it's impossible for me to say which option is best overall out of 5D Mark III raw or Pocket raw. Neither suits everyone as a raw camera. The Pocket Cinema Camera for a start can do audio, though badly, it can do it! The Pocket can do Speed Booster and F0.74, though the 5D Mark III is certainly no slouch when it comes to low light. The Pocket is smaller and lighter, good for rigging to a vehicle or in a tight spot. The Pocket takes vintage Super 16mm glass and the small size makes it work better with a Z-finder style loupe than even a DSLR. The Pocket is a lot cheaper than the $3000 5D Mark III at $999 but if you have a lot of Canon glass there's no decent adapter to Micro Four Thirds yet and no Speed Booster for it. An investment in good Micro Four Thirds and Nikon glass isn't cheap. And of course the Pocket even with Speed Booster won't give you full frame rendering of your lenses and won't give you 22MP stills on demand. So if you want raw and have to choose between the 5D Mark III and Pocket, bear all of that in mind.
Two further observations… Cinema DNG is compressed 2:1 (visually lossless) on the Pocket so takes up half the room it does on the 5D Mark III when recording 1080p (approximately 24 minutes per 64GB card instead of 12 minutes). For anamorphic shooters there's no 4:3 or 3:2 aspect ratio modes so if you have a 2x anamorphic lens the 5D Mark III's 3:2 sensor is something to consider with Magic Lantern raw, giving you a higher vertical resolution of 1280p from the entire sensor area.
Image quality
10bit colour depth and 13 stop dynamic range – just 2 years ago this kind of performance cost $15,000 for a Sony F3 and a further $3000 for the 10bit S-LOG firmware update. By all accounts the image is a big improvement on DSLRs in the same $999 price bracket, like the Nikon D5300 and Canon 70D.
Very little is thrown away between the light hitting the deep wells on the sensor and the results being digitised to an SD card. Just like film really!
[vimeo]http://vimeo.com/80752459[/vimeo]
ProRes records at bitrates of up to 220Mbit/s so there's no visible compression in the image to speak of. No banding in skies, no macro blocking, no mud or smudging of fine detail, no shimmering or fizzing at all. The image is extremely cinematic with smooth, fine velvety tones.
Rolling shutter skew is present, a little more severe than on the GH3 and 5D Mark III.
There's some moire but it occurs more occasionally and less dramatically than it does on most DSLRs, aside from the 5D Mark III which barely has any at all.
Performance
ProRes drops frames on all but the most expensive Sandisk Extreme 95MB/s SD cards. I tested Sony and Panasonic 95MB/s SD cards and both dropped frames after 3-5 seconds. You will need the best possible and most expensive SD cards for the Pocket Cinema Camera.
Record times and standby on one battery is on the short side compared to a DSLR to say the least! Here at the run times from Part 1 of my review –
Live-view standby with active lens and OIS (14-140mm) – 1 hour 8 minutes with genuine Nikon EN-EL20 (1020mAh).
Live-view standby with passive lens (Bolex 16mm F2.0 c-mount) – 1 hour 12 minutes with same battery
As above (passive lens) but with supplied 800mAh Blackmagic Mini Battery – 1 hour 5 minutes
Continuously recording (passive lens,genuine Nikon EN-EL20 and ProRes to SanDisk Extreme 95MB/s SDHC) – 1 hour 4 minutes
The SD card is unfortunately placed under the battery card door – that will certainly hinder you when it comes to adding battery grips or power bases.
Auto-iris power-on
Like the original Blackmagic Cinema Camera, the Pocket could benefit from some simple but significant firmware changes.
There's one thing they really must fix if active Micro Four Thirds lenses are going to be usable on it.
It's the dreaded auto-iris power-on.
The 'feature' is not a bug but in use it is a flawed concept.
For example to save the battery I was powering down the camera in-between shots. I had the Olympus 12mm F2.0 attached and needed to shoot wide open in low light at ISO 1600.
Every time I switched on the camera the lens would be set to something like F10 or even F22. The reason for this is that the camera tries to expose automatically for the brightest highlight in the frame, the theory being that it will preserve the highlights in LOG / film gamma footage. In reality it's entirely useless and gets in the way.
It happens in any low light situation be it indoors lit with practical lights or outside lit by street lighting. No matter how dark the overall exposure, if you have so much as a bulb or candle in the shot, F22 it is!! This is really daft!! I've taken to covering the lens with my hand or a lens cap every time I turn it on if an active lens is attached. I've lost several moments in a run & gun situation due to mashing the buttons to reset the aperture. What's the point of having manual controls if you're going to let the camera fiddle with the exposure on every power-up? You get an inconsistent overall exposure and depth of field shot to shot with it.
The feature is available anyway with a single press of the iris key but Blackmagic took that out of our hands when the made the camera do it with every power-on. The behaviour can't be turned off in the menus and occurs both in the Film and Video modes.
My advice is to avoid using active Micro Four Third lenses on this camera unless you're prepared for some hassle. Try and use glass with manual aperture or Speed Booster with the lovely continuously variable Nikon aperture ring on it.
If you are not powering the camera externally with a huge bulky battery and keeping it switched on for hours at a stretch you better get a notepad out so you can set the aperture to the same as the last shot before you powered off, to avoid inconstant depth of field when shots are intercut later.
Areas for improvement
I see no need for separate playback controls on the top of the camera. They get in the way of rigging stuff to the top. Why not just have the d-pad keys act as forward and back in playback mode and have a playback button on the rear?
Regardless there is a way to salvage some use from these keys – but it would require a simple firmware update from Blackmagic.
It would be great to be able to assign stuff like ISO to the FWD / BACK keys in record mode, to avoid digging into the menus. When shooting ProRes you need to set the ISO and white balance as they're baked in. With Cinema DNG raw you simply adjust the ISO and WB in post, but even then there's still important stuff buried in the menus which would be nice to have on a couple of keys like shutter angle and zebras.
There are no rotating dials or wheels on the body so changing the aperture on Panasonic and Olympus lenses is done via multiple laborious button presses.
Some of the camera menus are illogically laid out with ISO and shutter angle buried alongside five date / time input boxes on the first page. The menus also do not display via HDMI so you have to switch to the camera display to see the settings when using a monitor or EVF. The menus can be hard to see in strong sunlight or when obstructed by a part of your rig.
Focus peaking requires a double tap of the button when an active Panasonic or Olympus lens is attached. AF is a single tap but rarely works quickly, often not at all with some lenses.
With the USB port on the bottom of the camera under the battery compartment door, you can't place the camera flat down securely on a surface when updating the firmware, making it more likely you will accidentally pull on the cable whilst updating, bricking the camera.
SD card slot inconveniently placed under the camera behind battery compartment door, means camera has to be removed from power base or rig when a 64GB card fills at the 45 minute mark.
No automatic white balance means WB has to be set manually for ProRes recording when switching from indoors to outdoors. (Though footage colour corrects well).
Correction: there is a punch in focus assist, but not with the focus button – you have to double tap the OK key to activate it.
Lens based stabilisation
Optical image stabilisation is the main reason for using Panasonic lenses on this camera, even though I much prefer the look of the Sigma 18-35mm F1.8 on Speed Booster than the 12-35mm F2.8. I'm not a huge fan of the rather clinical Lumix zooms with OIS. Some of the Panasonic primes like the 20mm F1.7 are pretty on the Pocket, whilst the 14mm F2.5 is a good cheap option. It's just unfortunate these lack OIS. So why use them? You may as well go for the SLR Magic 12mm and Voigtlander 25mm F0.95 over the Lumix primes in that case, because they have a more cinematic character.
Olympus have a good range of primes but they all lack stabilisation. Their 12mm F2.0 and 45mm F1.8 are nice on the Pocket as is the more expensive 75mm F1.8 but it's hard to achieve wide angle without the very expensive 7-14mm F4 from Panasonic. If you have the money it is better to go for Speed Booster and a nice set of Nikon lenses.
SLR Magic are a good affordable option on the Pocket. Their 12mm T1.6 is a must-have and the 35mm F1.4 is also very nice especially with their upcoming Anamorphot 50 anamorphic lens. Going up the range (and up in price significantly) the 35mm T0.95 gives the Pocket a look you can't get with most Lumix lenses.
The Pocket camera concept is crying out for Olympus to license their 5 axis sensor stabilisation system to Blackmagic. The technology is already in a $300 Olympus compact so has proven to be cost effective – but do Blackmagic have the scale and buying power to negotiate with Olympus for it?
Conclusion
The Pocket Cinema Camera deserves to be popular with filmmakers because the philosophy underpinning it is timeless. Beautiful images from a basic picture-making-box which gets out of the way and lets you direct. It's perfect when you want direct control over your own production and don't have a big crew or a lot of money.
It is by no means a complete package that will suit all shooters, so consider whether it fits your style of shooting and what you intend to do with it. For some the Panasonic GH3 will be better up to the task. For others the 5D Mark III with raw video might be more to their tastes. For some the Canon C100 would pay for itself many times over in terms of convenience and ergonomics. For everyone else there's the Blackmagic.
Pros
Beautiful image at an accessible price for a pro-cinema camera ($999)
Great range of accessories and lenses around the camera
High end codec – ProRes with 10bit 422 colour at very high bitrate
Cinema DNG raw for even more grading creativity, keying and visual FX work
Lossless compression on the raw files (2:1)
Better than expected low light performance especially with Metabones Speed Booster
Very adaptable active Micro Four Thirds lens mount
Very adaptable form factor – it's tiny
Nice ergonomics for shooting held to the eye via loupe – chunky grip and very light
Way above average build quality and materials given price point
Large, nicely detailed screen
10bit 4:2:2 HDMI output for accurate monitoring
Records to SD card
Peaking works well (better than the competition)
Very close to Blackmagic Cinema Camera 1080p ProRes so intercuts well
Cons
Audio aspects really lacking
Flawed auto-iris feature at power-on with active Micro 4/3 lenses cannot be turned off
ProRes 422 HQ and Cinema DNG could benefit from further compression (is HQ overkill?)
Very basic physical control scheme with no dials or jog wheels
ISO, shutter angle, white balance are buried in the menus
Only lasts an hour at most on a fully charged battery
Some occasional moire issues (no AA-filter installed)
Dull screen in video Rec 709 mode doesn't accurately represent colour or contrast (more usable in Film Mode)
Soft surface of the LCD is prone to scratching easily
Wobbly mini HDMI output (should be full sized HDMI or better yet HD-SDI)
Poor SD card placement under the camera
Centre-point AF could have been useful for quick one-shot setup, but it's duff!
No 2.5K resolution mode or 4:3 aspect for anamorphic shooting
No slow-mo capabilities
Does not bring you breakfast or make coffee!
Is not a Sony F55!