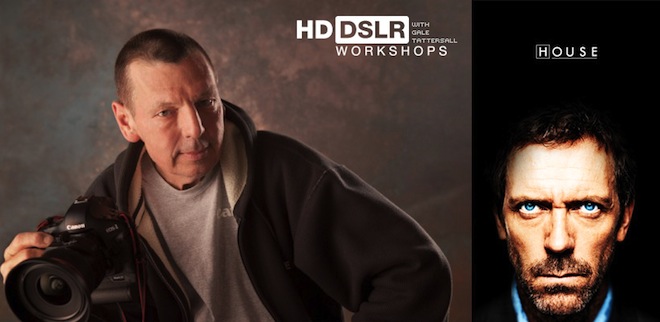 More details on the workshops here!
WINNER ANNOUNCED BELOW
[H]OUSE director of Photography Gale Tattersall is running a hands-on DSLR workshop in LA this month and in March. He is very kindly giving away a free seat to a lucky EOSHD.com reader!
Many thanks to all the EOSHD.com readers who entered. I have now gone through my the tweets and Facebook wall posts to select a winner at random. I selected the winner using a SQL statement after adding everyone's name to a database.
Here is the complete list of entrants:
Benjamin Redmond
Brandon Irwin
Ryan Bilinski
Musa Dieng Kala
Rod Cole
Richard Jett
William Frankhouser
Hugo Baptista
Nestor Delazerda
Jason Lange
Susan Keith
Joseph Santarromana
Tristan Carnahan
Mo Beshir
Steve Dolan
Grant Ellis
Mataikan
Brock Raum
Paul Izbicki
Mike Cassidy
Stronz Vanderploeg
Pedro Bracho
und3structabl3
Bulent Ozdemir
B-Scene Films
You and I Films
Christian Rivera
Gibbo
Fred Foret
Chris Walsh
Bobby McDonald
Jamie Abbott
Quinn Brown
Wayne LeFevre
Shawn Caple
Pierre Reynard
Jeremiah Rounds
Alex Faurote
Andrew Bender
Martin E. Mestre
Sascha Uhi
Anton (ImageOnVideo)
Anthony Angelotti
Shane Roby
Vincent Pintado
Sean Shin
Arturo Marinho
Ibro Bawa
Keren Aarons
Tigreton
Alexander Leith
Sven Callender
Hugo Goudswaard
Rado Stefanov
Alex Mantas
Espen B
WhatsupKelowna
TeamSleepkid
Sencillo Creaciones
Herik Meyer
Psaarikk
JJ Labrtiakis
Teknoc Erno
David Knight
Danny G
Edward Nawotka
Mike Chenoweth
Mike Stahl
Victor Tecson
Alain Flores
Jmaxado
Ben Redmond
Sho Fujii
Herman Wong
Get Low
Jamie Weishaar
Fat Elvis Media
So…
Drum roll…
The winner is…
Congratulations Joe Santarromana!
You win the seat. And just to prove it here is his winning Tweet
I'll be in touch soon Joe.
The workshop will take place at 1/2 Santa Monica Blvd, Los Angeles, California 11517 on one of the following dates – 13th, 20th and 27th March.
Read EOSHD's exclusive interview with Gale Tattersall on all things DSLR here