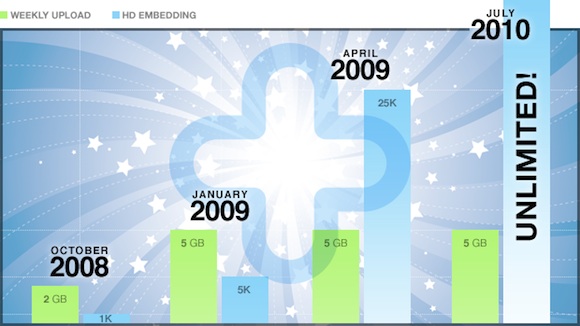 Great news for Vimeo users. Gone is the 25k load limit on embedding HD video. You don't have to purchase more if your video becomes a hit for people to view it in HD on a website.
From the Vimeo blog:
We've done some serious number crunching (maybe even used a slide-rule), and decided that it makes the most sense to do away with the limits on HD embedding that Plus members were previously restricted by. Plus members no longer have to ration their precious HD embed plays! You're free to spread your beautiful HD videos far and wide. Unlimited HD embedding is REAL.

We will be automatically refunding anyone who purchased extra HD embed plays within the past 30 days. So that's extra cash back to spend on a party celebrating your new, unlimited existence!
Now we just require the video banner image to appear on iPad & iPhone compatible embeds and we'll be even happier. Great work Vimeo!