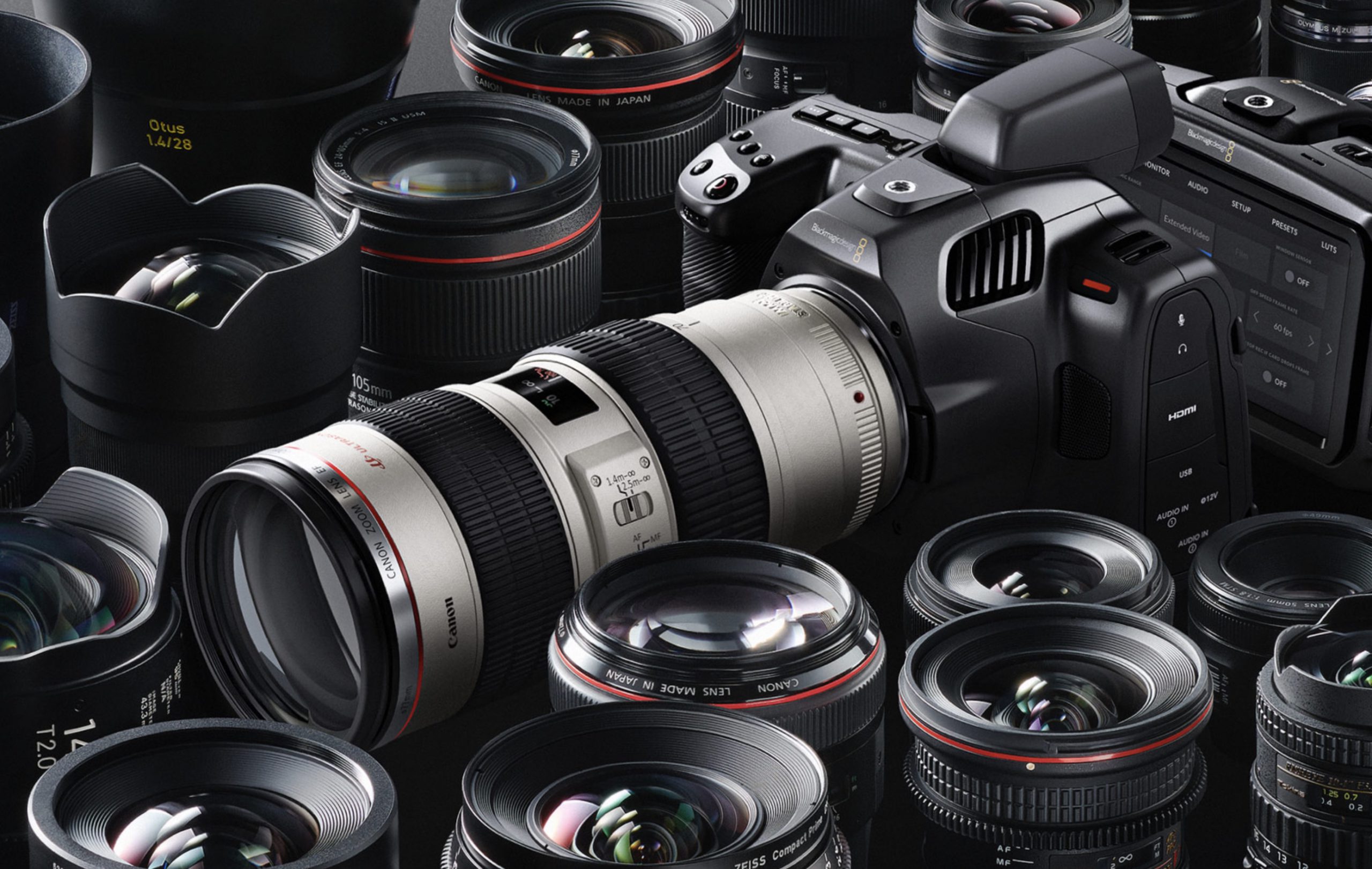 For a long time the Blackmagic Pocket Cinema Cameras have been a barebones experience to shoot with. Great codec and image quality but a lack of important other features (and not great build quality). Well Blackmagic has stepped up and beaten the mirrorless cameras to build-in ND filters. Yes in 2021 it's finally happened! Well done camera industry. They have added a hinge to the screen as well. For an extra $500 you can get an EVF which slots on top. The battery also gets an upgrade from a smaller Canon LP-E6 to Sony NP-F570.
However one thing I find puzzling about the Pocket 6K Pro is the lens mount.
With mirrorless taking over especially for video, the lenses are also taking over – Sony E-mount, Canon RF and the L-mount alliance are the modern standard for full frame video shooters at the $2500 mark at which Blackmagic sells the 6K Pro.
Sony E-mount also has very capable adapters to Canon EF which give you native level autofocus performance on Sony cameras.
You would think it would be perfect for Blackmagic.
So why is the Pocket 6K Pro using the old Canon EF mount with long 44mm distance between sensor and lens, limiting compatibility, adaptability and AF performance?
Obviously there are still a lot of great cine lenses in EF mount but they are mostly rather on the large side. This will suit the high-end of the market interested in the Pocket 6K Pro but it doesn't stay true to the camera's name or concept. Using smaller mirrorless lenses on there would be great.
Even if E-mount is licensed by Sony and not approved for use on other cameras, nobody stops lens adapters from being sold. Therefore Blackmagic could make a camera with a swappable mount over the sensor – a proprietary fitting on the camera side and E-mount on the end.
I don't know what Sony's view is on the electronics side – but Metabones and Sigma obviously are allowed to sell their adapters with full electronic capabilities and autofocus. So should Blackmagic do the same with future cameras?
Besides the lens mount, Blackmagic get a lot right here. Although they did mess with the focusing system internally causing it to operate completely differently to previous cameras. This has impacted some third party accessories.
I think the build quality is still a bit plastic-fantastic, or at least feels that way.
The internal ND filter seems to occupy a bit more space around the sensor, as evidenced by the higher 'viewfinder bump' on the Pocket 6K Pro. That bump houses the filter when it jumps out of the way of the sensor. The larger the sensor, the larger the filter and more room it needs to mechanically manoeuvre. It would be great if Blackmagic can work on an electronically variable ND filter which has a 'clear' setting and doesn't need to be moved out of the way when not in use. The Sony FS5 II remains impressive in this regard.
Blackmagic also get the codec side bang on. Internal ProRes 10bit and BRAW recording, no messing with HDMI recording, just fluid editing performance with Resolve.

How it compares
The Pocket 6K Pro is $2500 and that's pretty affordable for the level of image and professional inputs, codec, general specs. Especially if you compare it to RED or a top of the range Cinema EOS.
6144 х 3456 Ѕuреr 35 (1.5x crop) hіgh-rеѕоlutіоn НDR ѕеnѕоr
Ѕhооt uр tо 60fрѕ іn full rеѕоlutіоn, оr 120 fрѕ wіndоwеd
Duаl nаtіvе ІЅО uр tо 25,600 tо mіnіmіѕе grаіn аnd nоіѕе еffесtіvеlу
Internal RAW recording and ProRes
Internal recording to CFast and UHS-II SD
External recording via USB C to SSD
21.2 mеgаріхеlѕ stills mode
Вuіlt-іn 2, 4 аnd 6 ѕtор ND fіltеrѕ
Тоuсhѕсrееn tіlt НDR LСD wіth 1500 nіtѕ
Тwо аvаіlаblе mіnі ХLR аudіо іnрutѕ
Lаrgеr NР-F570 ѕtуlе bаttеrу
Іnсludеѕ а full vеrѕіоn оf DаVіnсі Rеѕоlvе Ѕtudіо 17
Wіrеlеѕѕ Вluеtооth Саmеrа Rеmоtе Соntrоl fоr uр tо 30 fееt аwау
These are the specs the Panasonic GH6 will have to compete with especially on the codec side.
What's missing? Well there's no IBIS and the EVF is a $500 extra. Battery life still isn't up there with a Sony or Panasonic mirrorless camera. The stills mode is of course a pale imitation of what you'd get on a Canon EOS R5, Nikon Z6 II, or similar. The EF lens mount isn't as flexible or as modern, compared to a mirrorless camera. Autofocus is basically a no.
The Sony A7S III is more capable in a few ways especially the full frame sensor and the 4K/120fps mode which is just a 1.1x crop of the full frame sensor. Blackmagic's codec is all-round better but the A7S III does look good in both 8bit and 10bit and file sizes can be smaller whilst still maintaining quite good image quality. E-mount is a more versatile lens mount for filmmakers.
The Panasonic S1 is even more of a deal than the Pocket 6K Pro, it is cheaper and also shoots 6K but from a larger full frame sensor. The image in V-LOG / HEVC is extraordinary especially considering the 150Mbit/s file sizes which are a great balance of easy to store and archive versus cinema level image quality. The S1H is Netflix approved and the S1 basically has almost the same image for less than $2000!
If you want a Canon, well the EOS R5 is just not reliable unless run in the pixel binned 4K mode, the EOS R6 is not reliable in any mode other than 1080p. The Canon 1D X Mark III is a great choice if you need internal RAW and amazing cinematic image quality in an EF mount with cutting edge autofocus. It's funny, but this DSLR is very direct competition to the Blackmagic and beats it in a number of important ways whereas the EOS R5 isn't really a consideration!
If we look at the green corner, and the Fuji offerings, well the X-T4 is an ok option but it's no X-H2. I am still waiting for that and one doesn't seem to be coming any time soon! The X-T3 was more of a step for Fuji but the X-T4 is basically very similar just with IBIS and a few tweaks. I actually prefer the tilt-screen on the X-T3 to the YouTuber flippy one they went for on the X-T4 and the fake leather skin feels cheap as hell. I actually quite like the X-Pro3 as a hybrid camera, it feels nice to use, is a bit odd and different, which I like too – and the image is spectacular whether shooting 4K or stills, even if it is 'only' 8bit – the 10bit mode on the X-T4 doesn't make much difference to be honest.
Would I buy the Pocket 6K Pro? No not personally, I still prefer the flexibility (and stills side) of mirrorless cameras but Blackmagic did make a convincing step forward this time.