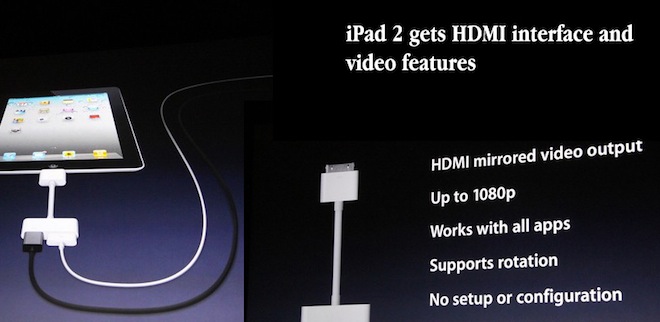 Apple have today unveiled the iPad 2, due for a 11th March release. Amongst the new features are dual video cameras and an HDMI adapter.
This adapter adds an HDMI port onto the iPad 2 via the universal connector.
So now for the first time we can put all our footage on an iPad and hook it up to a projector, and show our work on the big screen without the need for a laptop. It outputs up to 1080p.
We may also have the possibility of a video-in, which would enable the iPad 2 as a DSLR monitor.
At this early moment I'd say it isn't entirely possible. The HDMI ports on mobile computers are designed to transmit a video signal, and in order to receive a signal like a display the decoding hardware to process the video signal must be present. So I don't believe that a firmware patch can enable this. An app might not have access to this functionality since the hardware doesn't support it.
If the HDMI ports on any current PC or Macbook supported a video input, we'd see an app for that by now. Probably the best hope is that some kind of custom hardware can slow into the universal socket, it's unlikely that Apple's HDMI adapter would have the required hardware for just $39.
I don't think the iPad 2 will be causing SmallHD or Marshall any sleepless nights just yet.
iMovie
iMovie is new to the iPad (along with Garage Band) which can edit HD footage obtained from other sources or the inbuilt cameras. It will be nice to do quick and basic video blog edits with a touch screen but it does look very dumbed down and I wasn't a big fan of the iMovie interface on the iPhone 4 at all. I think it handles a maximum of 720p on the timeline.
Video cameras
The included cameras can do video up to 720/30p on the rear, and the front facing one is VGA (for FaceTime). Interestingly they have added a tap based manual exposure control.
More news as it comes…