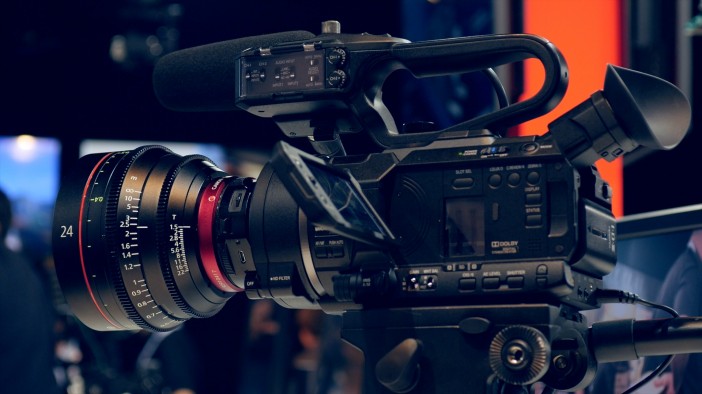 JVC had a prototype of this camera (missed by almost everybody) at IBC.
Now the LS300 is available for pre-order at B&H for just $4450 with an expected shipping date of February 1st 2015. It features a Super 35mm sensor, snuggly fitting in a Micro Four Thirds mount able to take advantage of lens adapters for almost anything, with an internal 150Mb/s 4K codec at 30/24p. It also has a built in ND filter and 3G-SDI output as well, so great for external recorders like the Atomos Shogun… at least at first glance.
Some observations by myself – although the external LCD is decent (920k pixels), the EVF is very small at 0.24″. It has a lower resolution at 1.54MP and is less than half the size of the best EVF, currently found in the Fuji X-T1. You will still need a Zacuto EVF or loupe of some kind for this camera. I recommend the Zacuto EVF Pro until the Gratical comes out with OLED EVF.
The lens mount of Micro Four Thirds is a curious choice given the Super 35mm size sensor but clearly it works. The picture below shows a Metabones Canon EF Smart Adapter with Canon 24mm EF cinema lens.
Pictures from IBC reports here and here.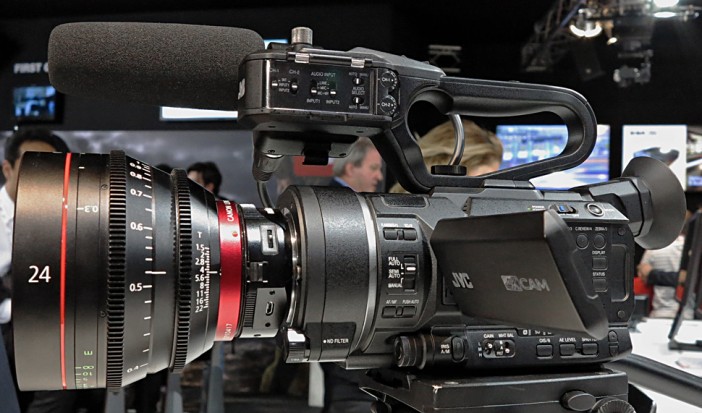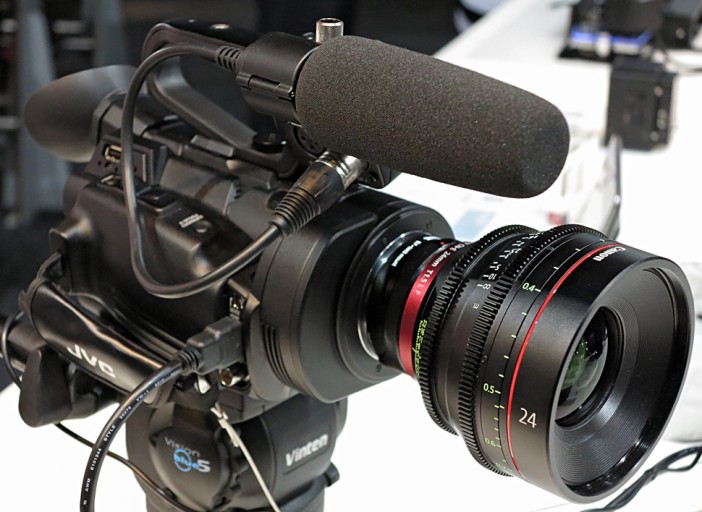 The codec is 150Mbit/s in 4K but it isn't clear whether it is 4:2:0 or 4:2:2 in 4K mode. In 1080p it is confirmed at 50Mbit/s 4:2:2, the standard for broadcast work.
The wrapper for the codec is Quicktime MOV, and the camera can record a more highly compressed proxy in AVCHD format simultaneously.
JVC appear to be using their own sensor in the camera, dubbed AltaSens. This makes it very much an unknown quantity in terms of image quality vs Sony, Canon and Panasonic. If it is a JVC design, nevertheless they could still have had Sony or Toshiba actually manufacture it (to modern standards). Let's hope so.
The sensor can do a crop mode for a variety of lenses such as Micro Four Thirds and Super 16mm c-mount but it isn't clear if the mount is active or not for Panasonic and Olympus MFT lenses with electronic contacts.
Also if the mount is not active it means you will have to control the aperture of Canon EF lenses on the Metabones adapter lever and out goes optical image stabilisation.
SDXC cards are used to record 4K, very much like the Panasonic GH4. The ND filter has 3 settings in total – 1/4, 1/16 and 1/64. Nice to see.
The camera has a few obvious quirks though. External 4K recording can only be done over HDMI. The 3G-SDI port doesn't do 4K! Oh dear.
Along with this camera JVC announced two other 4K cameras under the 4KCAM label, but these have fixed lenses.
Now although the price is a surprise, JVC will still need to surprise us for a second time with this camera for me to buy it. Image quality needs to be on par with the competition and ergonomics have to be fit for filmmaking / cinema. The camera seems to be closer to a video-handycam camcorder in that respect, with tiny fiddly dials and levers and LOTS of them! When will they get a clue?