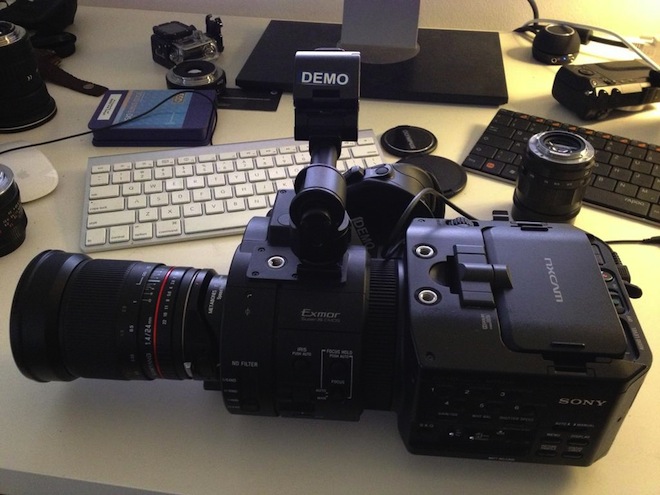 The Sony FS700 hasn't been out for long by pro equipment standards – around a year. Canon haven't updated the semi-pro 7D DSLR for nearly 5 years!
But Sony are planning an updated FS700R and FS700RH for later in the year, likely to be announced at IBC in Amsterdam this September.
No specs are available, however we can speculate.
The FS700 has no proprietary connector like the F5 for Sony's new off-board recorder and only supports 4K and raw via HD-SDI. It requires a service centre update and firmware update for that. To encourage take-up of the Sony recorder, it's likely the FS700R will add that connection offering tighter integration with the off-board device and of course support this functionality out of the box without a service centre doing the work.
The FS700RH could be a 2nd model, but more likely this 'H' is a designation for the same camera with different kit lens, if you go by the naming of the NEX 5R.
Atomos's CEO said recently there would be 20 4K cameras launched before NAB next year. I suppose the FS700R counts as one if you factor in the HD-SDI output. The higher end F5 can't do XAVC 4K internally so the chances of the FS700R doing 4K internally are next to none.
However the F5 does have a much more discrete ND filter. I find it more likely the FS700R may adopt a less rushed ND-filter implementation perhaps returning to the slightly more compact form factor of the FS100.
Overall I'm expecting the new model to be a minor update rather than anything revolutionary.