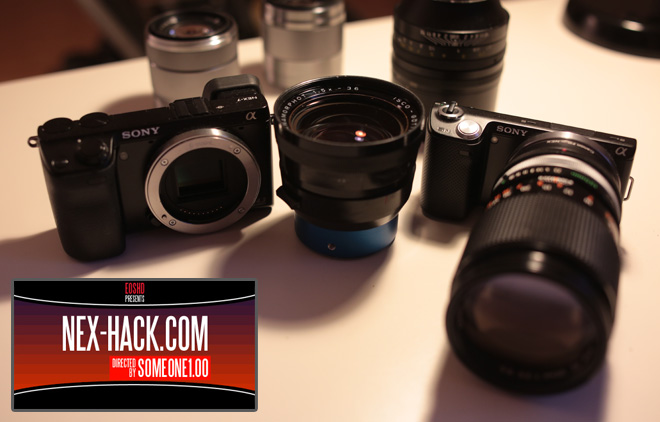 NEW: Donate and view the latest donations here
Read the full update at EOSHD NEX-Hack.com
Today myself and Malcolm of Magic Lantern were able to transfer $700 to Someone1.00 to buy his first test body from the NEX-Hack.com donations fund.
We are well on the path to improvements in video image quality and features on the Sony NEX and Alpha cameras.
The NEX hack community has only been going 2 days and already over $1000 has been raised for the hack.
For now Someone1.00, myself and Malcolm have decided to keep the identity of the camera model hidden for now – so it doesn't make any NEX or Alpha owners think the job is complete! We still need your donations.
The job is just beginning.
Although the hack is still in its early days, I am totally confident Someone1.00 has the skills to succeed with it. Now thanks to you, he has the funds and camera too.
The latest generation Sony cameras (NEX 5N, 7, Alpha A77, VG20) use different firmware encryption to the earlier ones (NEX 3, VG10 etc.) and this will need to be overcome.
The NEX and Alpha series of cameras are very promising candidates for a hack. With the GH2, it was already very well sorted out of the box and the GH3 will be more so. The difference in image quality is actually not huge between the un-hacked GH2 and factory GH2. The NEX cameras meanwhile all appear to run on a common Linux framework, it is also a possibility that the hack will port to quite a few cameras and not just one. I am still hoping that eventually the FS100 will get the higher bitrates it deserves! That would be *amazing*.
Right now all we need is time, and a lot of it. So please be patient as Someone1.00 develops and progresses.
We also need money, and a lot of it, so please keep donating here.
The third thing we need is technical help and testers willing to risk their NEX and Alpha camera bodies for test patches and research. Please do sign up at the NEX-Hack forum if you are interested in participating.
And finally…
One other NEX hack developer contacted me today offering to get involved, now he has more free time. Soon Someone1.00 will be able to build a team. The more technical help Someone1.00 gets the better.