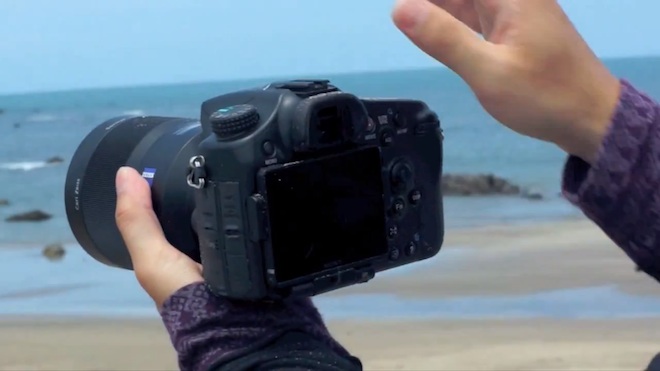 Above: Sony A77 with new Zeiss 24mm F1.8.
I have been in England this past week and survived the riots thankfully! Updates will be back to their normal speed from this week as I'm back to my other home, the much more gentle city of Berlin! Also a quick shout out to anyone else who will be in Berlin this week – Philip Bloom is in town for Cam Busters and I'll be at any meet-up that happens so come along and say hello. Check Philip's Twitter for latest updates, times, etc.
3 new Sony full frame DSLRs nearing completion
No specs have been leaked yet but something is definitely brewing on this front. According to SonyAlphaRumors Sony have begun lobbying dealers to push new full frame DSLRs in 2012 over the competition. They won't have optical viewfinders. 5D Mk3 versus A1 could be the biggest story of 2012 in DSLR video.
Sony A77 and NEX 7 release dates firmed up
The NEX 5N with AVCHD 2 and 24p is coming to Europe and the US in the first half of September 2011. The more powerful NEX 7 won't be here until November and the A77 and A65 won't hit stores until late October. In Japan the A77 will be available in September. I am seriously considering a trip!
It's expected the NEX 7 will have manual control in video mode like the A77 but this is not yet confirmed, nor NEX5N.
It could be quite a dilemma choosing just one because the NEX7 is mirrorless and will work with a much greater range of lenses than the A77 including c-mount and OCT18 anamorphic. If the NEX5N is affordable and has manual controls in video mode I'd be tempted to miss out the NEX 7 and get both the 5N and A77 – the A77 for 1080/60p slow-mo, better image quality and sophisticated AF tracking and the NEX5N for its earlier availability and greater lens adaptability.
The new Sony DSLRs have 25p in PAL-land, very nice to see – but no region switch in the menus allegedly!
Next Zacuto shootout to include GH2. New Critics 'Idols' to be film competition
Lots to look forward to from Zacuto. In an interview on Planet5D's podcast, Steve Weiss talked about both the production and product sides. 'Revenge Of The Great Camera Shootout' will come before the year is out and appears to be a real world test of large sensor format cameras. Scenes will be shot in Hollywood this September with a multitude of cameras and it will be the first decent look at how the GH2 competes to the bigger guns like the Sony F3 and RED EPIC. The results will be theatre projected and viewers will not know which camera they are shot with until afterwards.
Critics 4 is tentatively named Critics Idols and will focus on filmmaking talent (hopefully international) with a competition format.
On the product side Zacuto's plans for a friction based follow focus were interesting and the new gorilla plate bracket gives you a nice ergonomic option for offsetting an EVF. There's also going to be another update to the EVF which enables 1080p and more.
GH2 hack updated, but not public
Vitaliy has updated PTools to version 3.62d. The new hack is not yet publicly available but is being tested by his new strike teams before being let out into the wild.
I believe part of the purpose of the 'pre-testing' is for Vitaliy to add a range of optimal preset settings to the release version of PTools, like MJPEG bitrate presets and anamorphic resolutions.
What else can we expect?
There's improvement to AVCHD bitrate patches and the 24L setting in-camera now works correctly at different bitrates, which will be handy for those wanting a setting to fall back on for professional work if the highest bitrate 24H isn't 100% reliable. For the technically minded or curious follow the unfolding developments and testing at Personal-view.com here.