Ladies and gentlemen I bring you good news. You can now record video with the shutter button in video mode on the A9.
I just had a play with Sony's latest mirrorless camera in Berlin.
Sony users have been giving a lot of feedback and it looks like some of it has been acted on.
It is common sense stuff and very important for the development of Sony's cameras.
Along with the option to use the main shutter button to start and stop clips in video mode, the screen backlight does not dim when you record 4K, like it does on all the existing Sony bodies. You can see your recording outdoors and there's no gamma shift.
Finally we also have a proper favourites menu like a Canon DSLR. It's almost a direct copy, even with the same icon.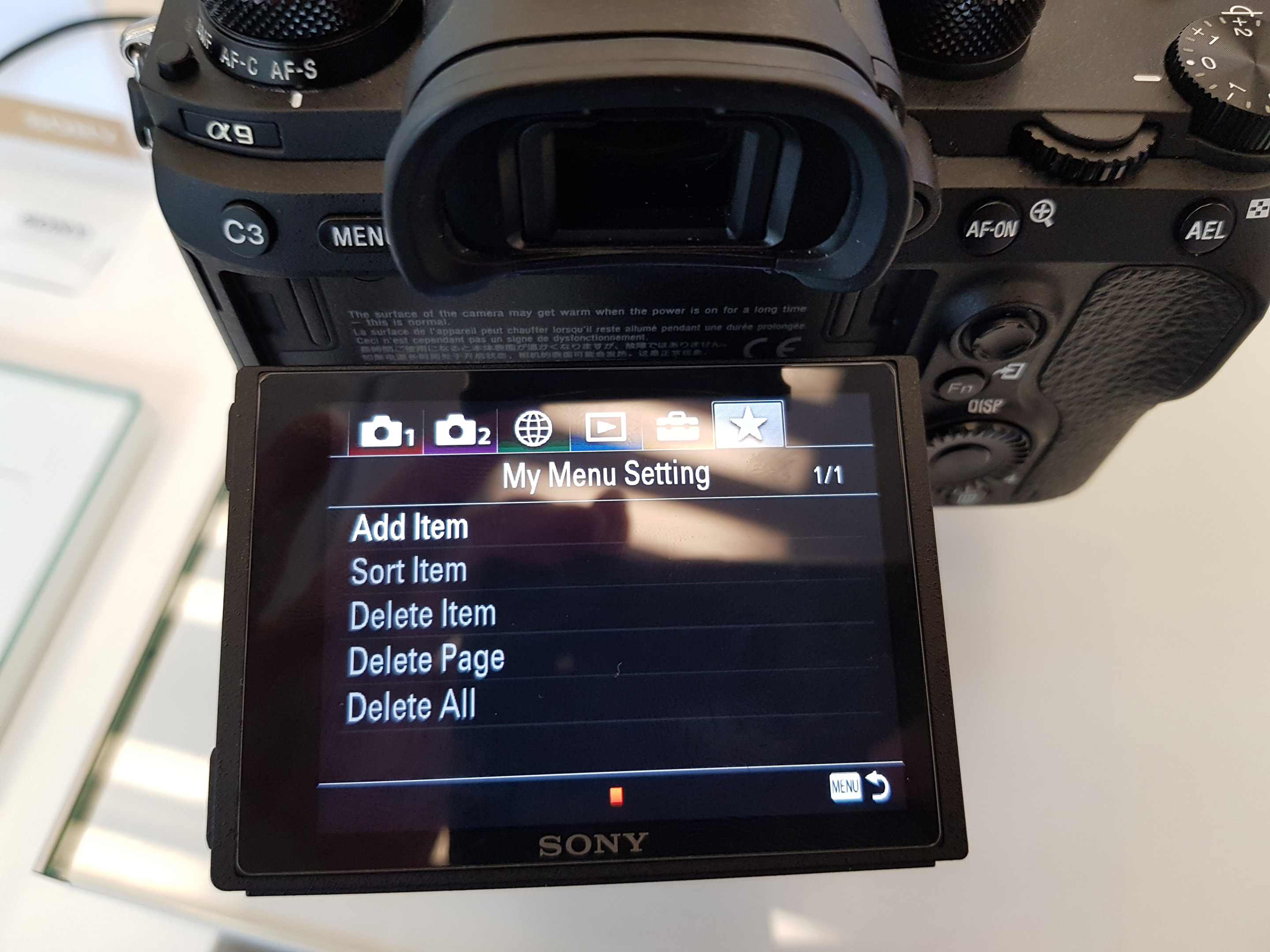 The rear dial is raised up from the grip and the AF points are selectable instantly with a joystick.
Yes these are all such 'small' things… But they matter, a lot, during a shoot.
Shame about the locks on the dials though. They don't toggle on/off, instead they're the kind you have to press as you turn, like a child-safety device on your pro camera. I believe this is one of the big three issues losing Sony huge sales to Canon and Nikon. 1. Lens-system lock-in. 2. Dated consumer color profiles. 3. Fiddly controls.
If I were Sony I'd prioritise solutions for these 3 things and spend a year getting them perfect –
There should be a Sony branded adapter for EF mount lenses which works flawlessly with perfect autofocus and reliability
The prices of the G Master lenses should be lower to encourage EF users to switch to Sony's optics
The basic colour profiles are a hang over from the consumer NEX cameras and should be scrapped.
Instead of Creative Styles and Picture Profiles, there should be one menu of profiles like follows:
– Standard
– Vivid
– Portrait
– Landscape
– Cinema Gamma (with extended options)
– S-LOG (with extended options)
– HDR Gamma (for HDR displays and TVs)
– 6 custom slots
– Ability to save and load custom profiles
– Ability to import custom curves like Canon Picture Style creator does
– 3D LUT support
Complete overhaul of the body controls before it is too late to change it. Make the body layout as close to the Samsung NX1 as possible, which in turn is the closest Canon 7D-like design for a mirrorless camera and something everyone will be familiar with in the way it operates. Also fix the responsiveness of the menus and allow for a Leica T-style touch screen with a 3×3 grid of toggling icons on a single page.
On the A9 the lock for the AF mode dial is the most tricky (seen on top-left of camera) and it will guarantee frustration during a heated moment on a shoot. There are going to be some missed split-second shots and it won't be your fault. I'm so curious as to why Sony's feedback would prompt them into making the camera worse during use for the sake of staying compliant in a non-use situation in a bag. Which should have priority?
The dual card slots are nice and the door feels more rugged this time, but the top slot is number 2 and bottom slot number 1. That is reverse from pretty much every single other camera in the world.
4K from 6K on a stacked full frame sensor, first ever
Video is quite stunning from the A9 but you should wait to see what the A7S III brings. Clearly Sony is not pushing the A9 to filmmakers. The new technology is very interesting though. What stands out is the low light performance.
Give it has double the megapixel count to the A7S II it performs very similarly.
If you remember, the A6500 has a similar 6K readout on a 24MP sensor, and that was very good indeed at high ISOs. Well, the A9 is a full frame version of that with larger pixels and the same megapixel count so that should give you an idea of how good it is going to be in low light. The 6K sensor readout for 4K clearly helps a lot.
Also whatever magical noise reduction they used on the Super 35mm mode of the A7R II it is supercharged here. I could barely coax noise out of it at ISO 12,800. Here is the ISO 12,800 4K frame –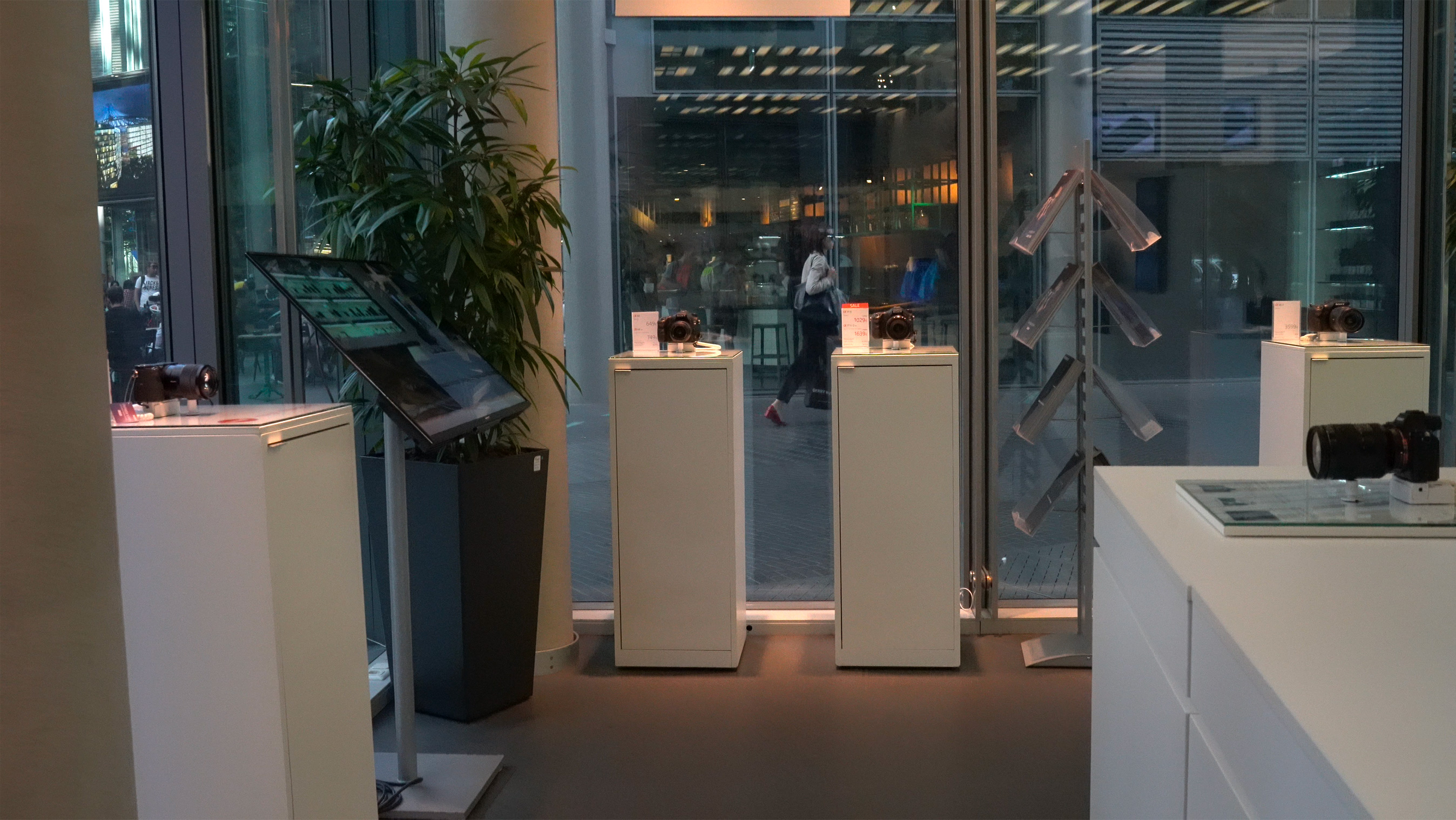 As we know, Sony didn't include any of the professional video picture profiles on the A9 because it's targeted mainly at stills shooters. This means not only is S-LOG is gone but one cannot apply EOSHD Pro Color either which relies on the advanced controls in Sony's professional picture profiles.
Yet it does have the Toy Camera effect and Pop Art if that is what Sony's pro customers desire.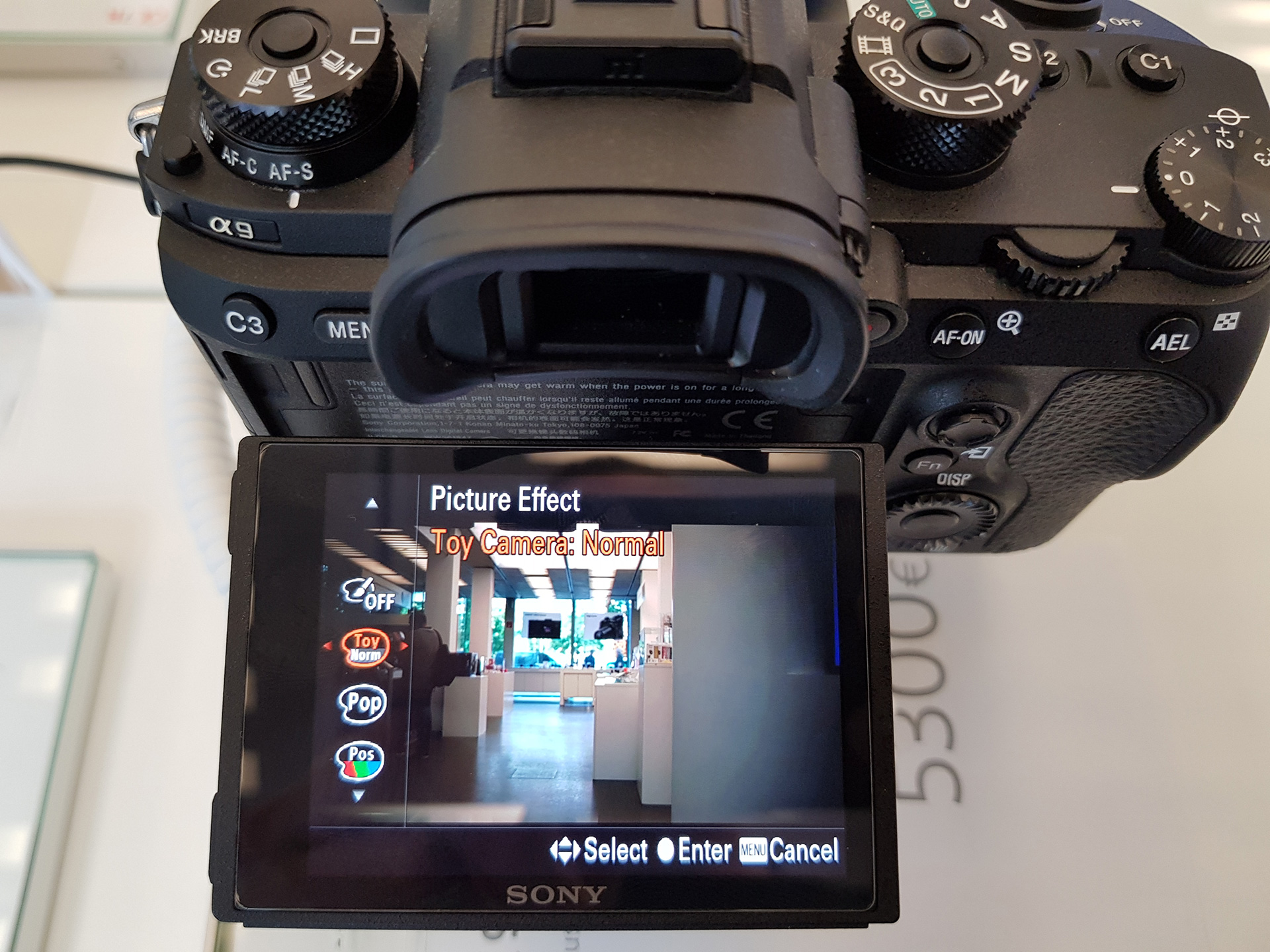 The Creative Styles seem to dial down quite flat and one (Deep) seems to give you quite a bit more headroom in the highlights, so it's not all lost but clearly a very sub-optimal area of the camera is color and picture profiles.
The rest of the video spec is lacklustre as well so clearly the nice stuff is being reserved for a possible A7S III.
I expect that to shoot 4K 60p 10bit at a higher bitrate like the GH5 but full frame, and if it has the same stacked sensor DRAM technology as the A9 I am expecting it to do very good high frame rate footage, 1080/240fps+ like the RX100 V.
What's strange about the A9 is that with such a fast stacked sensor readout the quality of the full frame 1080/120fps isn't better. The A99 II is definitely more detailed with less moire in all the 1080p modes in comparison to the A9.
What it does have over the current cameras is much less rolling shutter in 4K, especially compared to the A6500.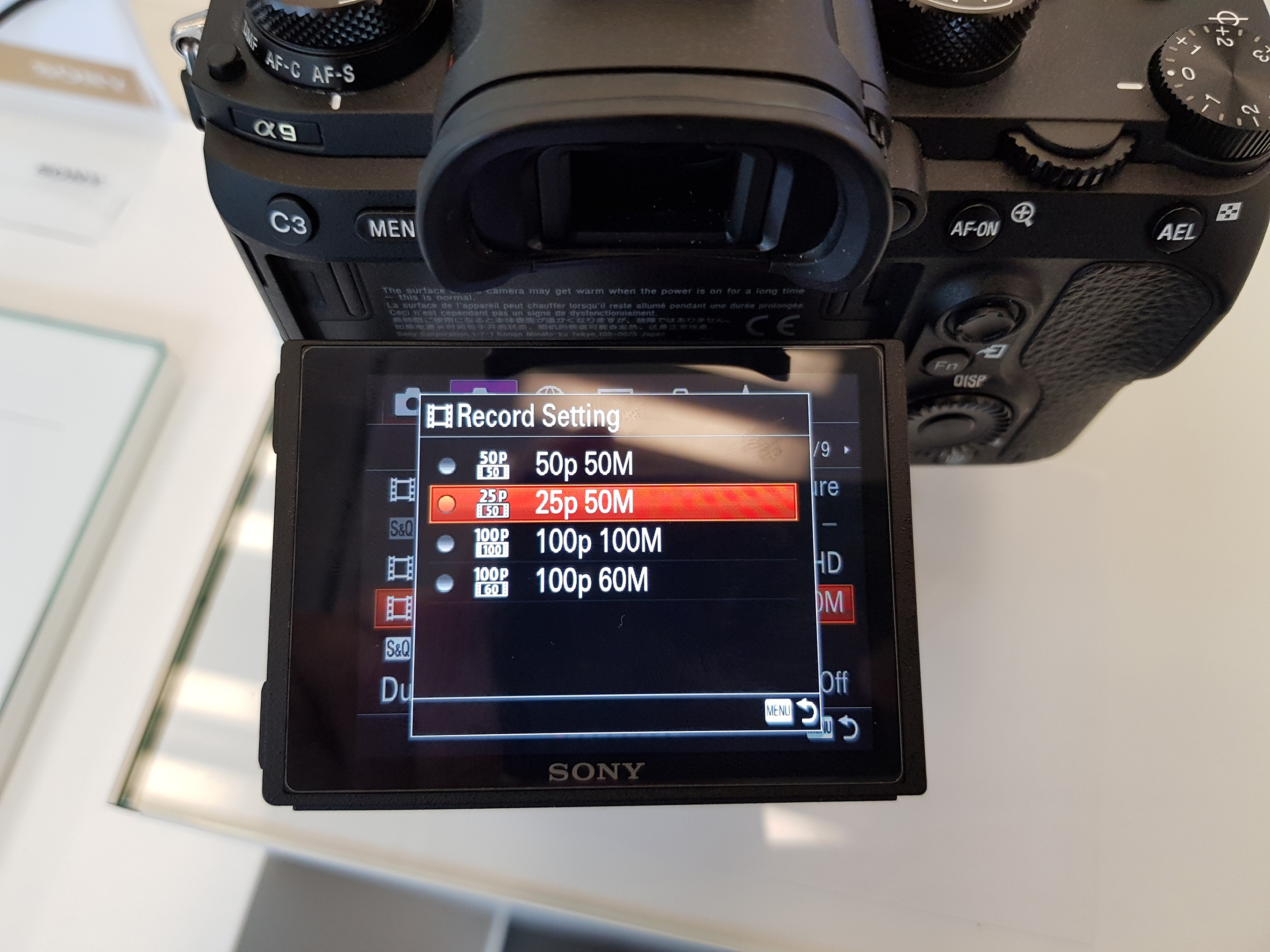 1D X Mark II in Sony's sights
Sony's targeted approached means the A9 is for pro sports market, prioritising speed for photography. A7S for low light and video. A7 for affordability and A7R for everyone else. Strange then, that on such a speedy camera the responsiveness of the menus seems laggy compared to a Canon or Nikon.
The AF does not trouble Dual Pixel AF in video mode. I was not blown away by the speed of the AF for stills either but put that down to the E-mount 35mm F1.4. Maybe it improves with other lenses. If I do a proper review, I'll let you know.
What else? The 100/120fps mode is a normal continuous record setting at a maximum bitrate of 100Mbit and the 16Mbit-max S&Q has it's own place on the mode dial. During my brief fling I didn't see any improvement regarding 5 axis stabilisation vs the older system in the A7R II. It would be nice to have seen this match the GH5's performance.