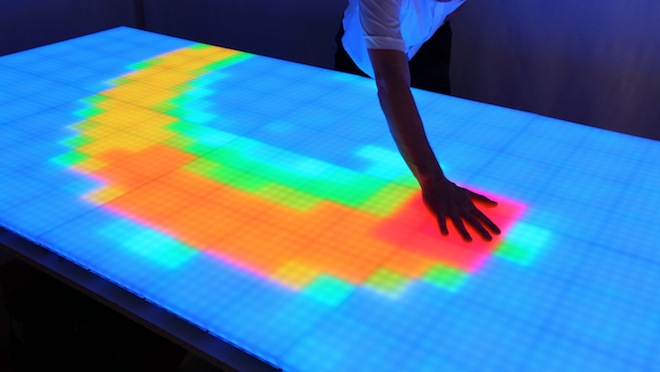 This is big. Samsung has begun mass-production of a new screen technology which is also sensitive to light like a digital camera. It has hybrid pixels which display an image as well as sensing it. It represents the start of a complete merging of display and imaging device.
The surface of the 40″ panels contains optical sensors in every pixel. The panel is not just a mix of sensor and display, it is both at the same time.
The panels started production at Samsung in November, development was kept quiet to this point. According to the Samsung statement on BusinessWire (via ImageSensorsWorld). "With optical sensor in each pixel of the panel, the new panel can much more accurately assess touch sensitivity compared to existing touch panels."
A steady start… Although the genesis of a truly exciting technology, at the moment the technology isn't being used as a screen which can double as a high quality camera, the technology is only designed to make for more advance operation of touch panels. But it gives Samsung a hugely innovative lead in the mobile market, meaning Apple may have to license all their future panels from Samsung to get hold of the technology.
It is a fascinating beginning to what could become the total merging of display and imager into one thin slice of material.
Imagine for instance having an iPhone which is entirely a screen and nothing else. It would able to 'see' like the current front facing camera at the same time as displaying the image it produces.
The possibilities are mind-bending.
The future form of the pocket digital video camera could well be that it is simply a rolled up flexible slither of technology like paper, which can be unrolled or unfolded and then pointed at the subject to record, which it then displays on the same surface that was used to create the image.
It would also be possible to have electronic paper that recognises the reader's face and customises the content for that person.
I'd love to see this technology mature.
It has huge creative implications…
What are your ideas for this technology?