Jarred Land posted today on REDUser about REDCODE (RED's compressed RAW codec) withstaning the patent challenge by Apple.
Update: Here's the decision by the Patent Office…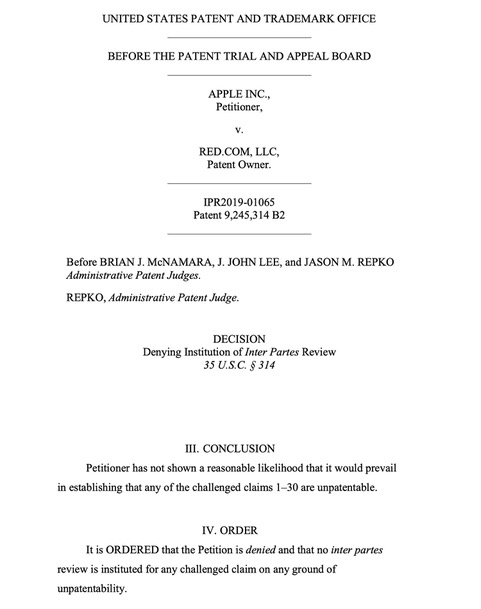 It does indeed appears Cupertino have failed where Sony previously failed.
Now the stage is set for some negotiations, with RED being in pole position.
I think Apple will continue the ProRes RAW rollout and that we will be seeing it on the Atomos Ninja V, also internally on some cameras too (I hope).
You can see Jarred's comments and forum discussion at REDUser here
The two companies will work together, says Jarred.
The ruling does not mean Apple can't have a compressed codec of their own – it just changes the nature of any business negotiations between the two companies and technology licensing in favour of RED.
RED and this blog have not always seen eye-to-eye, but it is incredible the work Graeme Nattress did with this codec has stood up to two multi-billion dollar corporations, in Apple and Sony, who must have been asleep during the phase of the film industry when Graeme developed the codec and revolutionised digital cinema virtually single-handedly at RED.
As we see most recently with uncompressed 4K RAW on the Sigma Fp in 2019, file sizes are quite nuts without lossless compression, yet RAW continues to be THE filmmaker's and artist's choice of codec. For the little guy, the dreamers with a talent, RAW is doable thanks to Magic Lantern and Sigma giving us RAW from full frame sensors, and doing their best with such affordable hardware.
RED should license their brand and codec to all the major camera companies. A RED logo on every box, on every camera, a RED codec option in every menu of every high-end enthusiast mirrorless camera.
And with their collaborative efforts with Apple, maybe a "Light" REDCODE can be supported on a wide range of hardware.
Are Apple, RED and the Japanese camera manufacturers going to work together?
Or are they going to let Blackmagic in through the back door with Resolve and BRAW?