All of the following photos were shot with my Canon FD 85mm F1.2 from 1976 on the Fujifilm GFX 50S. Medium format at F1.2?! Yes, it works and no vignetting!
I am really interested in what Fuji is doing at the moment, but with the most interesting cameras at the show just a development announcement and dummy body-design, we'll have to wait a bit longer for them to truly reveal their cards.
The Panasonic S1R is in an extremely early prototyping stage. I was able to get my hands on the camera but it does not power-on. Some of the materials like the rear rubber grip aren't final but it felt like a real pro camera in the hand. It's very large for a mirrorless camera – bigger than the Nikon Z7 and Sony A7 III by quite some margin. It has the feel of a large G9, rather than the sleeker and less angular GH5 body. The lenses are enormous and work with contrast-detect AF. The Panasonic S 50mm F1.4 is almost unreasonably large for a mirrorless prime lens, larger than the Sigma 50mm F1.4. This is a good indicator of quality, but I hope to see some more portable lenses as well. The 24-105mm is also very big. The jury is out on whether Panasonic's next generation AF engine with DFD+AI and Deep Learning will deliver Dual Pixel AF / Phase-Detect AF levels of performance. The Panasonic UK people themselves do not have more details on that than we do as it's still under development! It's yet to be revealed whether either of the cameras will have a 10bit codec or LOG, but my friend Illya Friedman of Hot Rod Cameras says "expect good things" or along-those lines!
Some Blackmagic news. I spoke to various sources. The Pocket 4K is shipping. Unfortunately, the shops I spoke to had 130 pre-orders to ship first before anyone else can buy one and the initial shipment quantities was less than 5 units at one of the major pro-video dealers in Europe. Hopefully, Blackmagic can start shipping in larger volumes soon. They had no presence at Photokina this time, but I may attend a hands-on launch party for the camera in London next month so I hope to bring you a blog post with more details in mid-October.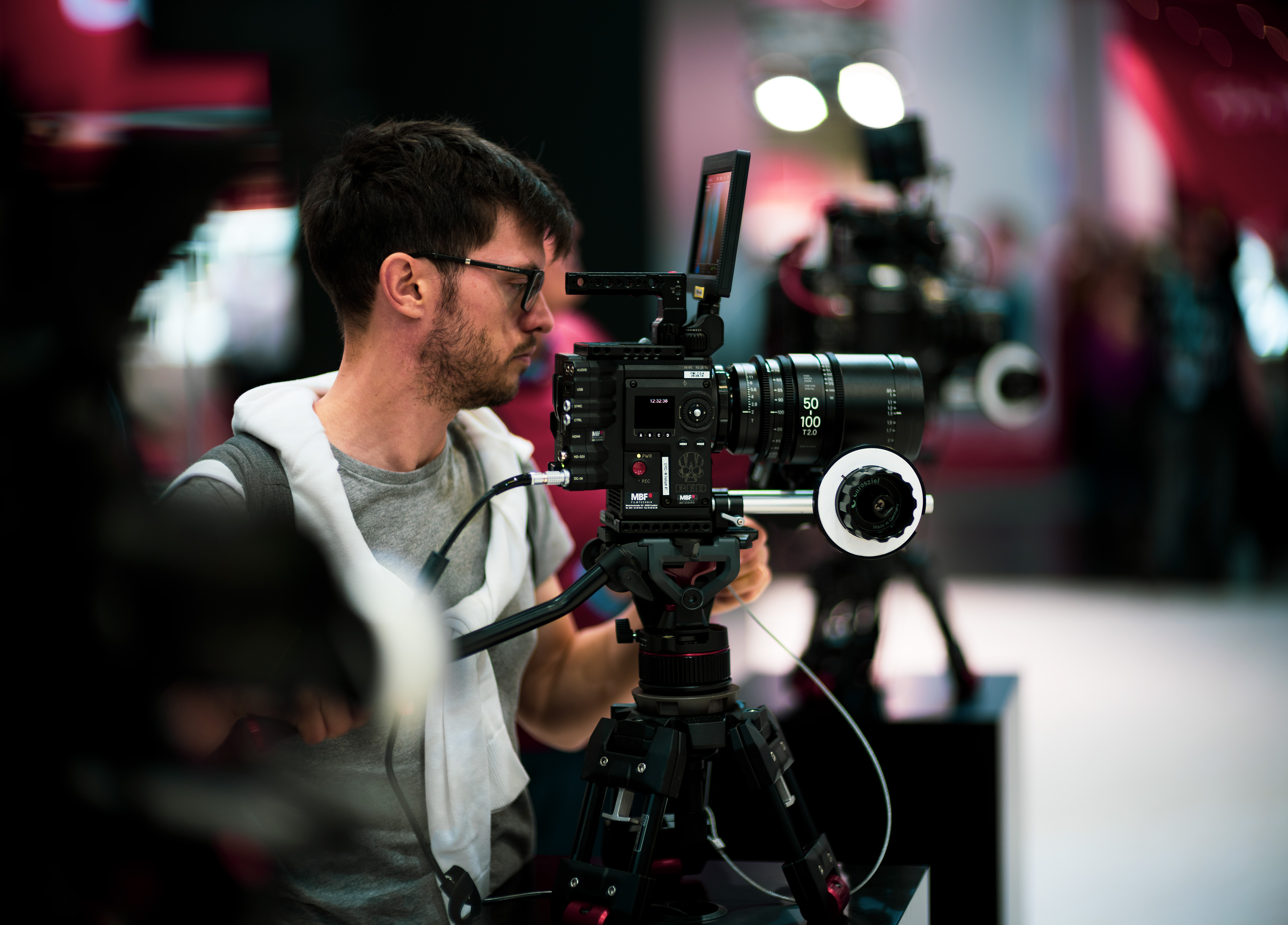 Above: Sigma Cine 50-100mm lens on RED Weapon
The Leica/Sigma/Panasonic alliance is one of the most positive stories of the show, but none of the Panasonic people quite know what happened to Olympus. Apparently, Olympus were aware of the alliance and are invited into the open system, but for reasons only known to Olympus they are not yet ready or have chosen to stand solely behind their Micro Four Thirds range. I really hope to see Olympus participate with a full frame camera.
One of the busiest booths at Photokina was Fujifilm. The Canon stand was busy early on but very sparsely populated by mid-day despite having the best spot. You have to hand it to Canon's marketing team as the area is one of the best designed and nicest to be around with highly trained reps, in contrast to the Sony area which had dead taxidermy birds hanging from the ceiling to photograph 🙂 They did at least also break the prevalent P.C. mood by hiring female models as well.
Photograph: Andrew Reid, Canon FD 85mm F1.2L / Fujifilm GFX 50S medium format (no crop):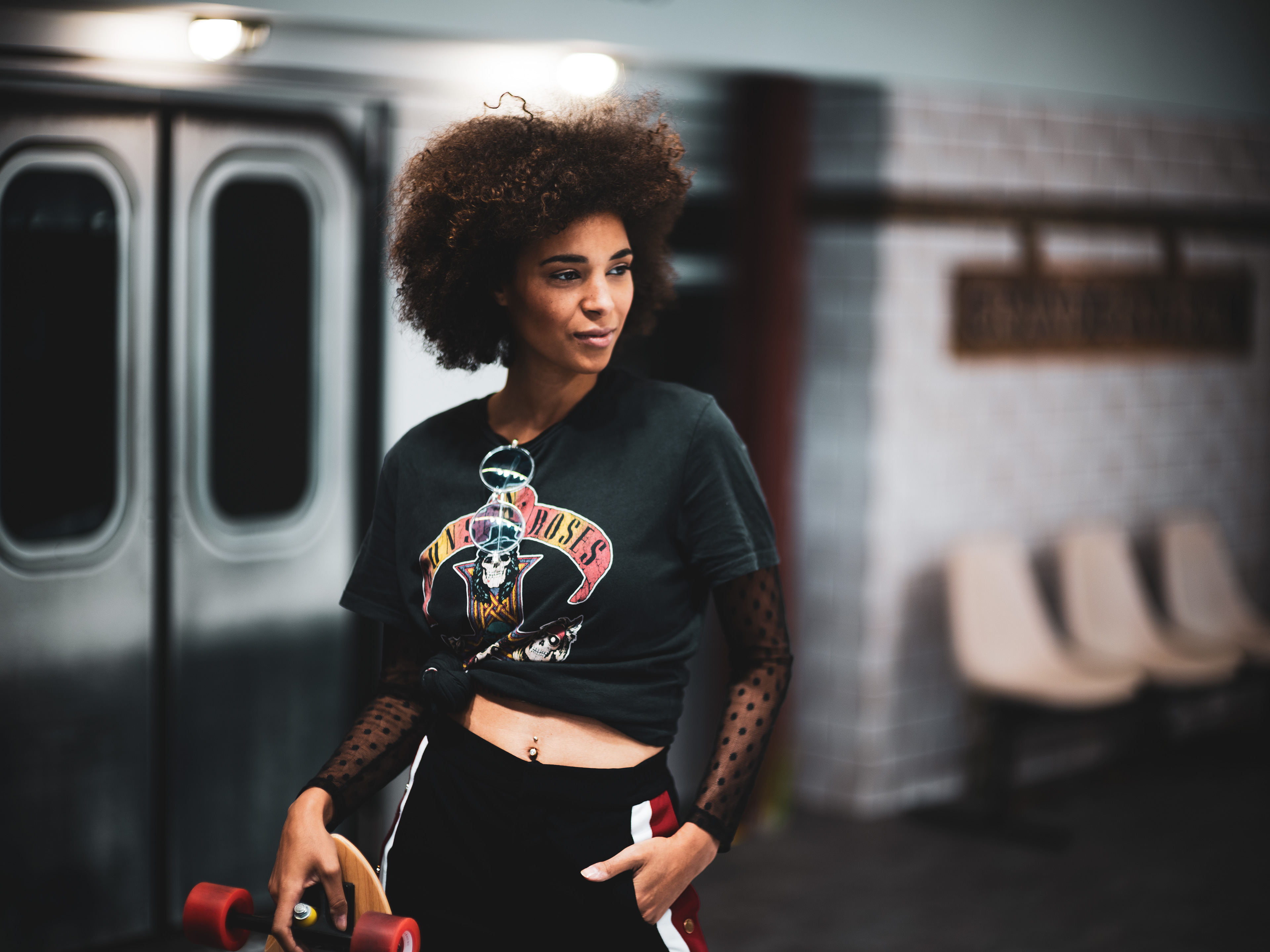 The 100 megapixel 4K shooting MONSTER Fuji was behind glass of bullet proof thickness and strictly not for touching! I like that the body resembles a 1D X Mark II, which is quite a new form factor for the medium format world. It's a lot less bulky than I expected. The big question for this camera will be the codec. The Hasselblad 100MP 4K shooting medium format camera shoots raw. Will the Fuji? With the massive push they are on in video-land at the moment, I wouldn't put it past them. The 50R is also at the show which is the smaller rangefinder version of the GFX 50S. Essentially it is the same with just 1080p video but mega stills. As I am happy with my 50S I don't think I'll make the move sideways, but I am very much up for the 100 megapixel BOMB of a camera, if I can afford one, even if it means selling a bunch of other bodies including the 50S. I will try to get more access to Fujifilm tomorrow, as I have not got a solid contact to rely on there yet. 2 years ago they were nowhere for video and then out of the blue the X-T2 arrived and now X-H1 and X-T3. They are doing amazingly well and pleasing everyone.
My future DREAM CAMERA, top: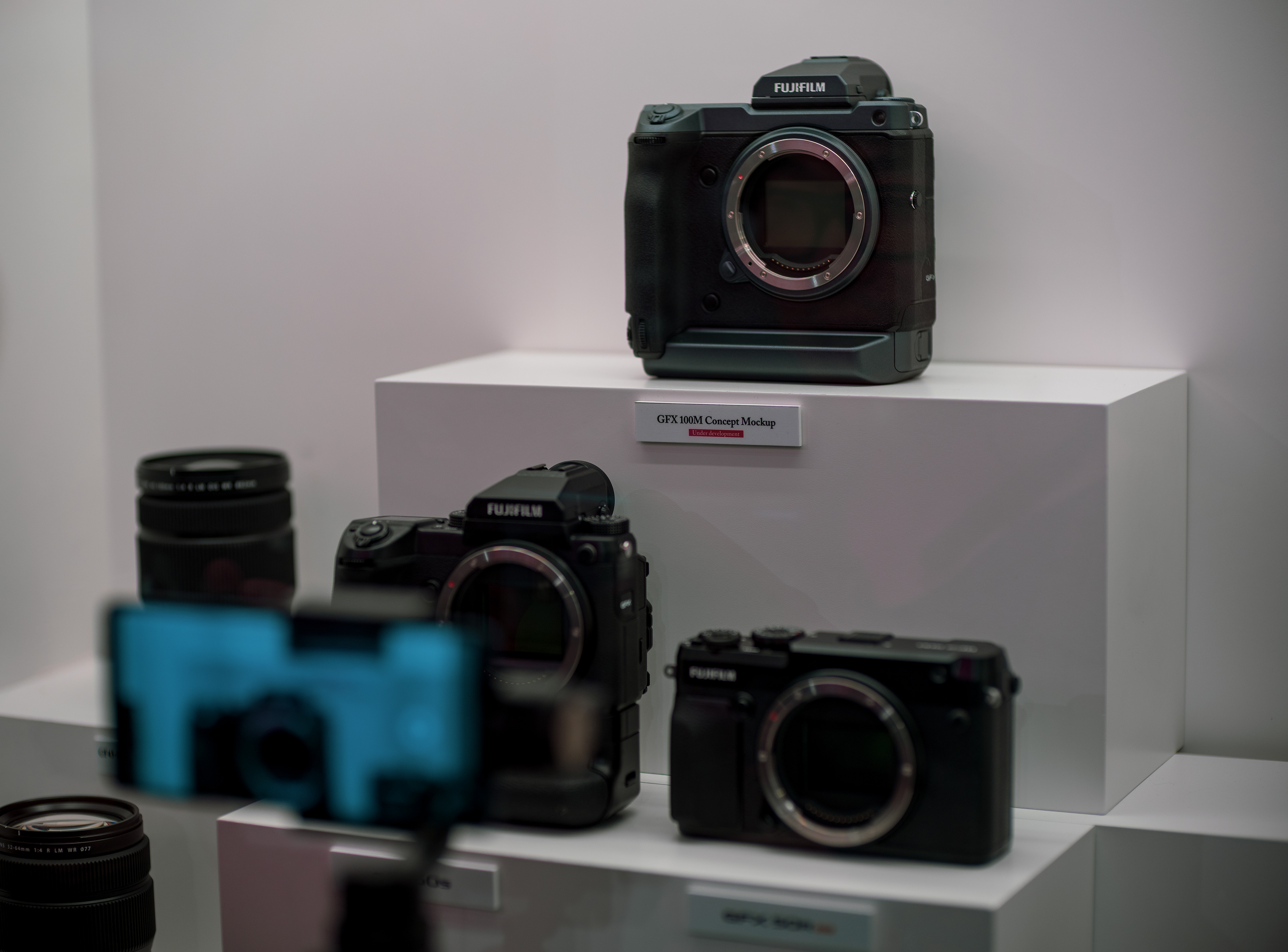 Canon on the other hand have the EOS R – numerous demo models at the show – and I can confirm it feels like a cheap $500 mirrorless camera. Unusually for a Canon body I didn't immediately warm to the ergonomics. Rather than the traditional stills/video live-view switch, now you have to press the Mode button and then the Info button to view the available movie modes. This is a total backward step and really feels like another deliberate attempt to cripple video usability vs Cinema EOS. What was wrong with the live-view lever on the 5D Mark IV?
The other issue I have with the EOS R system is I am confused who it aimed at. The body is mid-range at best, feels low-end in the hand and has the 5D Mark IV sensor inside which is 2 years old. The lenses on the other-hand are about as pro as you can get. $3000 for a zoom and almost as much for a 50mm prime? How many people in the market for what is basically a 6D Mark II level consumer camera body will pick up either of those? It's almost as if Canon WANTS and EXPECTS you to use EF lenses on the adapter. I am sure the system will be built out with a higher-end body in future, to go better with those lenses (no crop in 4K for example). I am sure there will be more affordable lenses to go with the $2000 EOS R body. Honestly, I just don't understand what Canon's game is right now.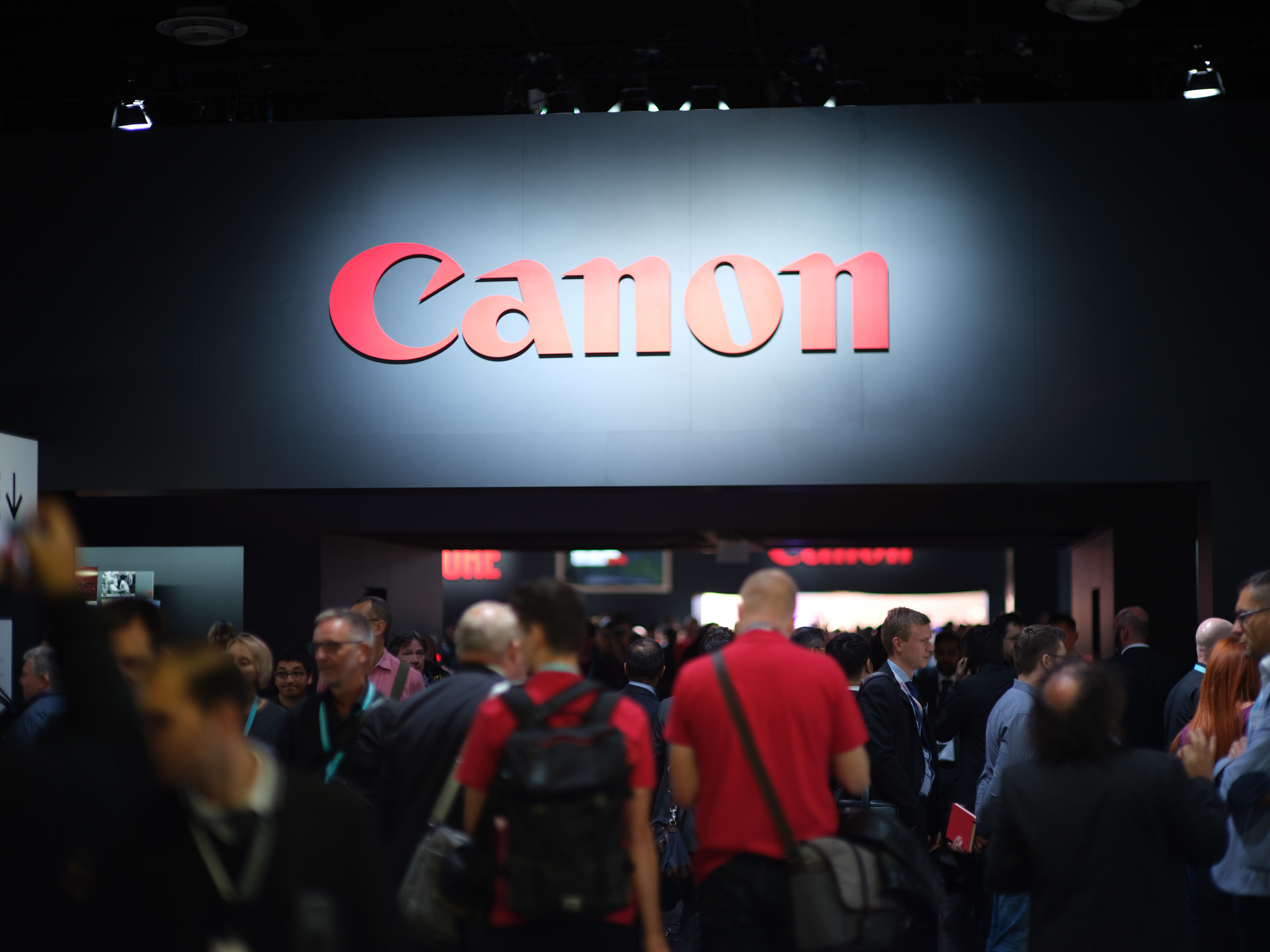 At Nikon, I had a brief hands-on with the Z6 and it feels pretty good. A bit on the cramped side, rear-controls wise, but the grip is chunky and the top LCD a nice flourish. This is a system which treads the best balance between size and cost for me. They have managed to keep both down, without dumbing down the specs. The AF performance for 4K looks extremely good, even with adapted F-mount lenses. This is something critical which might sway a lot of GH5 users over to Nikon, if the S1R autofocus is not a big improvement. The thing is, although Sigma is in the L mount alliance, their current EF mount ART lenses are all designed for phase-detect, which is why they work so well on the A7 III and A7R III with the adapter – but not on a contrast detect system like the GH5. I would like to adapt my Sigma EF mount lenses to the Panasonic S1R rather than invest in lenses that can only be used on one system. The EF mount lenses will be usable on the Sony, Nikon, Fuji and Panasonic mirrorless cameras. This is why you see so many people using Canon lenses on other cameras and why Panasonic is left wondering why people do that. It's not because they are superior in every way – it's that they are cross-platform compatible. Panasonic must be mindful of that with their AF system, otherwise what's to make a Sony or Canon user with EF glass switch to the S platform? Who would risk losing AF performance and having to invest $10,000 in native lenses that can only be used on one unproven camera body?
Back to Fujifilm again, and the X-T3. I am now shooting with my own camera, I managed to find one for sale. This has raised my expectations of what mirrorless video can do. Put simply, I've never had such a capable sensor and codec. It may not be full frame, but that is a 1 stop difference in 'the look' as far as 'bokeh' goes and as far as rendering, you just need to match characterful glass with the 1.5x APS-C sensor. THE BEST one for me is the Zhongyi Speed Master 35mm F0.95. This is what I'm using 99% of the time on the X-T3 and mostly wide-open! It has the character of a Leica Noctilux and I dare say the resolution as well, which when paired with the 6K readout on the X-T3 – even in 60fps mode – makes for a technological marvel, a clear step up from the GH5 and GH5S.
PLENTY more to explore at this huge show tomorrow, so expect part 3 very soon!
I'll leave you with some more photos from that GFX 50S / 85mm F1.2 medium format combo! Yes, my favourite of Canon's best lenses is from the 1970's… And the best way to use it? Not on a modern Canon body, that's for sure 🙂