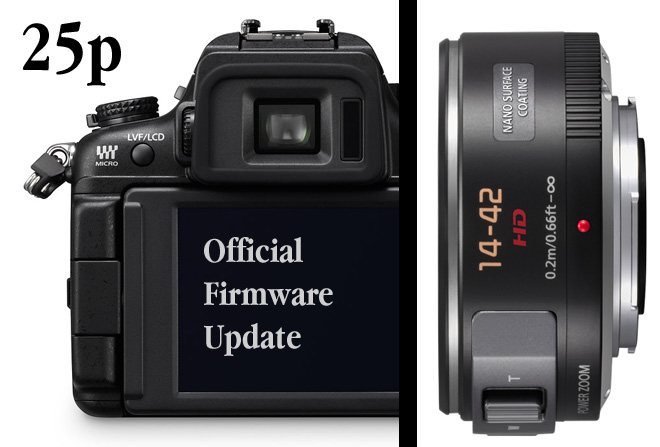 In an interview with EPhotozine Panasonic talk X lenses (as first exclusively revealed by EOSHD last week) and the GH2.
Mr Uetmasu product developer:
A firmware update may be coming for the GH2 to add support for 25p, and additional improvements in video abilities. If there are features you want adding, contact Panasonic and let them know. They are aware of the work the "hackers" are doing and are impressed with their work, but that they (Panasonic) need to test everything / confirm there are no problems before rolling out updates. The GH3 is not due imminently, as the GH2 is still extremely popular, but that there is a high end GF series camera in the works.
Will be interesting to see what the 'other' video improvements are! Hopefully AF tracking and 60p.
Uetmasu also says Panasonic's share of the DSLR market has increased to 30% in Japan whilst the G3 has been a great success in the UK with 65% of the overall mirrorless market, although it will almost certainly drop when the new Sony NEXs come out.
Future X premium lenses will include a fast 12-35mm zoom and a 35-100mm rumoured to have a constant aperture around the F2 mark.
Current X lenses include the 14-42mm pancake and 45-175mm which also features a smooth motorised zoom.
If you missed a smooth powered zoom in video mode now you can have it on a DSLR for the first time.
The 14-42mm will be $399 – not too bad considering it is unique on DSLRs and an X premium lens with Nanocoating. Image quality will be better than all the current Lumix zoom lenses. What's more it makes the GF3 the first ever pocketable large chip DSLR style camera with a zoom. I'm surprised Panasonic's marketing team hasn't made a bigger noise about that. The pocketable zoom / large CMOS combo has the potential to seriously erode the compact sales of Canon and Nikon.
Panasonic also say they will improve the EVF (presumably to NEX 7 standards) and dramatically increase AF performance in video mode in future.
Although the new Sony NEX 7 and A77 are technically cutting edge and have a larger sensor, the GH2 remains the current best video DSLR in terms of the cleanness and resolution of the image.
Checkout just how small the new 14-42mm pancake is to the standard kit zoom at Engadget here