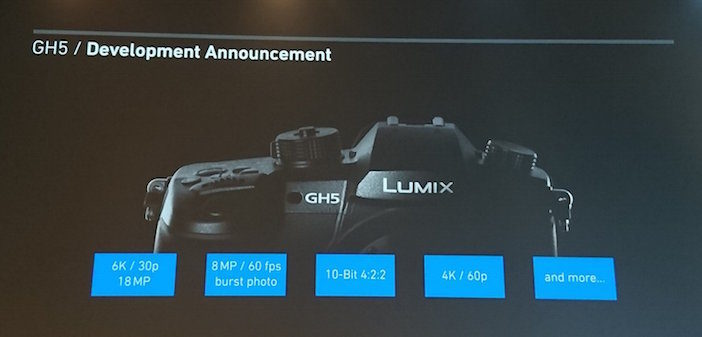 Here it is.
Panasonic used their Photokina press conference today to announce the development of the Panasonic GH5 and their path towards 8K by 2020. The hybrid mirrorless camera is the first to shoot 4K/60p and 10bit 4:2:2 internally.
The new camera has an 18MP sensor, which Panasonic is calling '6K' but it does not do 6K video. Instead it does 4K/60p like the Canon 1D X Mark II.
A 6K/30p Photo mode is present, which is designed for selecting 18MP stills from a 6K video stream. How this works in reality, especially from an 18MP sensor which I don't see being 6000 pixels wide remains to be seen and I'll be looking into this soon. I think the 6K Photo mode is just a marketing term, but the rest of the camera seems very well specced.
The body takes on the more angular corners of recent Panasonic bodies, such as the G7. A Panasonic G8/G80 was also announced at the show, which promises to offer a more budget friendly alternative to the GH5 for 4K video. It has the fantastic 5 axis in-body stabilisation of the recent GX85.
Oddly there was no mention of 5 axis stabilisation on the GH5 during the press conference. I really do hope it is there.
The GH5 is due to hit stores in the first half of 2017. This is quite a bit later than I expected.
More on the GH5 throughout the day on EOSHD…