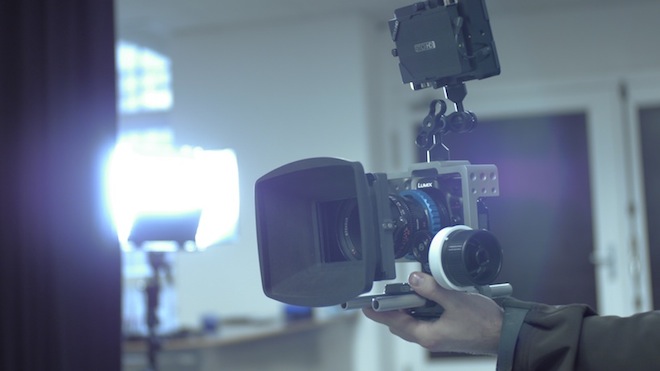 In December I was contacted by Philip Reinhold (DP) and Bernd Wondollek (Director) in Berlin. 'Re' and 'Wo' also run ReWo who are manufacturing the first cage for the Panasonic GH2.
It's designed for the professional filmmaker and ReWo do all the tooling and manufacturing themselves in Germany. It is designed in the same CAM/CAD software used in the automotive and aerospace industry, and milled from a single block of aircraft grade aluminium – German engineering at it's best!
I was encouraged by what I saw in the prototype and suggested an extra cut out area for better access to the GH2's top panel control dial and record button which found it's way into the finished product. So there is even a little bit of EOSHD DNA in the ReWo GH2 cage. Since the ReWo guys are filmmaker's themselves, they have a great grasp on usability and what is required of the cage.
I tried the most recent prototype this week and it's fantastic – ridged enough to withstand just about any demand but light enough and small enough to not detract from what DSLRs are all about. The product is still under development but scheduled for release in February (more details in part 2).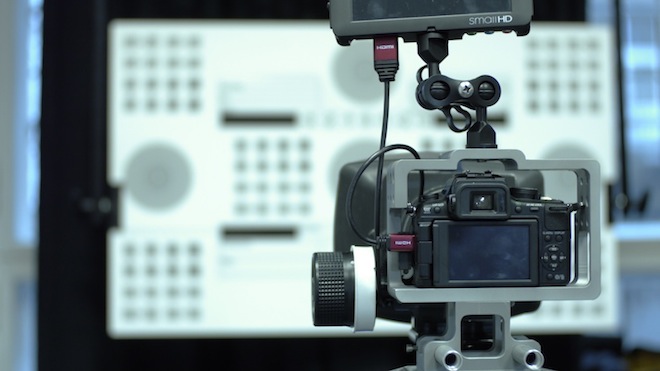 In my blog post on DSLR video rigs and form factors recently I said modularity was the way of the future and this confirms it. The cage acts as a core for this modularity, allowing the GH2 to be a chameleon.
It's always been true that artists should choose the right tool for the job – and now we have modularity with DSLRs, the tool suits just about anything. In the blink of an eye at MBF Filmtechnik (filmmaker's rental house in Berlin), I saw the GH2 change from a studio camera on sticks with a monitor, to a run & gun handheld rig. Without the cage, none of this would be possible.
What I like most about this cage is that it so tightly adheres to the GH2's small form factor and shape. It could have been square, it could have been larger – but it isn't. It's like a perfect aluminium outline of the GH2's silhouette and has cut outs for access which are fine tuned just-so.
Handheld with a shoulder mount, follow focus and handles, footage gets a huge boost. All the usual handheld jitter is gone, the unnatural floating feeling of OIS is gone, and yet the rig is still incredibly compact and light compared to a ENG shoulder cam for broadcast.
I will be shooting with the cage soon and ReWo have some interesting plans in store to turn the GH2 into a truly professional filmmaking tool.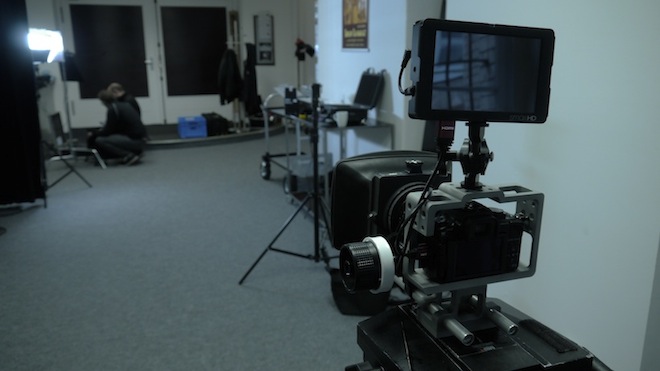 They will have a modified PL mount adapter for the GH2 with a support for the lens mount. Even medium weight lenses on the GH2 flex the mount when used with a follow focus, so when you rack focus the image shifts. This will fix the problem.
ReWo are also planning a hot-shoe mounting adapter, which will allow the GH2 to attach to the cage both top and bottom for better stability.
The set-up we had on the prototype GH2 cage featured a follow focus by German company Chrosziel, and a very nice Zeiss PL mount cinema prime. The follow focus in this instance was very simple – it's just a geared wheel sprung up against the lens. This is a luxury we don't have with most DSLR lenses because they lack the gearing on the focus wheel, obviously.
The cage mounting points are industry standard Arri / RED 1/4″ and 3/8″ windings, so the cage is compatible with Arri accessories, handles and arms. The cage is precisely measured, handles from Arri and RED can fit in 4 different positions and 2 different areas at the sides. The drillings also match the Arri BridgePlate 5 & 8 for the use of 19mm rods.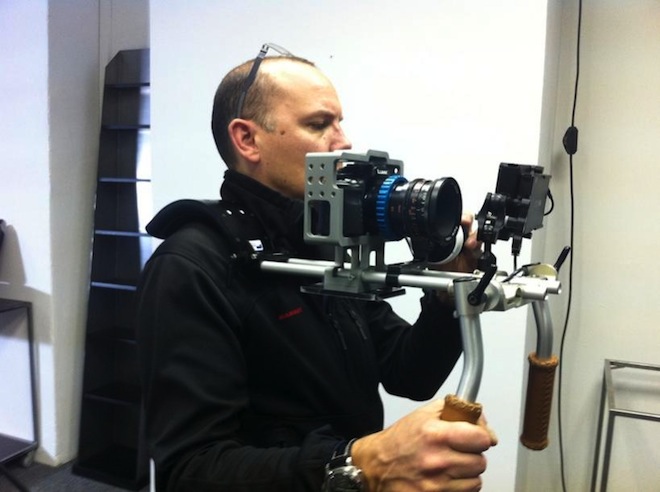 EOSHD comes at the professional video world as an outsider, and I think DSLRs are a consumer's entry to a world of artistry previously blocked. Although ReWo's cage is a professional tool, I believe it's something consumers should also look at very closely.
So far I've been of the opinion that most DSLR rigs have been unnecessarily expensive, complex or bulky, and in some cases all 3. I have yet to find one I really like, with the exception of the work Sam Morgan Moore is doing at Half Inch Rails.
Over the next few months my main aims is to perfect a DSLR rig for stable handheld shooting, and to get away from the tiny LCD on DSLRs for proper focus checking. I want to give a rig the EOSHD seal of approval and I'm going to be experimenting a lot.
I'm not a big fan of viewfinders and EVFs, and so the ReWo cage is essential for adding proper monitoring to a DSLR, as well as audio gear like Rode or Sennheiser mics.
I want this to be done in the most affordable, lightweight and balanced way possible so I can spontaneously capture stuff on the street and on location, documentary style.
Stay tuned part 2 of the ReWo cage story and a competition to win a ReWo Canon 5D cage.
FOOTNOTE
Attached to the cage, MBF Filmtechnik Berlin had provided a Small HD DP6 monitor. I'll be reviewing one shortly on the 60D and GH2.
One short-coming of the GH2 which I hope will be addressed by an ingenious Vitaliy Kiselev hack, is that there is a gamma and dynamic range shift between live view and record mode, and that it's especially noticeable on a monitor. Also the HDMI feed does not support sensor windowing – crop mode and manual focus assist are out. MF assist I can do without because a monitor serves that purpose itself, but crop mode is more of a shame.
Vitaliy Kiselev can only begin work once Panasonic release the first firmware update for the GH2. I believe the last one took around 3-4 months from the release of the GH1, so we may have between 2-3 months before any possibility of a hack arrives.