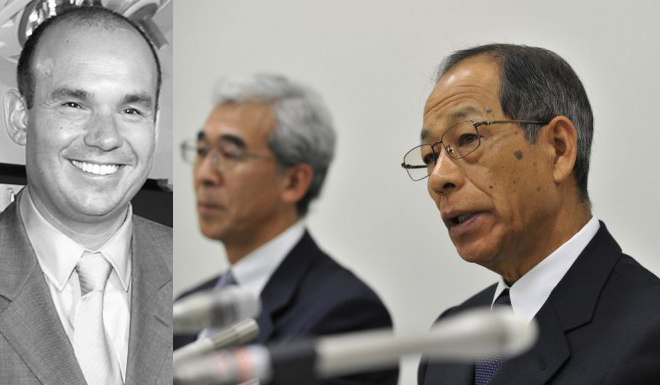 Above: Olympus chairman Tsuyoshi Kikukawa speaking at a press conference to announce the firing of CEO Woodford
Reuters are reporting on an escalation in the Olympus scandal, as the future of the company looks more and more uncertain. The key figure has emerged as a Wall Street banker (I am not surprised) of Japanese descent named Hajime "Jim" Sagawa, after British ex-CEO Michael Woodford filed a paper trail with the Serious Fraud Office in London this week.
On their recommendation Woodford (above, left-middle) is now seeking police protection from Scotland Yard due to fears for his safety.
Reuters reporters later found their way to "Jim's" home in Miami only to find he had fled leaving his wife to answer for him. "My husband was on Wall Street for many years and was well-respected. My husband is clean as a whistle, I assure you."
Wife Ellen then gave reporters access to the accused Sagawa's phone number but he refused to return any calls.
Olympus themselves have released several statements (which read like one giant panic) but are staying obtuse when it comes to details, only confirming that they did indeed pay a massive $687m fee to two obscure Cayman Islands investment companies for "advice on an acquisition".
That value amounted to 2 years Olympus profit and ONE THIRD of the acquisition value of the $2.2 billion dollar company rather than the standard $2m 1-2% for strategic and financial advice at this level. The company concerned was a British medical equipment organisation bought by Olympus's profitable medical tech division. Olympus shares are down over 50% since news of the scandal broke. Olympus are literally now worth half of what they were.
The Cayman Islands is a tax haven and transactions carried out there are far more 'off the grid' than in the established financial centres of the world such as London, Tokyo and New York.
According to Amateur Photographer magazine UK Woodford this week made a follow-up visit to provide more information to the Serious Fraud Office, presumably at their request. It all points to the accusations having grounds for prosecution.
Despite the massive windfall from Olympus, "Japanese Jim's" investment company has since closed altogether (just 2 weeks after the final payment of over $400 million) and has been taken off the Cayman Islands registry list. What have they got to hide?
Currently, neither Sagawa San or Olympus are saying.
Further reading