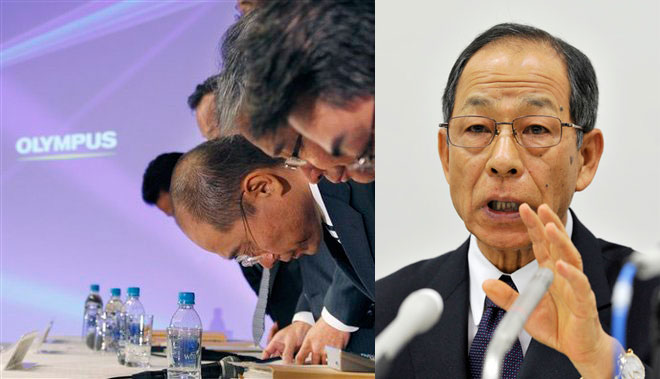 Olympus have admitted to illegal accounting practices in a news conference held in Tokyo today. The company used over $1 billion to hide huge losses from bad investments since the 90's, sweeping them under the rug by making spurious payments to dummy entitles, the largest of which was over $670 million (or 2 years profit) in 2008 to a Caymans Island entity which disappeared 2 weeks later.
Shares in Olympus fell 70% on the news a few hours ago and could be de-listed from the Tokyo stock exchange. "Under Japanese exchange rules, companies found to have falsified earnings reports could be removed from trading."
The precedent set by Japanese firms that have done the same thing – dubbed 'tobashi' in Japan – is not good. Namely, criminal conviction and bankruptcy followed suit.
From the Wall Street Journal
"One of the most infamous examples was the demise of Yamaichi Securities Co. The company hid over Y200 billion in losses by making a series of transfers between clients so they weren't spotted on financial statements. The former chairman and president were both convicted in 2000 and the company officially completed bankruptcy proceedings five years later."
With Olympus having lost 70% of its value and facing a massive ethical backlash, as well as huge damage to its once respected brand there are dark times ahead for the company especially the camera division which is already loss making even by Olympus's accounting practices! It is speculated the camera company could be spun off but in my view there are a lack of possible candidates. Ricoh recently purchased Pentax. Panasonic have too many overlapping technologies, Nikon already have mirrorless technology and Canon are known to be developing their own.
Olympus Vice President Hisashi Mori was today fired, as the company released the statement admitting wrongdoing.
Read EOSHD's background to the scandal here
Olympus are due to hold a press conference in Tokyo soon, and I'll update the article as the day progresses because it is quite a fast moving story.