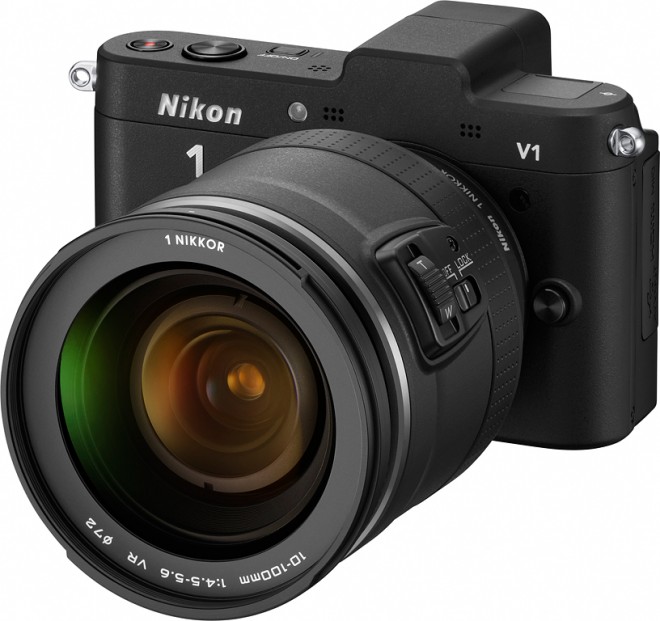 Some video samples here at ImagingResource
Live at the launch with DPReview.com – hands-on and future lenses
Nikon have just launched their mirrorless camera. Video samples seem pretty crisp and detailed although bitrate is to be confirmed.
I'll update the site later after the dust has settled. Until then, here is what we know:
2.7x crop sensor

GH2 is 1.86x and NEX 5N 1.5x

The debut of Expeed 3 (D7000 was Expeed 2). Greatly enhanced video and noise reduction over previous Nikons.

Higher end Dual Expeed 3 may be foundation for future FX D4 / D5 video modes.


HD movies: 1920 x 1080/60i, 1920 x 1080/30p, 1280 x 720/60p

H.264 in a Quicktime wrapper. Bitrate TBC. No 24p?

Slow motion movies: 640 x 240/400fps, 320 x 120/1200fps

This will have some nice uses. Not offered by any other DSLR.

Still image movies at 60p

Full resolution 10MP at 60fps continuous shooting rate – burst duration TBC.

Snapshot video mode: 1920×1080/60p

It can do video for short bursts in this mode but can't do 60p sustained

10MP, ISO 6400

Good to see a low megapixel count, should compensate somewhat for the smaller than Micro Four Thirds sensor

Phase and contrast detect AF

Personally with Olympus's contrast detect AF now faster than phase detect, it is time to – ahem – phase out phase detection.
It does on-sensor phase detect AF during video recording

10mm F2.8 pancake (roughly 27-28mm equivalent)
10-100mm super zoom VR (F4.5-5.6), and kit lens 10-30mm VR F3.5-5.6
V1 is the higher end model

It has built in EVF and accessory port, J1 has built in flash but no EVF.
$899 and $549 respectively. Not too bad for the J1 in my opinion.
I believe Nikon had to dump their 'smallest mirrorless' slogan after Pentax launched their Q system. A race to the bottom in terms of size is it? Let's have a race to the top for image quality and features next please Nikon.
If video and high ISO is nice on this camera it could be pretty good. I am unimpressed with the lack of fast primes for it but c-mounts and all other lenses may adapt very well to it.
More views later.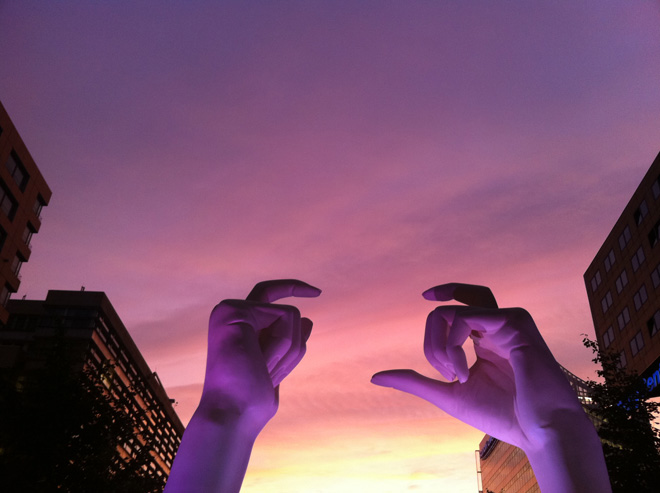 Above: spotted this pair of giant hands in Berlin the other day, it was unmarked and I hadn't a clue what I was witnessing. It turns out it is a key part of the marketing for Nikon's new mirrorless camera. And they put it outside the Sony Centre!