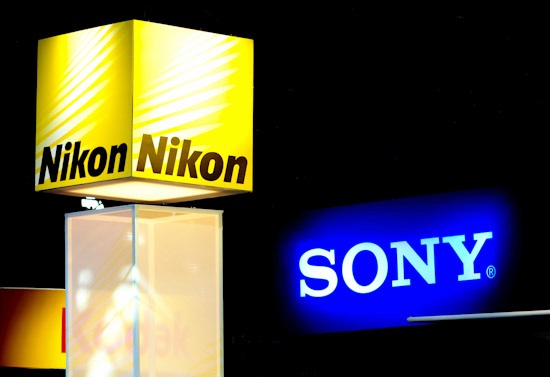 Above – Failures.
After the disappointment of Sony's new DSLRs, the A55 and A580, this is not really what we need. According to HDSLR shooter Nino Leitner, Nikon's German press office have said that the D3100 will not have the option for manual controls in video mode.
The general stance of Japanese DSLR manufacturers seems to be that customer research has told them their cameras need to be easy to use. At least the entry to mid-range consumer DSLRs.
Automatic controls are a good thing to have on a video camera for run-and-gun, documentary shooting, event filming and journalism where swift handheld camera work is required. But for the other half of the audience, we need manual controls. Canon's USA arm have been instrumental in pushing their video enabled DSLRs into the other half of the market – that of indie filmmakers, cinematographers, creative video shooters and professionals.
Why do Sony and Nikon assume we don't matter? We're the larger market.
It is expected that the Nikon D3100 uses the same 14MP CMOS sensor as in the Sony NEX 5 which also lacks manual video controls. Could the D3100 be a victim of Sony? It's quite possible, since it is likely Nikon are also using the same 3-CPU video pipeline process from Sony, and re-banding it as EXPEED 2. It is sad to see, that in these times of economic hardship, a great company like Nikon has stopped innovating and instead is relying on borrowing technology from Sony. It is just as well they still make a good margin on their lenses, and that the build quality of their bodies is decent.
German website SlashCam has the following assessment of the Nikon D3100's manual video controls:
The D3100 uses the f-stop filming, which was set upon activation of the Live-View. One can, therefore, have aperture control…
The ISO level is always selected automatically by the camera. This cycle can not be disabled. When changing the camera adjusts the image brightness to the brightness automatically.
The automatic brightness adjustment can be disabled by pressing the AE-L-/AF-L button
This is identical to the Samsung NX10's video mode.
Panasonic GH1 hacker Vitaliy Keslev is currently investigating the inner workings of Sony's crippled video mode architecture. He identifies the source of the problem as being partly marketing, and partly cheap chips.
One part [of the marketing department]wanted to see good FPS numbers and "revolutionary" AF in video, but did not have resources and knowledge to implement [it correctly]. Others did not want to spoil upcoming top-end DSLRs and camcorders. [The hardware in the A55] seems to have same strange hardware as NEX. Three LSI chips (one is main slow processor, one looks like video encoder and other can be image related chip). Slow actual IO. Buffer helps for some time, but as soon as it is deplated… Old Panasonic viewfinder (not the one used in upcoming replacement). Yes, and they realised that it is not 1.44Mp as they do not have 4:3 mode 🙂 at the last minute. And I almost forgot about overheating during video, especially then using SteadiShot – and, yes, it buzzes constantly 🙂
I expected more than 'cheap chips' from Sony and I honestly expected a little more from Nikon.
Are Canon's closest rivals falling over themselves to fail first?