[vimeo]http://vimeo.com/85849379[/vimeo]
Above: beautiful new film from Seb Farges shot with the SLR Magic Anamorphot on the Sony A7 and Olympus E-M5.
SLR Magic have officially announced the Anamorphot developed with feedback and technical assistance from EOSHD and the anamorphic community.
To order: there is currently a pre-order offer for people who follow the Twitter handle @anamorphot and email a screen grab of it to support@slrmagic.com by Feb 14th (GMT +8).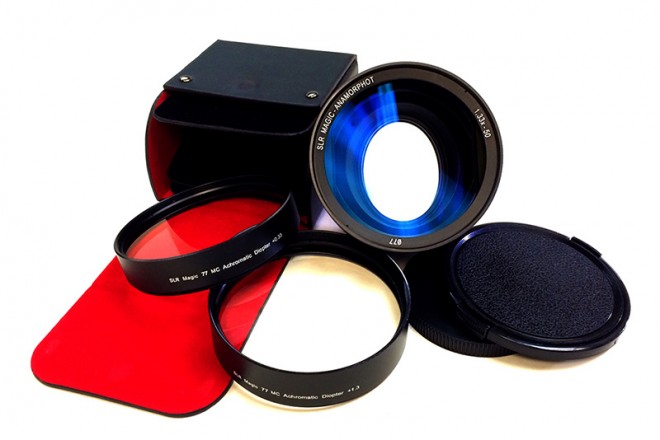 I have now received a set of the first diopters to ship, which SLR Magic have developed especially for the lens for very close focus, in addition to the close focus mechanism built into the lens.
I'll be covering these soon on EOSHD, using them on the Anamorphot as well as my Iscoramas to see how they perform vs the popular Tokina diopters much adored by the anamorphic community. These Tokina diopters were adored so much we created another hellish price bubble for them. Suffice to say the SLR Magic ones are half the price – you can buy the pair for $299.
I highly recommend the Anamorphot for anyone currently using an older LA7200 anamorphic or vintage dual-focus anamorphic. This lens is superior in my opinion. The anamorphic lens by itself costs just $899. Advanced users can buy it in a complete Special Edition kit with the diopters, stepping rings and SLR Magic 35mm T1.4 for $1899, a saving on buying the individual pieces separately.
I am lucky and own several Iscoramas but these are priced in the region of $3000. The Anamorphot does not quite give you the same vintage anamorphic feel as the Iscorama but it is 1/3rd of the price and has a unique style of its own.
Here's the press release from SLR Magic –
Hong Kong, China (Feb 10, 2014) – SLR Magic is proud to announce the SLR Magic Anamorphot 1,33x – 50 for indie filmmakers.

In the past, many indie filmmakers who wanted to shoot anamorphic had to depend on rare vintage lenses, which was not always reliable. In hopes to provide a reliable and available solution for indie anamorphic shooters, we had active feedback Personal-View forum users as well as technical assistance from https://www.eoshd.com for the past two years.

To achieve the much loved 2.35:1 scope aspect ratio, which gives a very pleasant, epic effect, filmmakers must crop off the top and bottom of standard 16:9 footage when using spherical lenses with modern digital cameras. As a result, 25% of sensor/negative information is discarded.

As a commitment to the film industry, SLR Magic developed this 1,33x anamorphic adapter to help filmmakers maximize their image quality by preventing this loss of vertical resolution. The unique 1,33x squeeze factor uses the entire 16:9 sensor/negative area to achieve the desired 2.35:1 aspect ratio. The Anamorphot 1.33x – 50 does this by compressing a 33% wider field of view to fit the width of the 16:9 sensor/negative without compressing image height.

Modern professional cinema cameras have large sensors capable of capturing an image in the 2.35:1 format directly, using spherical lenses, but film makers still desire the anamorphic "look" which often limits them to using rare vintage lenses. These present a number of difficulties in practice such as size, weight, lack of close focus, availability, and high price. We sought to overcome such issues with the SLR Magic Anamorphot.

The SLR Magic Anamorphot 1,33x – 50 create a unique "artifact" such as horizontal lens flare, commonly referred to as anamorphic streaks, and may create slightly elongated bokeh when achromatic diopters are used. Over the history of cinema, these same stylish effects have contributed to the cinematic "look" of epic motion picture photography. Characteristics that shape this anamorphic "look" come from "front-mounted" anamorphic adapter designs such as the SLR Magic Anamorphot while "rear-mounted" anamorphic designs have more suppressed anamorphic characteristics.

We will offer The SLR Magic Anamorphot 1,33x – 50 in two editions. The standard edition may have slight cosmetic imperfections such as small dust motes which has no observable impact on image quality. It usually takes a lot of imperfections to perceptibly degrade the image quality of a lens. Feedback from the "Most wanted ANAMORPHIC lens" forum topic showed many indie filmmakers wanted an affordable anamorphic lens option over rare vintage anamorphic lenses to use as "tools" for filmmaking. Cosmetic perfections lead to long labor hours in making an anamorphic lens and it is the main reason for high cost of new anamorphic lenses. It was a practical decision we made to offer two different editions to cater for these two consumer needs. The standard edition will have no material or optical compromises over the the SPECIAL EDITION. The SPECIAL EDITION will be sold in Hong Kong only and it is the same as the standard edition in terms of the materials used and optical image quality but extra effort would be put into the assembly process where it would be free of any dust motes (at the time of purchase only). The SPECIAL EDITION would be made "by order" basis.

The SLR Magic Anamorphot 1,33x – 50 and SLR Magic 77mm Achromatic Diopter Set (+0.33, +1.3) will be available from authorised SLR Magic resellers by March, 2014.

There is currently a pre-order offer for people who follow our twitter handle @anamorphot and email it to support@slrmagic.com by Feb 14th (GMT +8).

The Anamorphot will be available for viewing at the CP+ show in Yokohama Japan from Feb 13-16 in the Video Area for Professionals at the "Digital-hobby" booth.

The SLR Magic Anamorphot 1,33x – 50 and SLR Magic 77mm Achromatic Diopter Set (+0.33, +1.3)

Technical Data:

SLR Magic Anamorphot 1,33x – 50
Lens Type: Anamorphic adapter
Compatible Cameras: All micro four thirds mount cameras
Magnification: 12-36x
Objective front filter thread: Φ77
Objective rear filter thread: Φ62, Φ58, Φ52, Φ49
Lens Coating: Multi Coated
Close Focus: dependant on taking lens compatibility
Weight (oz./g): 13.4/380
Optional accessories: SLR Magic 77mm Achromatic Diopter Set (+0.33, +1.3)

Suggested taking lens based on sensor size:

17-85mm focal length can be used for S16 sensor.
20-85mm focal length can be used for mFT sensor.
35-85mm focal length can be used for S35 and APS-C sensor.
40-85mm focal length can be used for Full Frame sensor.

Taking lens compatibility

Lenses with non-rotating front filter threads must be used. The front element of the taking lens should be as close to the rear element of the SLR Magic Anamorphot 1,33x – 50 as possible without making contact. It isn't necessary for the taking lens to have an internal focusing mechanism. Trial and error will be involved but, in general, the SLR Magic Anamorphot is best paired with a prime lens whose front element (not to be confused with its filter thread) is smaller than 50mm in diameter.

MSRP : $1,899 for SLR Magic Anamorphot SPECIAL EDITION 1,33x – 50
: $899 for SLR Magic Anamorphot 1,33x – 50
: $299 for SLR Magic 77mm Achromatic Diopter Set (+0.33, +1.3)

Samples by testers and volunteer users using the standard edition of the SLR Magic Anamorphot 1,33x – 50:

by EOSHD
Anamorphic sample footage shot with the SLR Magic Anamorphot – and which lenses go best with it?

by Eyepatch Entertainment
SLR Magic 1.33x Anamorphic Adapter 35mm T1.4 Tutorial Video
SLR Magic 1.33x Anamorphic – Tip for near focus mode
SLR Magic Anamorphic vs LA7200 Flare and Resolution comparison
SLR Magic 1.33x Anamorphic – Sunset BMCC RAW

by Seb Farges
One Week with SLR Magic anamorphot (OM-D & Sony A7)
http://vimeo.com/85849379

by Ed Arnaud
SLR Magic 1.33X Anamorphot Test 1
http://vimeo.com/85588187
SLR Magic 1.33X Anamorphot Lens Flare Test
http://vimeo.com/85066650

by Brad Proudlove
SLR Magic Anamorphot Demo

by P13 Digital Media
Kascarade – The Long Kiss Goodbye – Acoustic version
http://vimeo.com/85010380
Bradford at night – Anamorphic – SLR Magic Anamorphot 1.33 x 50 – F2.8
https://vimeo.com/85206248

by Edwin Lee
Dark Side (SLR Magic anamorphic)
http://vimeo.com/83319046

by Peter Prevec
Frozen
http://vimeo.com/86176821

by 3d-kraft.com
Anamorphic Project – First Tests of the final SLR Magic Anamorphot 1.33x – 50, Part 1
http://3d-kraft.com/index.php?option=com_content&view=article&id=152&catid=40&Itemid=2

by Orlando Benedicto
Chinese New Years 2014 – SLR Magic Anamorphot + Canon 5D mkIII RAW – Night Extended Footage
http://vimeo.com/85808761

by Jordan Levy
SLR MAGIC ANAMORPHIC ADAPTER TEST