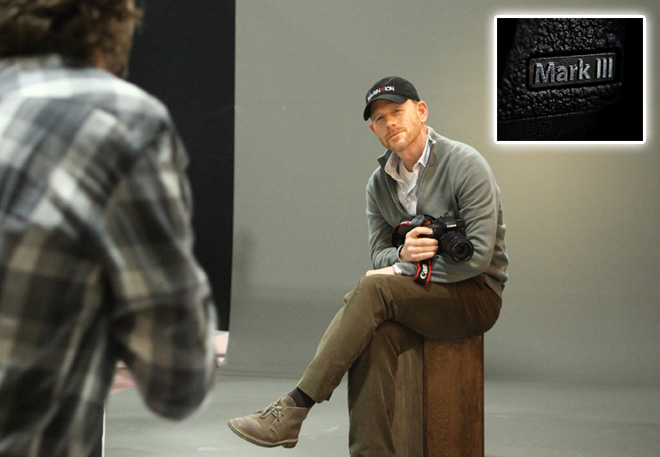 There's some pretty compelling evidence that the 5D Mk3 is out there.
Canon's Tim Smith was seen at Hollywood rental house Birns and Sawyer testing a new camera, concealed from view with the whole thing under an NDA, he was said to be walking around holding 5D batteries (according to Wide Open Camera).
There will be a stand set aside at Canon Pro Photo solutions in London for a new camera, this is on October 25th. EOSHD will be there for it.
Canon USA are running a high profile Ron Howard EOS movie-making campaign which climaxes later this year with a short film shot on DSLRs by Howard. From the official press release – "These eight winning photos will become the basis and inspiration for a short film shot with Canon DSLR products that will premiere later this year in New York City with the winners in town for a red carpet event where they will have the opportunity to meet Ron Howard."
Now a lot of people have been linking this to the Canon 'The Story Begins' Hollywood event on the 3rd of November where a new Canon 35mm 4K cinema camera might debut. But why link the video camera launch to a DSLR marketing campaign? It doesn't make sense. Project Imagination is similar to Vincent LaForet's Story Behind The Still competition. And why does it say New York premiere in the Ron Howard / Canon press release? Yes it is possible the venue has changed to Hollywood but it still points more to a new DSLR than a video camera despite the location because the link to the Ron Howard DSLR stuff is pretty strong.
Unusually the 5D Mark II has an instant rebate running until 29th October 2011, days before the Hollywood event – and has seen the first ever meaningful price drops this week, to under $2000 in Canada. Also, dealers have been offered bulk-buy discounts on the 5DMk2
Canon's new S100 compact has been announced and it is the first to feature DIGIC 5, the next generation image processor that the 5DMk3 is expected to feature. Precisely 3 years ago on the 16th September 2008 DIGIC 4 was introduced in the Canon G10 compact. A day later the 5D MkII was officially announced. Is History about to repeat?
There's also evidence for a Super 35mm 4K video camera and the 1DS Mk4.
To be honest Canon are in no rush with the 1DS since the 5D Mk2 is more important and the 1D Mk4 relatively fresh in the memory. These cameras provided for 95% of people and the 1DS Mk3 was not a big seller. But Canon badly need an answer to Sony and Panasonic in the video market and so the evidence for the 4K camera is more compelling.
I think it will be EF mount not PL, although if there are two cameras announced it makes sense to do what Sony have done and do both mounts, possibly even a new mirrorless mount like Sony has on the E-mount FS100.
Fujinon who already have PL cinema glass on the market are said to be developing EF mount cine lenses for the system to compete with Zeiss CP2s, the advantage of these is that they will work on EF mount DSLRs unlike PL mounts which require hardware modding of the mirror box. The move will also earn mount licensing royalties for Canon. Fuji lenses on a Canon? It makes more sense than it seems.
According to other rumours the EF mount video camera will be designed to compete with the FS100 at around $6,000 and there is a PL mount version will squash the Sony F3 for $15,000.
Canon are said to have new video optimised EF lenses that can be used on both the new 5D Mk3 as well as the EF mount video camera.
And the latest 1DS Mk4 rumours are less compelling…
The 1DS Mk3 – somewhat unpopular due to the more attractive 5DMkII – has now been discontinued and it has come well past its 3 year cycle. Dutch dealers have been told 'no more' stock, and the Canon Canada and New Zealand websites have removed it. It is time for a replacement but will there be one?
Although probably a typo Art Wolfe let slip on his Facebook status the following: "I just wanted to extend an extra thank you to Michael Gurley from Canon for bringing the keys to the candy store this past weekend for the workshop participants. Mike brought with him just about every Canon lens… along with numerous backs including the new 1DS Mark 4." It was since removed and corrected to simply say '1D Mark 4' instead of 'new 1DS Mark 4' (view).
Like I say I don't think the new 1DS is a priority for Canon, I think it will go as follows…
First the 5D Mk3 in October. A big marketing push in November. Limited stock on sale for Christmas.
Possibly the Super 35mm cinema camera(s) in November potentially to be unveiled at the Paramount studios event in Hollywood on the 3rd.
Sales of the 60D, 600D, 7D and G12 are still strong so I think it will be 2012 before we see an update to those, featuring DIGIC 5.
August-October is the peak time of the year for new camera releases and until now high end Canon DSLRs have been on 3 year cycles. By October with the Christmas shopping season approaching, the 5DMk2 3 years old and Sony's new A77 on the market don't be surprised to finally see the Canon response we have all been waiting for.