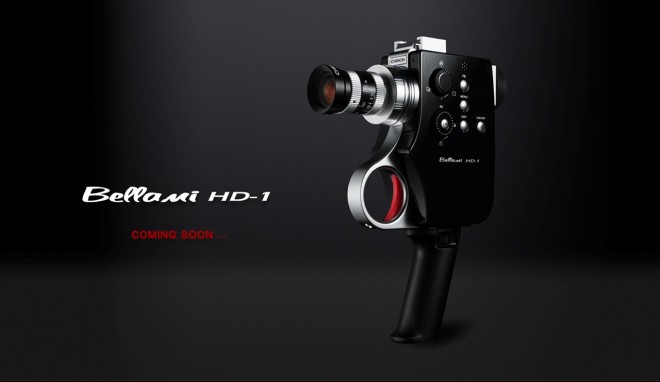 Seb Farges (see his work on Vimeo) pointed out this rather interesting looking "Bellami HD-1" on his Facebook page earlier. OK this camera may turn out to be rubbish or it may be great fun!! Who knows – nothing is released beyond the picture. The real Digital Bolex is something I'd love to get my hands on sooner or later. I've used the same CCD sensor before in the Ikonoskop and found colour to be completely beautiful and unique, totally different to a CMOS sensor.
Now it seems other manufacturers have taken note of the 'Digital Bolex' craze and we have the first 'clone'. It has a vintage Bolex / Super 8 style form factor and is from non-other than low end consumer manufacturer Chinon of Japan. Very unexpected… but nothing else is known about it aside from this picture and that it will shoot 1080p.
Obviously this looks more like a toy than the Digital Bolex which has a global shutter, XLR jacks and its own grading software to round out quite a unique feature set for the price, but until we know the specs we don't know if the Chinon can surprise us. The mount certainly looks like it could be a interchangeable one, possibly c-mount – and Chinon appear to have their own prime attached to it.
There's an EVF (presumably) on the back and hopefully the camera will use a similar CCD sensor to the Digital Bolex, although in my view being a consumer model it will most probably be CMOS.
Style wise, the black casing doesn't look like plastic and the hotshoe looks quite robust but the red trigger to record looks a bit flimsy. We'll have to wait and see what this mystery camera brings us!
Chinon have always been a low end manufacturer right back to the SLR days. Interesting they are today part of Kodak Japan and continue as a subsidiary churning out very cheap digital cameras. So Kodak lives on… at least in Japan!