[vimeo]http://vimeo.com/95887745[/vimeo]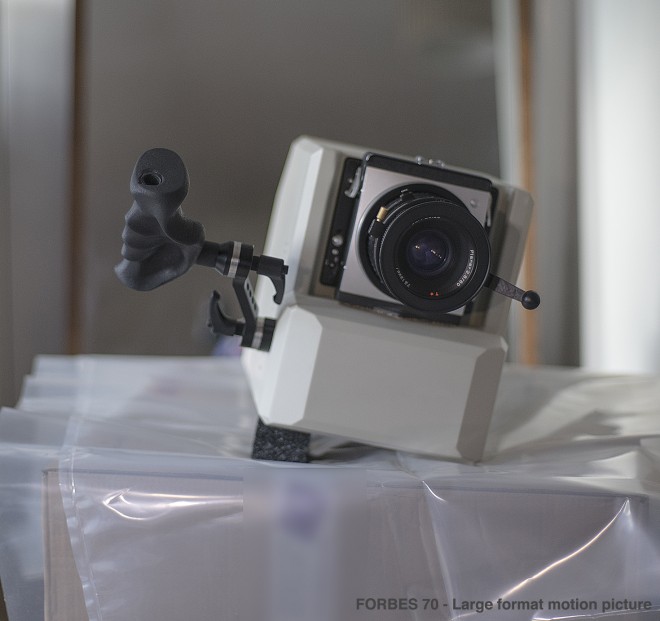 The digital Forbes 70 is based on a heavily modified Blackmagic Pocket Cinema Camera using 65mm ground glass for the IMAX 70mm look to medium format lenses.
Recording in Cinema DNG raw the camera delivers an utterly spellbinding image but is currently only at the prototype stage with just two in existence.
Creator of the Forbes 70, EOSHD forum moderator Richard Gale is the man behind Dog Schidt Optiks.
Richard told me about the Forbes 70 some weeks ago in private but now he's ready to reveal more.
This is a digital IMAX camera with 65mm x 34mm imaging area. For reference full frame (5D Mark III) is a 36 x 24mm imaging area so about a 2x crop compared to IMAX!
The camera has a very nice custom housing inspired by actual IMAX 70mm cameras, with a bit of 2001 Space Odyssey thrown in for good measure.
The imaging area of a modern IMAX camera is actually 70mm horizontally. Both the 70mm and 65mm motion picture IMAX imaging area is larger than medium format as per the recently announced 50MP Pentax and Hasselblad cameras with Sony sensors. As you can see below this kind of imaging area positively dwarfs Super 35mm.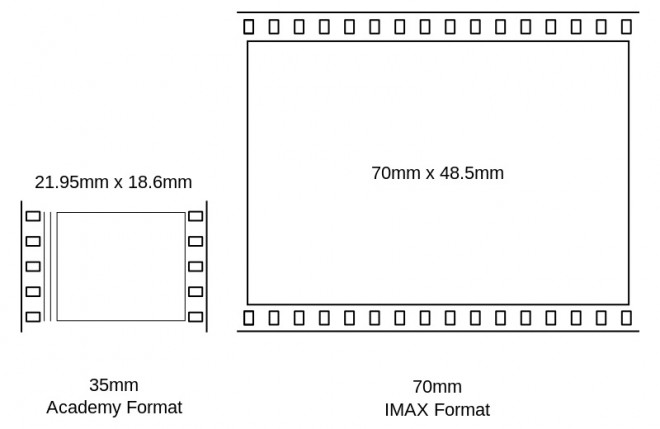 The Forbes 70 uses a range of medium format lens mounts including Hasselblad and will take medium format lenses.
Proper sample footage from the camera is coming soon.
I have seen some of Richard's test videos and they are absolutely terrific looking. The genuine IMAX look.
Inside the Forbes 70
The camera system uses a heavily customised Blackmagic Pocket Cinema Camera and an image pick up area made of ground glass measuring 65mm x 34mm. The Pocket Cinema Camera is focussed on the ground glass with a macro lens. The output is as per the Pocket Cinema Camera – 12bit raw in Cinema DNG format. The raw recording part is important since artefacts like the ground glass texture and corner vignetting can be heavily corrected once the output is processed in post… This way the ground glass will not result in the same loss of image quality it did in the days before DSLRs of DOF adapters and camcorders.
Here's another photo of the prototype unit… It weighs just 6kg, much smaller than an actual IMAX camera or Phantom 65mm.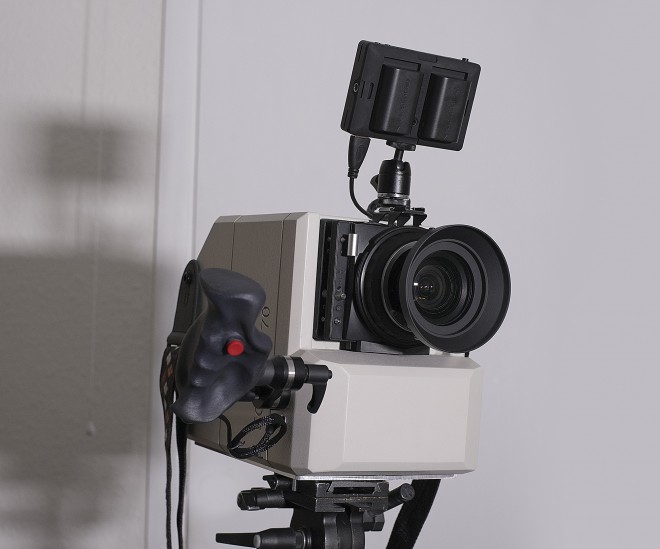 Specifications
65mm x 34mm imaging area
Heavily modified black magic pocket camera acting as 'brain', recording 25/24p in raw 1080p, straight to an external sd reader/writer
Fixed at 800 ISO
Fixed at 180 degree shutter
Close to zero light loss
Resolution capability to accomodate future 4k/8k brain – in which the system will benefit since the format certainly would suit greater resolution
Design pays homage to the IMAX camera body design
A 150mm hasselblad lens at f2.8 is equivalent to a 75/85mm f1.2 lens on full frame
Runs from V-lock battery and features fan cooling
Availability
Right now Richard has built the camera for his own use, but he is thinking of accepting build requests from potential customers.
However given the expense and labour intensity of making one, expect them to be in extremely short supply. In terms of pricing, unfortunately this won't be mass-market accessible or in the bounds of what most owner-operators can afford.
Look out for Part 2 with more sample footage later on EOSHD.