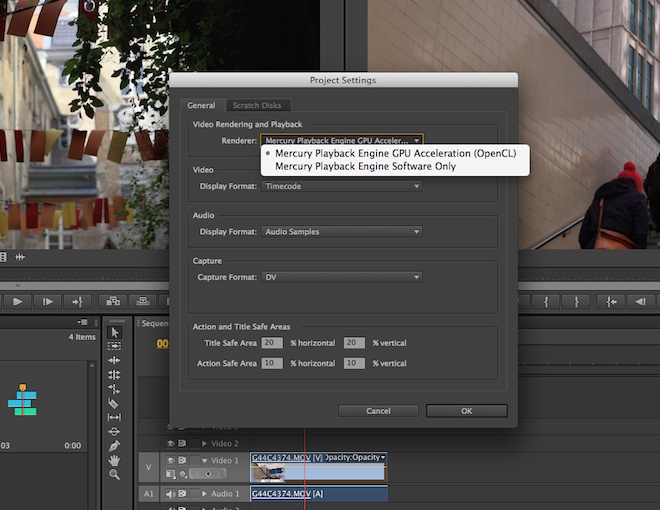 One of the biggest changes to Premiere Pro in the new version is a renderless timeline which supports OpenCL capable graphics cards. Previously Adobe only supported NVidia's CUDA standard for GPU acceleration. Mac users with ATI cards missed out on the huge performance gains from a GPU accelerated video editing package.
Previously even MacBook Pro users with high end (for the time) CUDA capable NVidia graphics found themselves without quite enough video RAM and in need of a hack to get it to work.
That has all changed with CS6.
I have a MacBook Pro 17″ 2011 with ATI Radeon card, running 64bit Lion and the performance in Premiere Pro CS6 is a big leap up from CS5.5, in terms of general responsiveness, editing, playback, FX, etc. especially when editing 1080/60p from the Sony FS100.
The interface has been streamlined and most FX and colour correction tools work seamlessly with no rendering required before you playback the timeline at full resolution. There's also a full screen mode for full 1080p playback of the timeline at a keystroke.
As I've only just begun using the software (although I've been using Premiere CS5.5 over FCPX for nearly 12 months now) I won't be offering my full thoughts on the software just yet, but there will be a 'first impressions' soon and a review later.
Some highlights of what is new…
New camera support – ArriRaw, Alexa, C300, RED Scarlet-X and EPIC, etc.
Improved 3 way colour corrector
Advanced multicam editing (sync with timecode, adjust multiple shots at a time, swap between tracks in real-time)
Warp stabiliser is now built in (no need to go to After Effects)
Rolling shutter repair tool
Support for Adobe SpeedGrade CS6 grading software
Can now be rented at a monthly rate from Adobe CreativeCloud
You can see what it is like yourself by downloading here the free 30 day trial at Adobe.