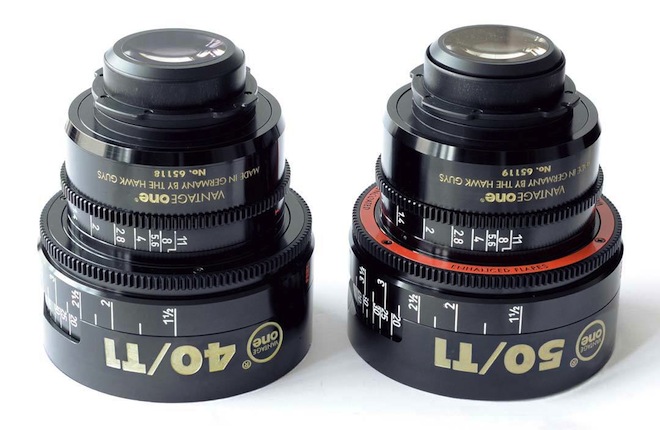 These look like they're going to be a great rental option for creative filmmakers looking for that dreamy low light look. Hawk, famous for their anamorphic lenses have launched a new range of standard spherical cine glass. The aperture is F0.95 following in the footsteps of Voigtlander with their 25mm and 17.5mm for Micro Four Thirds.
Unlike Voigtlander however, Hawk have gone all out and done a massive range of lenses which cover Super 35mm in PL mount. There's not only a 17.5mm and a 25mm but a 21, 25, 32, 40, 50, 65, 90 and a 120.
I also recommend checking out the SLR Magic T0.95 50mm for those with low light kings such as the Sony FS100. Leica M easily adapts to E-Mount. The Hawks however are PL so you can use them on the other low light king, the Canon C300.
These Hawks are not going to be affordable ownership options but for rental they are perfect. I have shot at T0.95 with my SLR Magic 50mm on the FS100 at ISO 8000 and it really is a whole new world of shadows and light. It is a very dreamy and cinematic feel. Alas it is not JUST about the low light ability at T1 / F0.95. Wide open, Hawk says the lenses open up "an extremely shallow depth of field, with a beautiful, subtle, silky creaminess, great for skin tones. The bokehs have an interesting kind of donut or bubble effect. Maybe a good way to describe the look is to remember the original Leica Noctilux 50 mm T1 still lens circa 1976."
It really is great to see Hawk bringing their filmmaking credibility to these lenses, which results in them having a soul and bags of filmmaking DNA. Hawk's anamorphic range is used in Hollywood on numerous blockbusters today, but the optics were designed by the same optical engineer behind the 1970's and 80's LOMO anamorphics, with which I shot Dreamleaver recently.
Whilst the large corporations like Zeiss and Canon of course chase ultimate sharpness, contrast and distortion – in other words, a good MTF chart, what I as a filmmaker really want to see is a cinematic lens.
A high sharpness and punchy contrast with zero flare can be clinical. Perfect science does not always make for perfect art.
Recognising this Hawk are doing two versions of the Vantage 1 series of T1 / F0.95 cine lenses.
From FDTimes: "Vantage One lenses will come in two versions: with anti-reflective coating, and (marked with a distinctive red ring) with some optical elements uncoated. Uncoated elements produce additional flares and lower contrast."
FDTimes also have the technical data on the lenses at the bottom of their post here.
All I can say is I love Hawk. I love their artisan approach to high end cinema optics. What makes Hawk, Panavision and Cooke so wonderful is that they have the life & soul of cinema in their DNA. It is something I've noticed with the Blackmagic Cinema Camera and Arri Alexa – the understanding of what makes an artistic cinematic experience. The electronics companies and larger corporate giants seem to entirely lack this.
"It's the result of our experience over the past 20 years building Hawk anamorphics, and we've been learning every day." says Peter Märtin of Hawk
"Now that a lot of other  companies are joining us in their appreciation of the anamorphic format, what do we do? We build a new set of Spherical Prime Lenses."
There's no information on pricing yet. But again these are really meant for the rental market. Once they hit those channels, the realistic cost of shooting with these will be clearer.
For GH2 and GH3 owners, the Voigtlander remain unbeatable value for money. A lovely image and not all about sharpness. For Super 35mm cameras like the FS100, the Voigtlander don't cover that mount or sensor so grab the SLR Magic 50mm T0.95. It is in the same league as the Leica Noctilux but without the Leica price tag.
Source: FDTimes via EOSHD Forum (thanks Andy Lee)