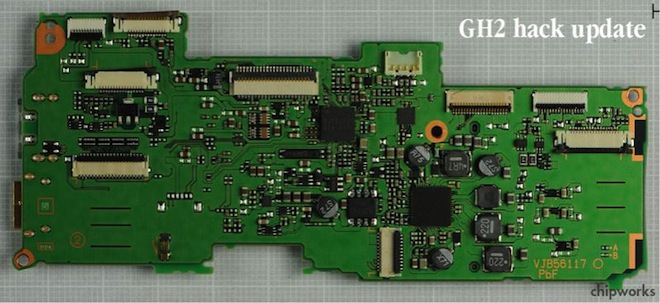 If you are wondering where our GH2 hack is by now, you are not alone. Now Vitaliy Kiselev has updated us on what the next steps are to be.
He has not yet got around the encryption of the firmware, preventing any hack of the GH2 or encrypted GH1s. Panasonic's compact the TZ10 features a similar encryption method, and so Vitaliy has disassembled one of these, removed the firmware chip from the circuit board and physically connected it to specialist equipment in an attempt to get at the firmware and understand how to break the encryption.
Panasonic have not yet released a firmware update for the GH2, and this is also necessary as well as breaking the encryption.
In other news it appears Vitaliy won't be updating the project status on DVXUser any more, preferring to put the latest updates on his own website. I don't think that's a positive because DVXUser was freeing up Kiselev's time to concentrate on the hack – now he is maintaining a website as well.
Vitaliy has also analysed the Sony NEX 5 and Pentax K-5 for potential improvements. The NEX-5 is unfortunately encrypted but it does maintain a HDMI output whilst recording. That camera is crying out for a firmware hack. The K-5 meanwhile has the best APS-C sensor on the market and 25p but requires the enabling of manual controls in video mode. Both are good candidates for a hack but we have seen little progress so far.
I bought the NEX-3 today since the price has been reduced in anticipation of the replacement, the rumoured C3 although it's possible that has now been put back due to events in Japan. The NEX-3 is a nice camera, and just needs that firmware tweak for a better movie mode. In fact I'd almost prefer to have the NEX-3 hacked than the GH2, since it gives us the option of a mirrorless APS-C sensor for serious movie making – mirrorless is something we don't yet have from Canon, obviously.
Was the glorious Panasonic GH1 hack a one off, or can Vitaliy keep the ball rolling and solve the encryption puzzle? It looks like we're in for a long game here.
Further reading:
Personal-View.com by Vitaliy Kiselev