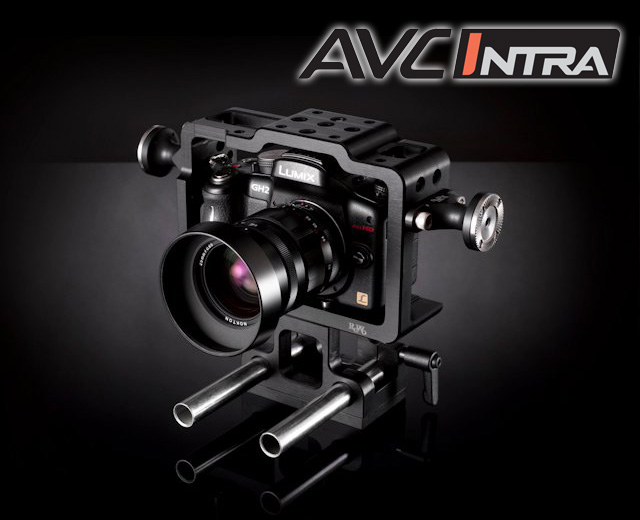 Above: The GH2 and ReWo cage. (Back in stock here)
The professional codec billed by Panasonic as 'the industry's most advanced compression format' has found its way onto the GH2.
AVC Intra is usually recorded to extremely expensive P2 cards on high end cameras and here it is on a consumer camera with an SD card.
This is a codec that uses i-frames only unlike consumer AVCHD. Every frame from the sensor is stored. Standard AVCHD is a Long-GOP compression format and works by estimating and guessing at frames in-between 'real' images but Intra doesn't.
Now the GH2's AVCHD codec has been hacked turning it into a i-frame only codec, I'll call it AVCHD Intra. What's more the GH2 records in AVCHD Intra at an immense 176Mbit, far higher than the 24Mbit Long GOP factory setting.
A tester on Vitaliy Kiselev's GH2 hack forum Personal-View named Driftwood has come up with the settings which can be downloaded here. Of course the footage takes up a lot more room on the card and you will need a good quality Class 10 card to record in this mode. 30 seconds of footage takes up roughly 500Mb on the card!
The footage plays back fine in-camera but most computers will struggle to play it smoothly. It can be very tricky to edit too so I recommend transcoding it to ProRes 4-4-4 first.
The format is still 1080/24p 8bit 4-2-0, still no sign of 25p but some users have claimed that 25p can be wrapped by the camera in a 1080/50i stream! So far however the results have been softer in 5oi/25p than the true Cinema 24p mode. Its being worked on though.
I think we are seeing the ultimate image quality from a current DSLR here, where the codec used to be a weak spot you can hardly call AVCHD Intra at 176Mbit weak. I am just amazed the GH2 is able to do it! The tri-core image processor is insane in this thing. I have noticed that it eats the battery quicker than on other DSLRs (and the battery has the same capacity as the others) and AVCHD Intra will of course take up a LOT more room on the card than standard 24Mbit AVCHD so bear this in mind. Also if you need sure-fire reliability standard AVCHD at 44Mbit is rock steady.
AVCHD Intra is very good for heavy colour grading, fast action, hand held footage and green screen VFX work. You certainly get a better result from AVCHD Intra on the GH2 than by outputting from any DSLR's HDMI feed to a external recorder as well.
Compared to the AF100 the GH2 is now pumping out a better image with less moire and a better codec. Usually to make the most of AVCHD Intra however you would have 10bit 4-2-2 and the GH2 is still 8bit 4-2-0. That is next on Vitaliy's and test team's list I am sure.
What an amazing camera.