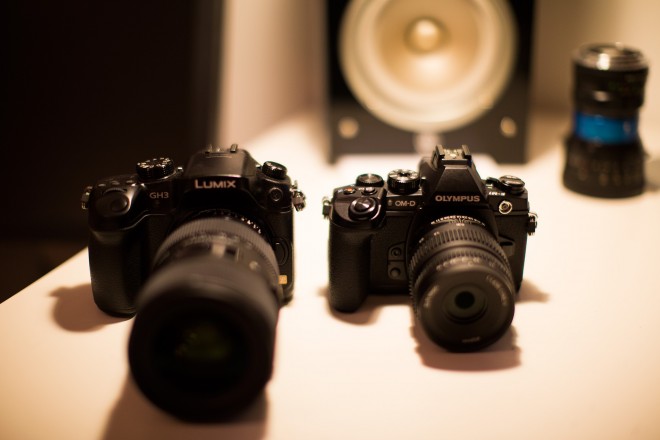 Let's take a look at the two current flagship Micro Four Thirds cameras.
The results may surprise you.
It's not much of a secret to say that the previous E-M5 shared a very similar if not identical sensor to the GH3 but paired it with a pretty poor video codec and image processor by comparison.
The new E-M1 features a completely revised image processor which promises to reduce moire, allowing the anti-aliasing filter to be removed. This I think refers to stills, rather than video but nevertheless there is less moire and aliasing than on the previous E-M5.
Video quality vs GH3
Here's a full 1080p frame grab from my upcoming E-M1 video (note, this is graded with Film Convert with a fine grain added and a bit of sharpening) –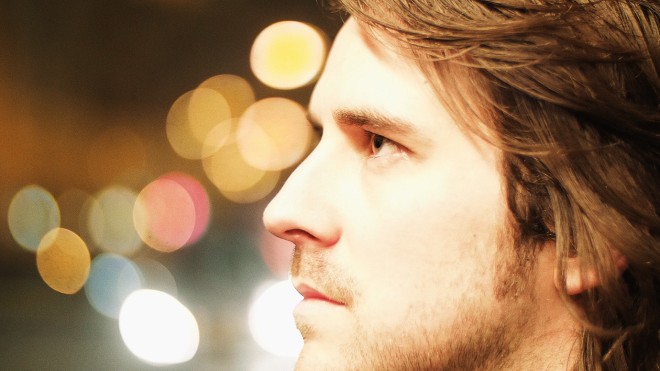 Next is a direct from the card shot, not graded –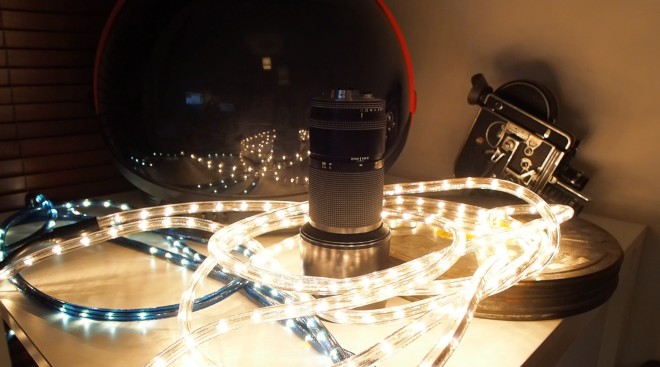 Take a 1:1 crop of that and you have a pretty nice amount of detail –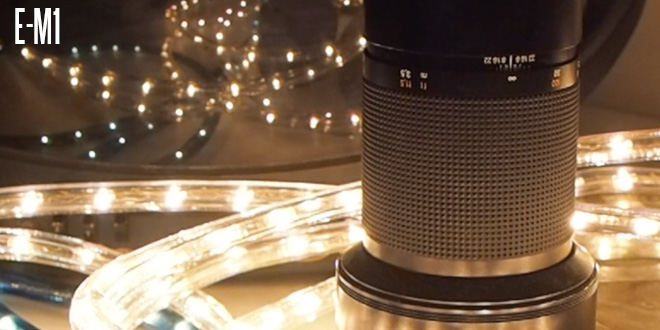 It isn't quite Canon C300 standard 1080p but it's good for a consumer camera.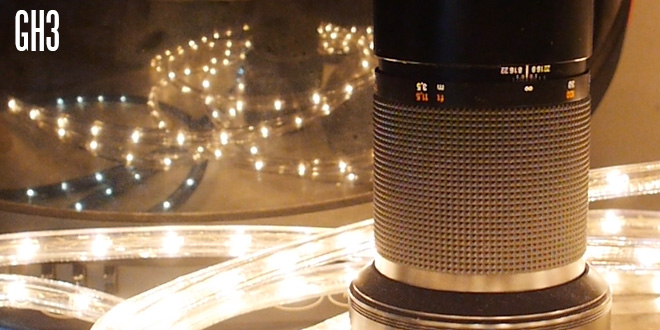 By ways of comparison here's the GH3 – perhaps slightly sharper due to a difference in internal sharpening but after grading both will look pretty much the same. Notice the slight false colour issue on the left of the lens barrel in the GH3 shot. It's absent in the E-M1 shot.
The big surprise is just how similar video quality is on the E-M1 and GH3. They both resolve very good levels of detail (as long as you don't turn digital sharpening off in camera and forget to apply it in post). The E-M1 however has two advantages over the GH3, one of which is priceless.
It's less noisy in low light and it has an extremely effective stabiliser which allows you to shoot video entirely handheld without a tripod. It is that effective.
If you then add Warp Stabiliser in post you can get a completely locked down shot from the palm of your hand. This is a MAJOR advantage over all other cameras, be it the GH3 right up to the Alexa. All those cameras need a rig of some kind. The E-M1 can get away without one. Also – there's less of a crop in Warp Stabiliser because the shot is much steadier to begin with. In fact often there's virtually no movement at all, not even a gentle sway. Jitter is effectively gone.
So if you want a b-camera with a light footprint that can be used by anyone even a layman for B-roll footage, the E-M1 is it.
Yet the image quality really is good enough to be used as an A-camera by a large number of artists and filmmakers.
The very effective stabiliser works with all lenses regardless of whether they feature stabilisation or not. To have the Sigma 18-35mm F1.8 suddenly gain 1 stop and stabilisation with the E-M1 and Speed Booster is a run & gun documentary maker's dream come true.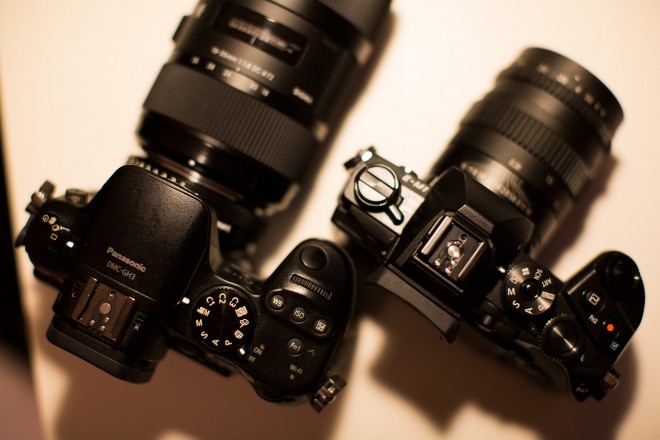 Above: GH3 (and Sigma 18-35mm F1.8 on Metabones Speed Booster and the E-M1 with SLR Magic 35mm T1.4).
In the absence of a Metabones Smart EF adapter for Micro Four Thirds you even get stabilisation back on Canon EF lenses whether they feature it all not! Just remember to keep a Canon body handy for setting the aperture.
Live crop mode
I mentioned this in a previous article. Here's a closer look –
Whilst recording (and when not, you can use it as a focus assist), you can have a green square over the full composition, which at the single press of a button can be enlarged to fill the screen with a minimal loss of resolution. In this mode the E-M1 appears to be applying some quite heavy noise reduction to the image, which you can't turn off. The result is usable but still a lot fuzzier than Ex Tele (1:1 crop) mode on the GH3.
Crop area, green box –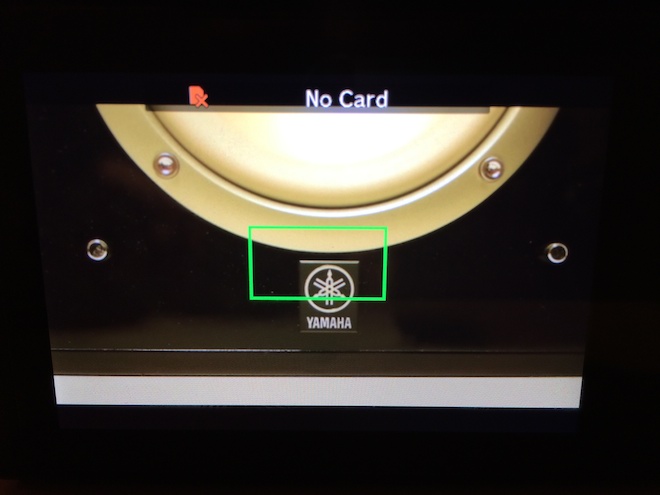 Resulting zoom –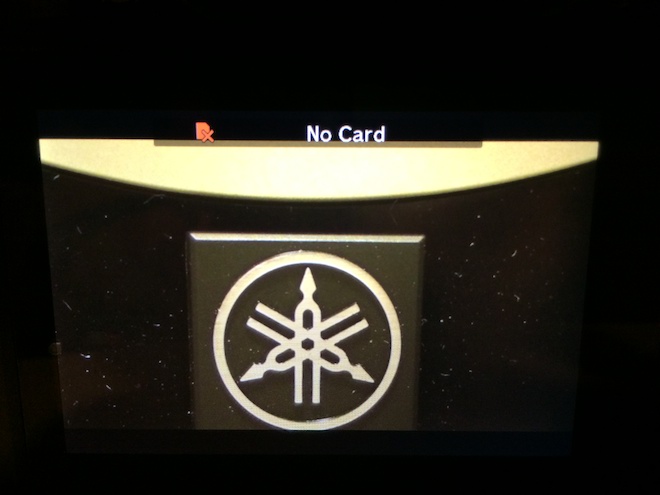 Improved codec
The new codec is 24Mbit which is pretty standard and indeed macro blocking becomes a problem if you're heavily lifting or pulling around areas of the image in post. However the GH3's codec at 72Mbit ALL-I and the 5D Mark III's 90Mbit ALL-I don't really perform any differently. If you need to lift an image by 2 stops shoot raw. That's the message from H.264!
The E-M5's codec was similar to the out of the box GH1 in that mud was an issue with even slight movements of the camera, the image would break-up way too often. That's been fixed on the E-M1. The encoding engine is much better.
30p I can live with because with the stabiliser it looks silky smooth and steady. 24p with the stabiliser looks choppy. It's mainly for handheld shooting I will be using the E-M1 for. Locked down tripod shots I still prefer 24p but for flowing pans and handheld work I find 30p quite cinematic. Surprising!
Yes the lack of 24p will be a deal breaker for client work which has to be shot in a specific frame rate, and I expect Olympus to come to their senses and provide us with a firmware update!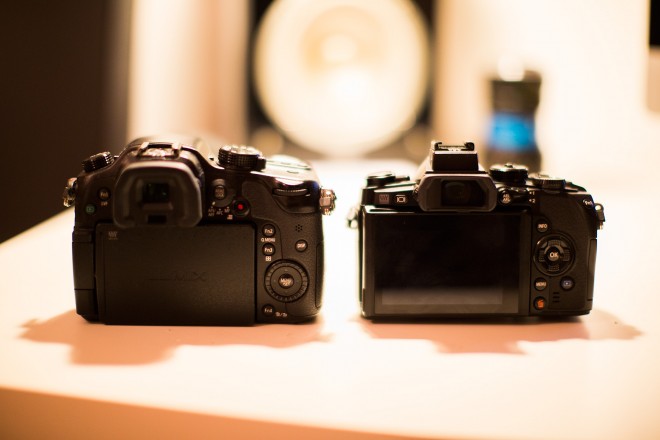 The ergonomics of the E-M1 are superior to the GH3. Button placing, comfort in the hand, fit and finish – everything I prefer on the E-M1 side. They're both weather sealed and have a magnesium alloy chassis each – but somehow the Olympus feels colder to the touch when you first pick it up and more like a high end DSLR. It's really pleasing.
The LCD is better on the E-M1 as is the new EVF, which is as big as the one on the Sony A7R but much more comfortable when placed to the eye because of the softer eye cup. Only the card door is the weakest link – it feels like the cheapest part of the body by far, as if it could snap off. The A7R and GH3 have much tougher card doors.
The E-M1 has a mic socket unlike the E-M5 but no headphone output and very limited manual control of audio in-camera. HDMI is live and uncompressed on the GH3 but on the E-M1 you have to use the EVF or LCD on-camera as there's no live HDMI at all!
EOSHD's first impressions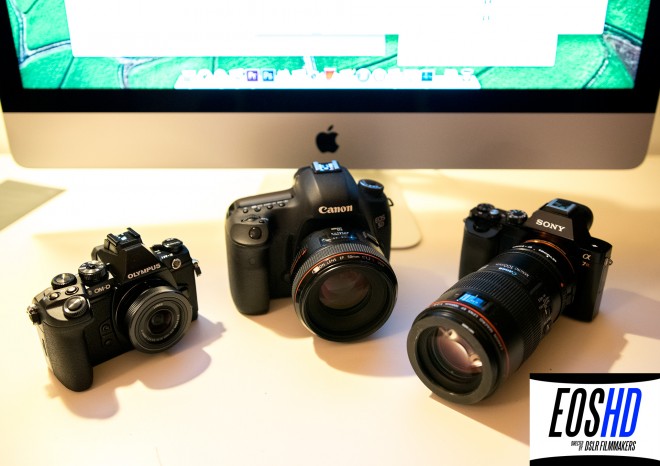 Take the Panasonic GH3 as a high bar, it remains a great camera for video even after all the image quality gains by affordable raw video. The issue with the raw cameras is that the Blackmagic offerings and 5D Mark III don't have all the nice video features and convenience factors of the GH3 or E-M1. Sometimes you want to roll for hours and not munch through 64GB of data in 12 minutes. Sometimes you want to just use Film Convert to grade your footage and lose hours tweaking colour in DaVinci Resolve. Sometimes you NEED that amazing 5 axis stabiliser, which should frankly be on every camera on the market even in the Cinema EOS C300! It is that useful. Sometimes you need to travel light too.
Then there's crop mode, built in EVF, articulated screen, all good features which are missing from the raw shooting 5D Mark III, Blackmagic Cinema Camera and Pocket Cinema Camera.
The E-M1 better quality video than the Sony A7R (pictured above, right) – much less noisy and less moire & aliasing.
For now the E-M1 comes highly recommended but do wait for the E-M1 full review for footage and the final score, as this is just an early hands-on and not comprehensive.