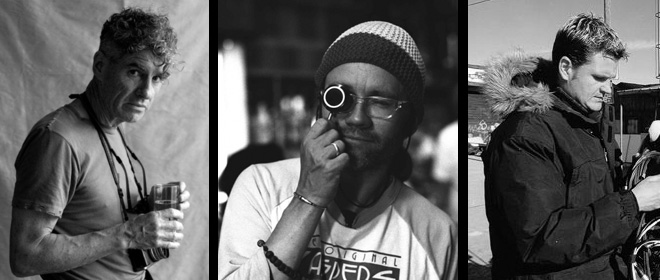 Christopher Doyle (In The Mood For Love, Hero), Stefan Ciupek (Digital Camera Supervisor, Slumdog Millionaire) and Franz Lustig (How I Live Now) will be at the Berlinale Film Festival in February with a Canon sponsored workshop for aspiring filmmakers.
Being based in Berlin myself I really want to be a fly on the wall of this workshop, so if you are reading this Canon get in touch for a chat.
Christopher Doyle (Hero, In The Mood For Love) is one of my all-time favourite cinematographers. Why? What does he have that so many others don't? In my view Doyle's strength is that he isn't a 100% career-man but a real working artist through and through. He's in it for the art of cinematography. He's also a very outspoken figure and I think outspokenness is an under-appriciated thing in the modern filmmaking industry.
Last year's Oscars controversy with Life Of Pi winning Best Cinematography was criticised by Doyle, and covered here on EOSHD. This year a similar controversy could arise with Gravity. This film however isn't quite the same – with cinematographer Emmanuel Lubezki very heavily involved with the technology, shaping the look of the film as an artist, so in my view deserves as much recognition as the visual effects do.
Also at the Canon workshop to mentor aspiring filmmakers are Stefan Ciupek (Digital Camera Supervisor, Slumdog Millionaire) and Franz Lustig (How I Live Now). Stefan is actually someone I almost got to meet completely by chance last year through a friend last year – the reason? – he was interested in checking out the Blackmagic Cinema Camera! Hopefully this year we can actually finally get together. Stefan's work with the raw shooting Silicon Imaging SI-2K on Slumdog Millionaire was one of the highlights of Danny Boyle's film for me. Franz Lustig is one of the most high profile German cinematographers around and also very much on the ball and known to Philip of ReWo (joint designer of the GH2 cage). Small world!
So a great line-up, how to apply? Unfortunately places on the workshop won't be available to any filmmaker and many of the international aspiring filmmakers visiting Berlinale will be excluded. In order to qualify, filmmakers must be part of the Berline Talent scheme, and have entered their work previously in the festival. There's no application form online right now. Regardless it won't stop me trying to talk to Canon about this and I think it would be great to organise a competition for EOSHD readers with the prize being a place on one day of the workshop. If not there's always the Sony short film competition I am a judge on, which is open for entries now.
Here's what Canon have to say about the workshop –
Taking place from February 8th-13th 2014, a series of workshops presented in partnership with Canon will offer filmmakers and industry professionals invaluable hints and tips that will help them tell their own stories. The workshops – entitled 'Every Picture Tells a Story' – will also provide insight into the latest developments in camera technology, with hands-on demonstrations that show how Canon products can assist production. Speakers involved in the workshops this year include distinguished cinematographers Franz Lustig (How I Live Now), Stefan Ciupek (Digital Camera Supervisor, Slumdog Millionaire), and Christopher Doyle (In The Mood For Love).
Canon will also be supporting various master classes which will see renowned Directors of Photography, including Agnès Godard, talk about their experiences and discuss how camera techniques can enhance filmmaking. The 'Post-Production Studio', created by Berlinale Talents collaboratively with Canon, will focus on digital workflows, from shooting and editing to colour correction and mastering for the final stages of production. Selected participants will have the opportunity to get hands on with Canon's latest equipment, including the EOS C300, EOS C500 and EOS 5D Mark III.
For the first time, Canon will also commission a selection of short films from the Talents, to be shot on Canon's products. The short films will be showcased by Canon, both at industry events throughout Europe and on the Canon Professional Network.
Canon will in addition support a joint initiative between Berlinale Talents and the European Film Market (EFM), which offers filmmakers further insight into the workings of the EFM, as well as allowing them to present themselves to industry professionals and build their individual networks.
"Technology and creativity is only one part of the film-making process, without a suitable network of contacts the task of getting a movie made becomes much harder," said Kieran Magee, Director of Professional Imaging, Canon Europe. "Berlinale Talents helps filmmakers through every aspect of the process, we are pleased to support this innovative programme."
As well as a full programme of workshops, acclaimed portrait photographer and Canon Explorer Joerg Kyas will use Canon equipment in his studio set-up to create portraits of each of the 300 Berlinale Talents 2014 participants. Canon equipment will also be used throughout the event to produce promotional reels and trailers.
Berlinale Talents runs over six days during the Berlin International Film Festival, from 8th-13th February, 2014. Eligible attendees include emerging film professionals in the first 10 years of their career, spanning all areas of the industry, including actors, cinematographers, directors, editors, producers, production designers, screen writers, distributors, sound designers and composers.