Canon dropped some crumbs on the floor for the enthusiasts this week.
In my opinion high margins are what it's all about at Canon. In a shrinking market plagued with a lack of innovative product design, a lack of innovative thought process in the manager's heads and lack of answer to the obsolescence stalking the DSLR market, Canon don't seem to be thinking about how they can excite their followers, rather how they can best satisfy their shareholders.
Stale
It's an approach in stark contrast to the more innovative Japanese companies, one of which stands out in particular for not having any shareholders to pleasure at all – Sigma. In the time it has taken Canon to get from the lukewarm, underperforming, depressingly homogeneous 60D to the 80D, Sigma have quietly produced one of the world's most unique image sensors with the Foveon X3 Quattro, which as we will soon see on EOSHD not only rivals the 42MP Sony A7R II for resolution but thrashes the living daylights out of every single Bayer CMOS sensor for skintones, along with the best performing regularly priced set of fast full frame prime lenses on the planet, soon to be joined by a 50-100mm F1.8 zoom and the most impressive fast wide angle full frame lens available today (20mm F1.4).
It isn't that Canon have the Cinema EOS range to protect from those pesky DSLR wielding enthusiasts (who have the cheek of demanding from Canon what they can already get from Canon's competitors). Canon's depressive streak runs through all areas. Photographers are becoming distinctly underwhelmed with the lack of progress on sensor technology versus Sony and Nikon, the lack of affordable high performance primes to rival Sigma, middling dynamic range performance and most critically of all the complete absence of any meaningful camera not in a form factor dating to 1972.
Canon 80D – is it even relevant for enthusiasts or video users?
Both the semi-pro Canon's XC10 and 80D are squarely aimed at us, the enthusiast video and artistic filmmaking crowd. They're also aimed at pros to use as a second camera, even if they already use a C300 Mark II or a Sony FS7.
The 4K shooting XC10 is the modern day equivalent of a small chip camcorder, when everybody wants to shoot on Super 35mm or full frame. The 80D is that 1080p not-quite Super 35mm DSLR when everybody wants to shoot on a 4K mirrorless camera. It is thus, completely the wrong product for who it is aimed at.
The only welcome technology for video shooters in the 1.6x crop 80D is Dual Pixel AF which has seen some refinements and speed increases in line with the graph on Canon's accountant's whiteboard and the $150 power zoom cradle for the new 18-135mm, an OK lens but with a distinctly un-exciting F3.5-5.6 variable aperture range rather than a constant F4 like the Sony G 16-105mm PZ. Presumably the enthusiasts feeding from the crumbles on the floor of the Canon banquet are satisfied enough with a stepped exposure change when using the power zoom let alone having to shoot at ISO 3200 indoors, meanwhile for Canon the extra margin in their back pocket on every lens is far more important than any of that.
The 80D's other innovation is quite outstanding – to move the headphone and mic jacks further forward so they don't block the articulated screen. It's common sense innovation like this which really sets my pants on fire. Look, the Sony FS5 may have the world's-first electronically variable ND filter and the A7S II virtually noiseless ISO 12,800 full frame 4K and full 1080p 120fps but dump, crush and burn it all because Canon have moved their headphone jack. The very fact one is included at all should have Canon video aficionados running out to buy the 80D immediately and singing its praises online just like the advertorial writers at the established less-than-independant camera review sites who are quickly trading what little credibility they have left for even closer ties with PR people, camera companies and Amazon. I am sure once they have got excited about the well positioned audio jacks they will be excited enough to drop $250 on the mediocre Canon mic they want you so desperately to like too!
There's no mention that moire and aliasing has gone away with the 80D, no mention of LOG (clue – there is none), no mention of peaking or proper video shooting assists (no peaking on the 80D yet Canon have it on a few compacts – bizarre!) no mention of any improvements to dynamic range or the sharpness of the image delivered in 1080p, no mention of anything truly relevant like a reduction in rolling shutter or significant step forward in low light performance. But hey, autofocus.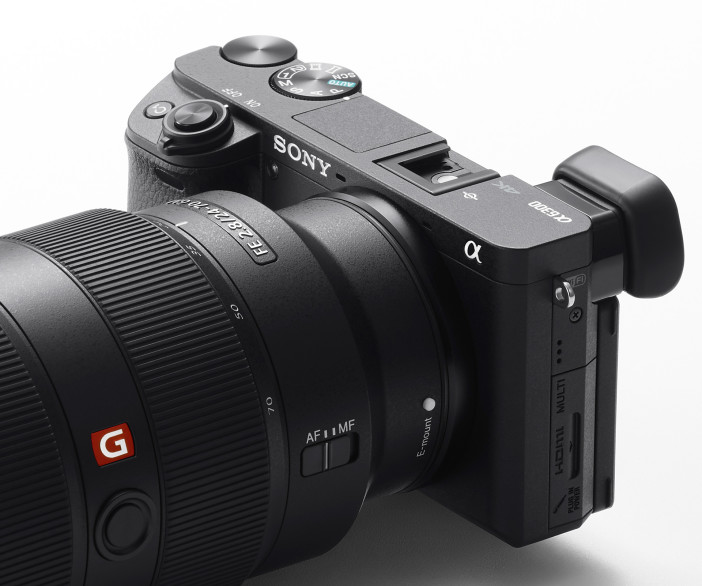 Two words for you – Sony A6300.
This is not the high-value-added supermarket camera of the masses that the Canon 80D is.
It has genuine future-facing technology under the hood and an phase-detect on-sensor AF system which has the potential to blow the socks of Canon's own.
A mirrorless form factor with the bonus of a built in OLED EVF, something Canon have barely even woken up to the fact exists (and has done for 7 years on consumer mirrorless cameras).
Internal 4K recording from a 6K sensor readout at 24 and 25p along with professional image profiles for filmmakers, proper LOG and not the fake creative style that is Technicolor CineStyle.
Less margin for Sony perhaps but more market share is coming their way at Canon's expense.
The 80D doesn't even have price on it's side. $1950 with the new 18-135mm necessary to exploit Dual Pixel AF to the fullest and the power zoom cradle. The A6300 is $999 and you can exploit the full image circle of your Canon EF lenses with it using a Metabones Speed Booster, maintaining focus manually like you're supposed to do when shooting a film. The Nikon D5500 has superb quality 1080/60p, likely better than the 80D, along with Nikon's excellent flat image profile. It's $750 and I am very impressed with mine, in that it fits perfectly with the images delivered by much more expensive cameras in my collection when delivering 1080p. The Panasonic G7 shoots 4K with the widest variety of lenses on the market for $599 and goes Super 35mm with a simple adapter – a fantastic deal for enthusiasts. The Micro Four Thirds range of lenses have had silent AF motors and power zooms since 2009.
If for whatever reason you feel that soft, aliasing ridden 1080/60p on cameras like the EOS M3 and 80D are more relevant in 2016 and nicer to work with than 4K LOG from a proper filmmaking camera, you're welcome to pair your mediocre aspirations in image creation with Canon's mediocre 80D.
As the masses scramble around on the floor for crumbs I hope they don't disturb the advertorial writers feeding at the Canon table, gulping down glass after glass of the juicy store commission their managed community generates from gullible souls on the floor in need of a more unbiased education.