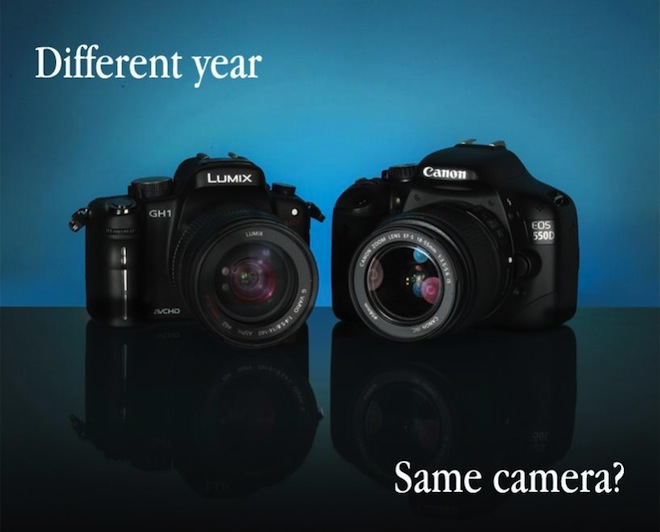 Next month sees the possible unveiling of the 600D.
According to reliable rumours circulating, it's going to be a very minor update with the same sensor as the 550D but the articulated screen of the 60D and a re-designed badge(!)
DIGIC IV remains too. So 1080p on Canons will still be produced by line skipping vertically to produce 1080 lines from 3456 and binning pixels horizontally to get 1920 lines from 5184. This causes moire and aliasing.
It also means that the Panasonic GH2 will continue to cannibalise Canon sales in the video DSLR world for another year. There is chatter about Panasonic getting their act together on the zoom front, with (finally!) a fast zoom. The 12-50 F2.5-3.3 with Power OIS (twice the stabilisation than on the 14-140mm), and fully video optimised at that, which will encourage a greater number of casual video shooters to upgrade from camcorders. One of the downsides of the GH2 as a point and shoot is that the 14-42 and 14-140 kit lenses are much less bright than on camcorders.
It seems that with DSLR video Canon stumbled into a massive new market they didn't know existed, but did their best to ignore it. It looks like Canon had a long term plan and will not move it for all the world. The market is changing rapidly and Canon must start to think on their feet. We need a mirrorless, we need a large sensor interchangeable lens video camera and we need improvements to video on DSLRs right now.
The mirrorless market is expanding all the time. The GH2 is selling out faster in the US than Panasonic can replenish stock, the Sony NEX5 is the 2nd biggest selling camera in Japan, and in Europe mirrorless now represents over 30% of the market.
Even Sony have managed to design a product for DSLR video shooters whist doing their best to remove any kind of manual control and progressive video feed from their cameras. Sony release their own DSLR video 5″ monitor in March for $505.
EOSHD Comment: why Canon's DSLR video hasn't been improved, and why a Canon mirrorless doesn't yet exist:
Panasonic and Olympus were the first to plan a mirrorless camera, because they identified a demand in their domestic market (Japan) for smaller DSLRs. Their Four Thirds standard was failing to get a proper foothold in the market (especially for Panasonic), and so poor sales were instrumental in forcing the companies to innovate with Micro 4/3rds. Right up until the success of the GF1 and the high sales of the Sony NEX, Canon did not consider producing a mirrorless because their traditional DSLR sales (both in terms of bodies and lenses) were so strong, unlike Four Thirds. So they are not being pushed into change and modernisation.
Canon think that mirrorless will cannibalise sales of their own cameras, and that the hefty R&D expenditure to produce a new system will mean profit margins on the new mirrorless Canon will be less than for products containing their established single lens reflex technology like the 550D.
But what Canon (and Nikon) must realise soon is that a huge growing number of customers are greatly interested in video, use of heritage lenses and smaller body sizes, and see the mirror box as a left over from old SLRs. We in videography land certainly have no need for it and it prevents the use of PL mount lenses. Canon may also be afraid that should they introduce a mirrorless mount everyone will start using Canon FD lenses again and stop buying Canon lenses. But this isn't true because I'd rather buy a lens with video optimised features, like stabilisation and AF tracking – both handy options. We only buy legacy lenses for Panasonic bodies because the Lumix range lacks a good selection of fast primes!
If Canon do not produce a new mirrorless lens mount, new lenses and release a mirrorless soon, it will not be a Canon mirrorless that cannibalises sales of the 600D.
Big Foot will eat them instead.