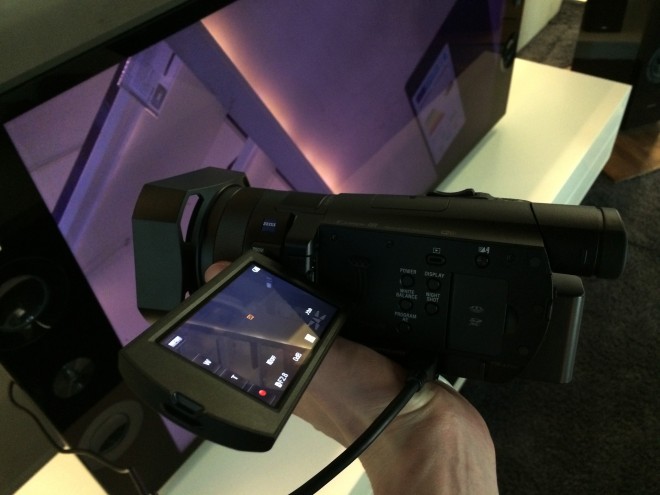 The AX100 is of a species we thought extinct in the filmmaking world… the consumer camcorder. I had a brief hands on with the camera to find out how much of it is high resolution point and shoot and how much cinema camera.
Every Sony camera I have ever owned has been cutting edge inside, Mr Bean on the outside. Thankfully Sony's ergonomics did take a step forwards with the RX series and those ergonomics were semi-successfully transplanted into the newest Alpha cameras like the A7 and A6000.
Despite the presence of an X in the model number, unfortunately AX100 has no such luck! What is necessary here is a total rethink of Sony's camera ergonomics. I really hope the technology goes into the RX10 M2 because in the Handycam form factor you have to grapple with the world's worst touch screen, all the important physical controls on one dial, horrible button placement and the same confusing 'computer-like' approach to overall design which effected the NEX-VG E-mount camcorders and even the semi-pro Sony FS100.
Technologically though this is an interesting camera. The specs are exciting, but Sony have created some confusion over the megapixel count. To video people they say it is 14MP. When talking about the stills mode of the camera they say 20MP. This had me thinking for a moment that maybe it's a new 14MP sensor, the lower megapixel count making for better 4K and low light performance. Dig deeper down the specs sheet though and Sony say it is a 20.9MP effective pixel count. The RX10's sensor which is similar has 20.2MP count. Sony use a 14MP crop of it in the AX100 for 4K video, which begs the question… how? The 20MP sensor is 5.4k wide. Taking a 3.8k crop from that is going result in quite a dramatic reduction in sensor size. In stills mode on the RX10 when set to 16:9 the output is 17MP.
When I had my hands on the AX100 I wasn't specifically looking for a crop in field of view or really expecting it. All I noticed was a dramatic punch-in effect when active image stabilisation was turned on instead of standard optical stabilisation. I'll have to take another look at this when I get a look at the camera again so follow EOSHD on Twitter with 14,200 others for updates!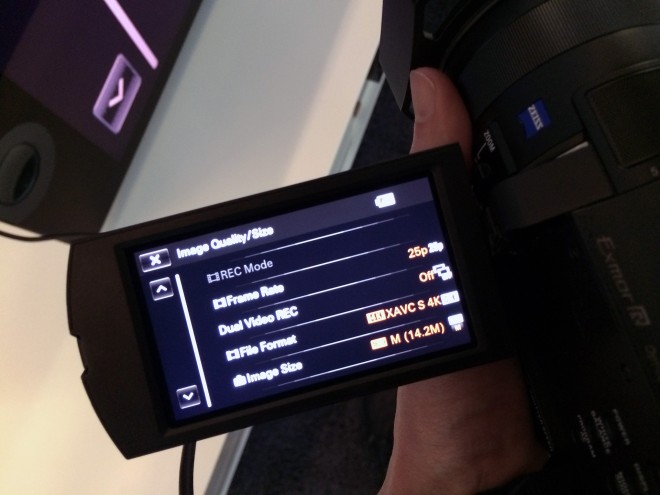 Lens

The sensor is 13.2 x 8.8mm so a 2.7x crop over full frame at best. Obviously with a F2.8-F4 lens you're not going to get the look of a GH4 at F1.4. Neither will you have a full frame feel to images with a shallow depth of field permeating even wider fields of view, though at the longer end of the zoom you will get a shallow depth of field. The lens is 9-111mm F2.8-4. Pretty good! Overall you can expect a Super 16mm aesthetic from this camera in terms of the sensor and lens.
I'd have much rather seen that long end sacrificed for the inclusion of the lens from the RX10. That is an 8.8-73mm but has a constant F2.8 aperture and very ergonomic stepless aperture ring. Here Sony thought the longer zoom and more powerful stabiliser would be what consumers wanted. They also felt it would be more convenient to change exposure by hitting a button to put it into auto-mode. Manually changing the aperture is done with a press of the iris button for manual control and a swipe of the jog wheel, then another swipe, and another swipe, and another swipe, and another swipe, then you may get it from F5.6 to F2.8 by the time sunset begins. Best light at magic hour! I don't disagree with Sony when it comes 'what consumers want' but it make little sense creatively. Consumers need to learn to shut up and face the wall in focus groups… Or they don't get their cookie afterwards. It's a real shame to lose that constant aperture and stepless control where perhaps you need it most – for video!! On a video camera!
Live 4K HDMI output
I tried the camera's live HDMI output to a 4K Sony display. I wanted to check if this could be used to bypass the internal XAVC codec and record uncompressed 4K to an Atomos Shogun in the future. Pretty amazingly, for a consumer camcorder, the image was clean of icons and noise grain was very fine, with an uncompressed and unprocessed feel. Resolution is indeed full 4K (2160p in the HDMI menu). Pretty exciting bonus feature, but there's some lag between moving the camera and the image updating over HDMI which may be a deal breaker for some.
I was unable to tell from the TV if it was a 8bit or 10bit output. Same goes for colour sampling. I expect it is 8bit 4:2:2 like the Sony A7S. This makes the AX100 a whole lot more attractive in terms of potential image quality. Unfortunately mounting the recorder is going to be tricky. There's only a hotshoe and this is recessed so only Sony's own accessories attach cleanly. Others will need some kind of third party adapter.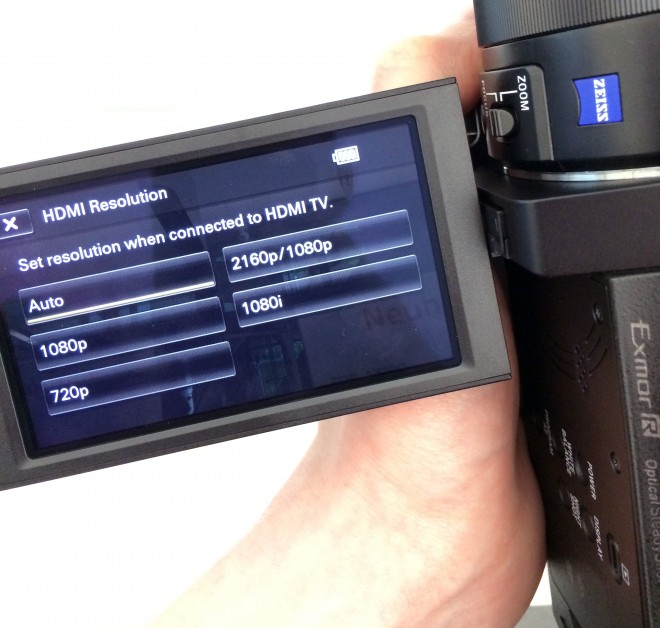 The camera menus over HDMI by the way are hideously pixilated. Time to get some 4K sprites Sony!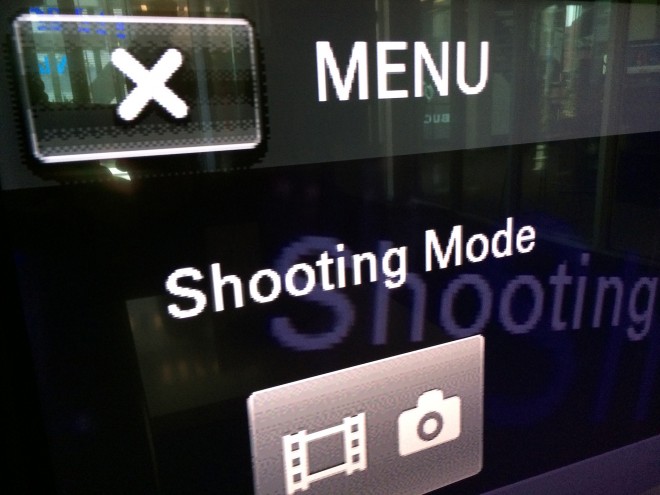 Noise grain was fine and uncompressed on the 4K TV, a sign that the signal bypasses the compression engine of the camera.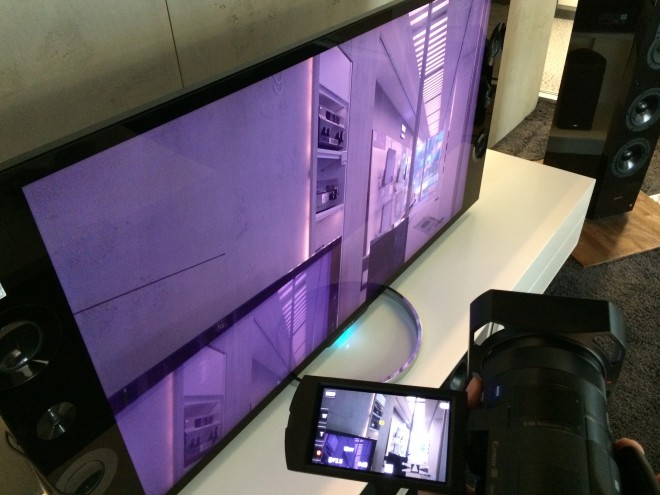 720/120fps
Slow-mo is accessed through the menus in two ways. The 720/120fps is labeled smooth slow mo and there's also a golf shot mode with a mysterious unknown frame rate. Image quality is better in the smooth slow-mo mode. I wouldn't put it up there with the GH4 and certainly not the FS700 but it's not the worst I've seen. The golf shot mode is a curious feature. How many of Sony's customers outside Japan go to a driving range every weekend? Does it change to Cricket Shot Mode when you put it in PAL mode!?
First impressions and opinion
This could be a good documentary camera or behind the scenes camera. It's a good consumer and travel camera. Rich tourists and oligarchs will enjoy it for times on the beach when their tripod is replaced by a girlfriend.
For filmmakers the main shortcomings of the camera when it comes to the 4K image is the codec and ergonomics. The image profiles are uniformly terrible and the codec can be quite muddy. That said this mud is greatly reduced when scaling the 4K output in post to 2K. Colour is pretty nice, if rather high contrast. Scenes which don't demand a lot of dynamic range look more filmic than the average camcorder that's for sure.
For scenes where there's a lot of contrast, roll off to the highlights is harsh and they blow easily, indeed the image looks like video in such circumstances. With the RX10 you could dial video very flat using the Alpha picture profiles. On the AX100 we have a Soft High Key effect which lifts the shadows but messes with colour and some toy camera filters. CinemaTone whether on or off doesn't really offer any perceivable benefits to image quality. I have prior experience of CinemaTone on the NEX VG E-mount cameras and I ended up turning it off because it looked worse!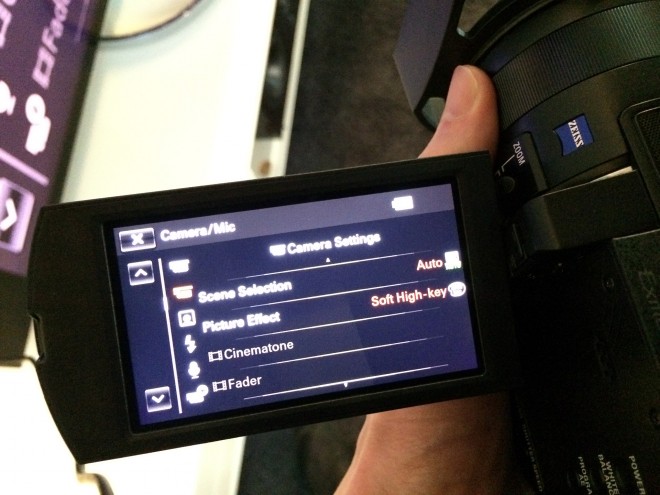 XAVC-S on the AX100 uses a bitrate of 60Mbit/s for 4K. It is a shame there's no higher quality mode for those who don't mind slightly larger file sizes. XAVC is an important new proprietary Sony standard. Why such a tepid implementation? Mass produced consumer devices like the A7S and AX100 are exactly what Sony need to make XAVC a standard for video recording. The AX100 makes XAVC look low-quality due to the bitrate and the A7S doesn't bother with XAVC-S 4K at all! Very odd! The GH4 shows what is possible in terms of consumer codecs and that is cheaper than both the Sony XAVC-S cameras.
1080p in the AX100 is delivered in XAVC-S and AVCHD formats.
I am really on the fence whether or not to buy this camera. Some shots require the speed of operation and zero-rigging such a camera as the AX100 can offer. Unfortunately direct manual control over the image is painfully slow and fiddly. In once sense it is convenient to carry around a camera with a very high quality sensor more in-line with a DSLR than a camcorder, 4K, XAVC, small file sizes, built in ND filter, 9-111mm zoom, very effective stabilisation and 20MP stills mode all in one. Stick it all in auto and just go and shoot. There is appeal in this but the ergonomics of the AX100 spoil the fun. The touch screen is truly diabolical. You can't even swipe up and down on menus like on a phone. It's almost in need of a stylus, so small are some of the buttons.
If the RX10 successor gets 4K, I may consider adopting this technology. Until then, I feel 4K alone is not enough to revive the Handycam for anything more than consumer point & shoot.