[vimeo]http://vimeo.com/90049558[/vimeo]
Above: Prospect, a short film shot on the 2.5k Blackmagic Cinema Camera
The Blackmagic Cinema Camera was the first foray for the company into the camera market and was announced 2 years ago this month. I know many users were expecting more from firmware updates in the meantime to add basic features and also features promised by Blackmagic themselves. Many were expecting these to be announced this week at NAB. Instead Blackmagic revealed new cameras, one in particular the URSA being packed with new features.
So I asked Blackmagic some tough questions and here are the answers…
[vimeo]http://vimeo.com/88208795[/vimeo]
Above: my shoot "Aero girls" in 4K on the Blackmagic Production Camera, review here
First of all Blackmagic did acknowledge there are concerns from existing customers their cameras were no longer being supported or that support had been reduced or that the emphasis of the camera division has shifted to the high end production and broadcast market.
They assured me that wasn't the case and actually there are technical reasons why the planned firmware updates have taken so long.
Since it was their first foray into cameras the architecture of the 2.5K BMCC is very different to the Pocket and Production models, so Blackmagic had to double their effort on two quite separate architectures to do any bug fixes or new features. To combat this, engineers were tasked with a re-architect of the first camera firmware to bring it in-line with the current models. A unified firmware across three very different cameras is not a simple task and it is taking longer than planned.
However the job is almost complete and beta versions of the new firmware have been sent out to some users in the past few months.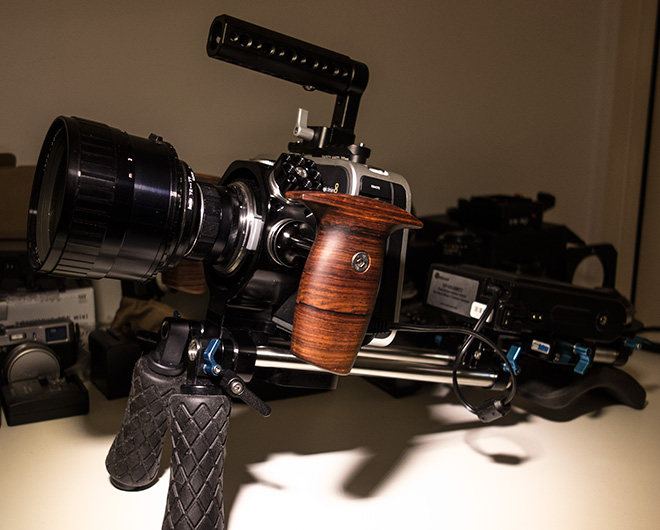 Above:  BMCC 2.5K with my Iscorama 54
Beyond the architectural changes which come before you can actually go about adding features, Blackmagic do in fact have a firmware update which is imminent. It will include the following –
1. New debayering for shooting directly to ProRes or DNxHD on the Blackmagic Cinema Camera EF and MFT
2. Improved MFT lens support on the Pocket Cinema Camera
3. Compressed RAW support on the Production Camera 4K
4. Autofocus support for EF lenses on Blackmagic Cinema Camera EF and Production Camera 4K
I can also reveal that audio levels and histogram are coming.
Blackmagic say that in this firmware update there are already certain hooks present which are required for audio level metering and histogram display. These won't be visible yet but the hooks allow Blackmagic to quickly follow up with an update to add these tools everyone seems to be asking for. And the good news doesn't stop there…
I asked about formatting of media in-camera. Blackmagic say they do indeed want to add this and that a large part of the work has already been completed.
However it is unlikely that deleting of individual clips will ever be supported due to the risk of media fragmentation. This would slow down the media and perhaps cause issues with dropped frames due to the necessary high write speeds of ProRes and especially raw. Blackmagic do not want users to have random drop outs during shoots. This would be bad for us and I am sure it would be a major support headache for Blackmagic too.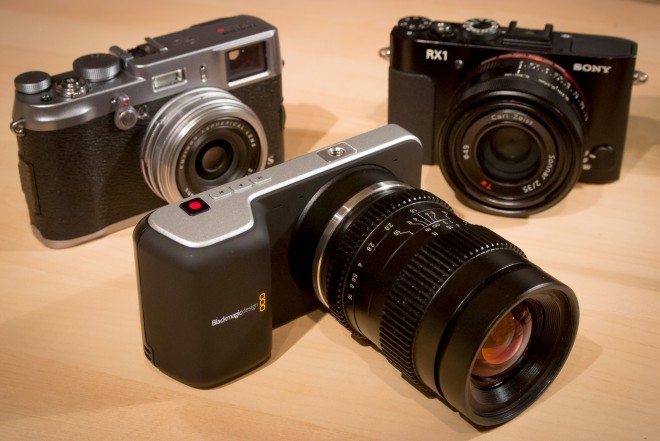 Another feature I asked about is some kind of 'time remaining indicator' so you can tell when the card is getting close to full.
Blackmagic told me this is actually going to happen, probably with the next update or the update after.
What about the "black sun" phenomena which was fixed on the Pocket Cinema Camera but mysteriously reappeared on the Production Camera?
Again Blackmagic were completely open about this and for the first time here are official reasons behind it…
This is a fundamental characteristic of CMOS sensors but Blackmagic say some chips have additional circuitry to overcome it. This was available for the sensor in the Pocket Cinema Camera but unfortunately not on the 2.5K sensor used in the original BMCC. This hardware circuit is not an on / off switch with some sensors so switching it on shouldn't be taken lightly – the circuit can result in other unwanted artefacts. Therefore Blackmagic have to be extremely cautious in their approach to the issue. All in all it is not just a quick firmware fix. I'd add my speculation and say maybe the fix can result in the white orbs issue we saw on the Pocket?
Images shot by John Brawley in this Blackmagic Pocket Camera test video at Vimeo (Read about the original fix)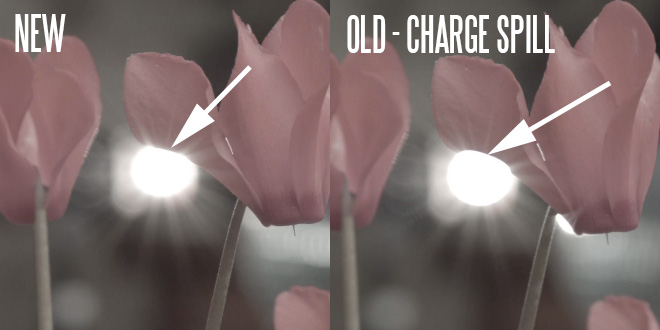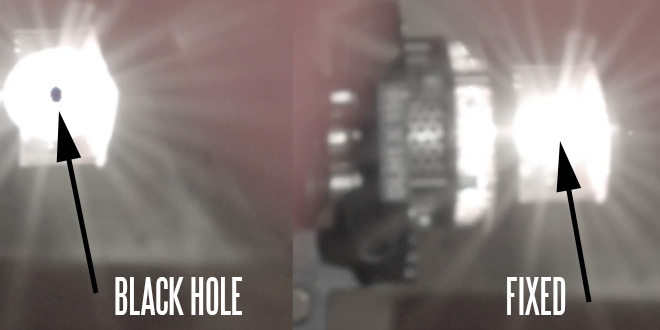 Another method of fixing this is with image processor just after the sensor has output the raw data. This would be a software method to try and detect what may be a black sun and then clipping the black areas to white. Blackmagic say that this method too is not bullet proof and may result in false positives. For example if you have a pattern in the image that is similar to the black sun it could be mistakenly corrected as well. Blackmagic say they are not so much as ignoring the issue as working feverishly on it behind the scenes on what might be the best approach to fixing it. If it were as simple as applying a fix they had already, it would be 100% sorted by now.
I hope this goes someway towards expanding understanding on camera development at Blackmagic and that the arrival of the URSA in no way changes Blackmagic's overall philosophy when it comes to cameras – they still want to provide affordable tools for the masses and listen to us when it comes to updates.
People perhaps sometimes forget that Canon, Panasonic, Sony, etc. have been in this business for decades whereas Blackmagic is having to start pretty much from scratch. And don't forget even Fuji had a white orbs issue on their X series until recently and the affect can be seen to a small degree in almost all CMOS based cameras.
If you want to be an early adopter the growing pains are part of it, there's no two ways about it. Let's remember what amazing images these cameras can create despite the bugs and let's get  behind a genuinely nimble independent engineering-lead manufacturer as they go toe to toe with the corporations.
We need them!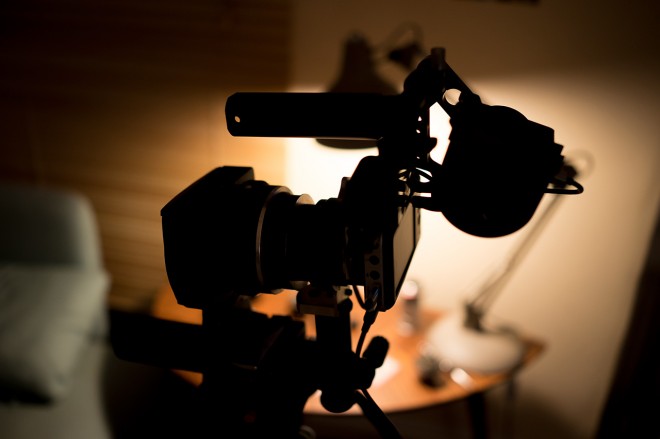 Above: My Pocket Cinema camera with LOMO 2x anamorphic cinema lens and Kinotehnik EVF