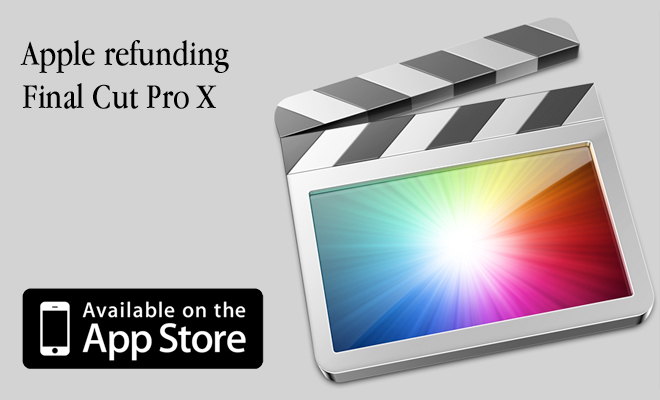 Apple have been processing refunds for Final Cut Pro X as complaints flood in from grumpy pros – and it seems they are taking a lenient approach.
Although the iTunes / App Store terms and conditions state that 'all sales are final', when an application does not meet the expectations of a user, like in the case of a 59p iPhone game, Apple have been known to refund the purchase. Now it seems they are doing so with Final Cut Pro X to the tune of $299.
Here is an example of one such email a disappointed pro received from Apple:
"Moving forward, I understand that you are not satisfied with the app "Final Cut Pro". I can certainly appreciate you would like a refund, and I would be more than happy to help you out with this today. In five to seven business days, a credit of £179.99 should be posted to the credit card that appears on the receipt for that purchase.

Please note that this is a one time exception because the iTunes Terms and Conditions state that all sales are final."
It is not clear what happens to the activation of the FCPX license after the refund is handled, and whether the user can continue to use the software. FCPX is the first pro app to be offered exclusively as an electronic download.
Here is another such refund email sent from an Apple iTunes support guy to a disappointed video editor, posted today on Creative Cow which not only refunds FCPX but also Compressor.
"Please accept my apologies for the delay in responding your email, as we have been receiving higher volumes than usual. This is certainly not the customary time for a response and your understanding is greatly appreciated.

I'm sorry to hear that the apps "Compressor" and "Final Cut Pro" you purchased on the Mac App Store is not functioning as expected. I know how special your purchases are and I regret for the inconvenience caused. I will try my best to resolve this issue.

Garrett, at your request, I have refunded the apps and in five to seven business days, a credit of $380.08 should be posted to the Visa card that appears on the receipt for that purchase."
What do you think? Are Apple right to refund or does it set a dangerous precedent for free-loaders?
In the absence of a trial version, maybe Apple are right to offer people the refund should they find the software unsuitable.