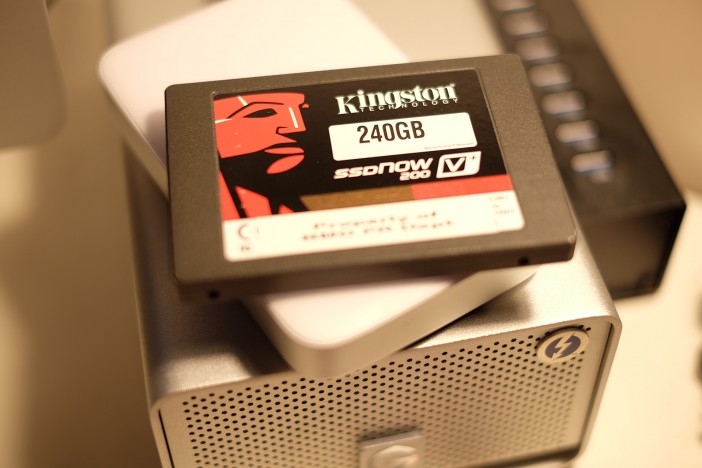 DO NOT upgrade to Yosemite if you are booting from a third party SSD drive.
Here's what Apple is up to and what to do about it…
This looks like a real attempt to kill third party SSD drive support in Yosemite. Thousands of video editors, colourists and filmmakers have taken to using SSDs as their boot drives for OS X. Performance is wonderful and you can run several Macs off one OS. For instance I have a Samsung SSD connected via Thunderbolt which works on both my iMac and Macbook Pro Retina. If I travel I can effectively take my iMac with me by plugging the Thunderbolt SSD drive into my Macbook and booting from it.
Today after attempting to upgrade from Mavericks to Yosemite (officially, via the App Store) without any warning whatsoever the drive would no longer boot at all. It didn't even get as far as fully installing Yosemite. I was very lucky in the end not to lose any data and it was purely by chance that I was able to boot it again, by swapping to USB 3.0 instead of Thunderbolt. No idea WHY that brought it to life, but it did and Mavericks returned.
The problem is down to Apple having introduced a new "security feature" in Yosemite. Only kext drivers for official Apple SSDs are supported. Built in drives that Apple themselves use in your Macbook Pro Retina and some iMacs will upgrade just fine to Yosemite but if you have installed a third party SSD or more commonly are running off an external one, you're out of luck.
This is a problem that particularly hurts the video and Final Cut Pro X community, as Larry Jordan points out so helpfully here. Many of us are using SSD boot drives via Thunderbolt, or running higher-end user customised Mac systems.
Larry points out that the problem revolves around the kext driver for Trim, which controls how data is allocated on the SSD. Third party drives such as those by OWC and Samsung use their own Trim drivers, which are no longer loaded by Yosemite as Apple hasn't 'signed' them off.
Another dark side to this is it allows Apple to veto any third party hardware device by disabling the drivers. It is completely up to Apple which drivers they support, and hence which hardware works with Yosemite.
I have to say I'm extremely disappointed by Apple with this. To have an official installation of OS-X simply stop working when upgraded from Mavericks to Yosemite is unacceptable for any user. For professional environments and pro video it is even more troublesome and it puts vital data and creative projects at risk. Is this what Apple wants to be known for? At the very least the installation should detect if an appropriate SSD is present before attempting to install and notify the user if there's a problem. I just had a grey screen and a dead system.
Other aspects of Apple's performance recently are equally as troubling, I could write a list but instead lets skip forward to the solution.
The only solution is to disable the security feature altogether so that all driver signing is off in Yosemite.
For instructions on how to do this check: http://www.cindori.org/Trim-enabler-and-yosemite/