Illya Friedman of Hot Rod Cameras investigated CES 2012 this year for EOSHD. Rather than reel off what we already know about new cameras, specs and product announcements Illya has written about the overall trends for the show and what it is like to go there. It is a unique and exclusive take on the biggest consumer entertainment show in the world – enjoy!
Illya also has a hands on look at a 8K TV, Sony 4K home theatre projector, the Nikon D4 and the very promising Fuji X Pro 1.
Las Vegas, what a place. Home, as it is every year, to the Consumer Electronic Show or CES as it's more commonly known. This was my 6th CES convention in the past 12-years. The first time was as a consumer, but the subsequent 5x trips (this time included) was work related. Andrew of EOSHD and I emailed a few weeks ago and when he found out I was attending the show, he asked if I could do a little CES write up. I've taken an unofficial hiatus from blogging for the past several months, as I've just been far too busy with developing new products. So since I was going to be in Vegas for the show anyway I figured this would be a good way to get back in to the flow of writing/posting blogs again on my own site, www.HotRodCameras.com.
In what is now my distant past, I spend about a year as journalist writing professionally for trade publications Back Stage West and Action! Magazine. I believe I got the job (despite no experience beyond my college newspaper) because BSW really wanted someone who genuinely understood the technobabble of HD and film technology. At the time I had just resigned from my super sucky job at a soul-less rental house specializing in reality television, and my immediate life plans included doing a lot of "nothing." The editor convinced me that writing would be a nice diversion, and the job allowed me to work from home- which I thought made for a pretty cool little career-detour all things considered.
So enough about me, and on to the big show. What I am going to write about is not like all the other reports and blogs that focus exclusively on premiering technology, although there'll be some of that. I'd like to give a little analysis of a larger trend I see brewing, and also attempt to capture the flavor of what it's like to attend the CES show in person. I know this will run the risk of being boring as most people just want to see the toys, but there are literally hundreds of websites for that, so I'm instead going to try to offer a little perspective, on the event, a major trend, and attempt to answer what some of this means to you.
Like every year, CES took another step closer to becoming exactly like the city that hosts it. The convention has never been more loud, more crowded or more obnoxious. The 2012 CES show attendance surpassed 153,000 this year (another record). The organizers of the event were very proud- just as Vegas tourism board is proud of the draw and mass appeal of "consumers" to their "sin city".
The competition for eyeballs on the show floor was fierce. Similar to the casinos lining both sides of Las Vegas Boulevard, the exhibitors at CES are pulling out all the stops for spectacle; loud music, scantly clad promotional models and even a 7-foot tall robot, who dances "the robot". Even celebrities were paid some serious dollars to be in attendance, people like Justin Timberlake (on behalf of Myspace.com), Will Smith (for Men in Black III) and (attention tweens!) Justin Bieber was on hand- although he's hardly the demographic of CES which bans everyone under the age of 16!  All we're being used to try to get the message out to the patrons, and more importantly the MEDIA to pay attention to the sponsored messages. Media for this event number in the hundreds and every time you turn around you are tripping over another member of the press, a mic stand or someone operating a Steadicam.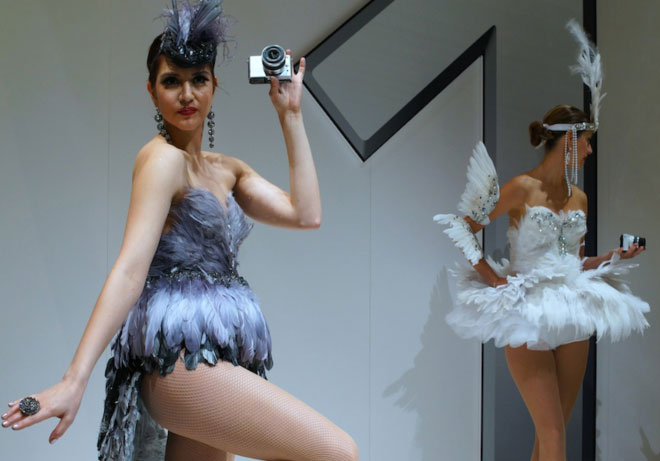 Showgirls at the Nikon Booth during CES 2012
Should you decide to make the pilgrimage to the Mecca of "Consumer Electronics", plan on at least two days. It is absolutely impossible to see everything going on at CES in one day. If you have only one day, you must pick and choose what to see. CES is organized the same way a box of Legos is organized, a jumbled mess. Exhibitors are vaguely grouped together, but not really. You'll find Ford (the automobile manufacturer) in the same exhibit hall as a company making Tazers and others importing iPhone cases.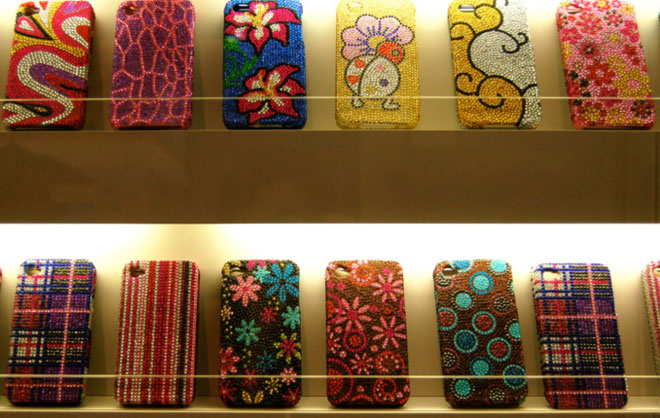 Just a few of the thousands of mobile accessories on display at CES 2012
Actually it's not fair to say that iPhone cases could be found next to Ford; because in fact at CES you can find iPhone/iPad/iPod accessories in every exhibit hall, everywhere. It's kind of like CES decided to vomit mobile smartphone and tablet accessories everywhere you turn. How many were there?  We'll I saw booths as large as 30×40 dedicated exclusively to i-brand accessories. To put this in perspective, 30×40 was as large (maybe larger) than the Fujifilm both, who used their space to launch 19 new digital cameras at the show. There were so many phone and tablet accessories you could easily try something different every day for the next 2-years, and you still wouldn't have tried everything shown at CES. Here's a typical item.
Mixed in with all the smartphone cases, mounts, skins, mobile speakers and other nik-naks was a lot of other 'stuff.'  Some of that stuff tourists and press coming to the show really didn't want to see (i.e. a mattress with a built in MP3 player evoked more than one "What were they thinking?") and the stuff  that patrons really did want to see generally had a line, or was extremely crowded.
On my very short list of things to see was the new Sony 4K Home Theater projector – I did, and it did not disappoint. How good was it?  It's hard to say for certain with the test material and size of screen, but if it can adequately fill a 20′ wide screen  (the size shown at CES was probably 15′ in width) – the image was arguably a superior experience than 75% of similarly sized screens in Los Angeles; including studio screening rooms, professional post production suites and lavish home theaters!

Sony's new 4K Home Theater Projector outside the demo room at CES 2012
Anyone who think that 4K is "a long way off" or only for the highest-end professionals is wrong, dead wrong. 4K is coming to a theater and a living room like yours by way of freight train. Besides CE giants LG and Sharp (the latter showcased an 85" an 8K by 4K prototype LCD screen), Panasonic debuted a 20" 4K monitor and JVC gave an official price tag to their 4K consumer camera ($5,000)- betcha that end of with a street price substantially less.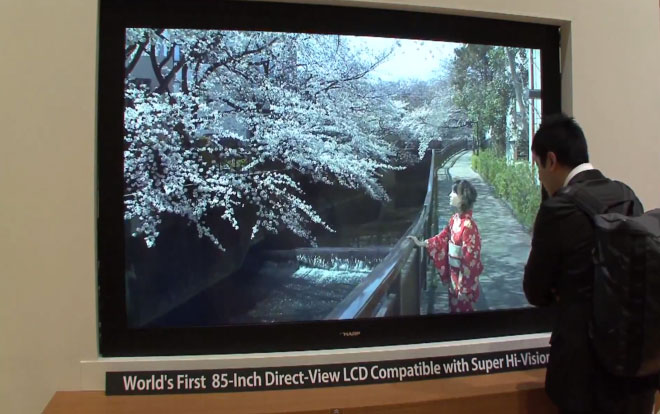 Sharp 85" LCD 8K x 4K LCD TV
There are still issues with originating, finishing and distributing 4K, those need to be worked out for the mass consumer audience. But I can tell you that there are people hard at work figuring out these issues as you read these words. In case you weren't excited to read and digest the latest tech bulletins on the HDMI 1.4 spec, it includes a provision for 4K through a single HDMI cable. The days of Quad-HDSDI and Dual DVI have mercifully passed (or are soon to).
Last time I attended CES, the first HDTVs were just starting a meaningful roll out in homes around the country, and to purchase an OTA HDTV DVR (HD over the air antenna DVR) was about $1000. I was an early adopter and plunked down money that I probably should have spent on something else. But the new OTA HDTV DVR made my Home Theater projection system look 100 times better than the upscaled 480i (to 480p) signal I'd been feeding it. Even in hindsight looking back now, it was totally worth it.
I think once consumers see 4K at home, there will be some of that same frenzy of must-have-it-ness and probably some subsequent credit card remorse. In the past few years, purchases of HDTVs were fueled in part by the availability of low cost of HD camcorders (NOT the 3-D mode, as some might have you believe) it would not surprise me that the same holds true for 4K TVs, as soon as the purchase price of a 4KSLR ("Four K" SLR) for lack of a better term, drops below $2000. Expect cases of "upgrade-itis" followed by subsequent symptoms related to "Keeping up with the Jones's" to hit in large quantities just before the Superbowl of 2015, go Niners.
Speaking of upscaling and 4K, at CES 2012 JVC introduced two projectors labeled as 4K. In reality the JVC projectors take an HD signal and perform a type of upscale to the image. There is no provision for actually receiving a true 4K signal by the JVC projectors, so while they are less than ½ the price of the Sony 4K projector, I'm not sure it's fair for JVC to use the term "4K", or other "4K" marketing claims without a bold face qualification. That qualification is currently missing from the JVC marketing material. I'm sure that like a lot of the 720p plasma screens that were sold in recent years to unsuspecting consumers, there's going to be a lot of pseudo-4K TVs coming to living room near you, as consumers we're all going to have to make sure that we are getting the pixels we think we are paying for.
I don't think the change in the TV market will be quite so fast or dramatic with 4K/QuadHD/UltraHD (whatever you want to call it) when compared to the switch from SD to HD. Anamorphic encoded DVDs are a big reason that standard DVDs still sell quite well when compared with Blu-ray. A properly mastered DVD looks great on an HDTV, and it's nowhere like the difference in picture quality between VHS and DVD.
In fact it can be very hard to see the difference between high quality anamorphic encoded Standard Definition DVDs upscaled to 1080p HD, and a Blu-ray disk without a point of reference. Likewise when 1080p is up-converted properly to 4K, the difference from native 4K origination is quality is far less perceptible. The math of 1080p to 4K/QHD conversions is quite easy, and while it may be somewhat costly for consumers at first, it's not going to be a great technological hardship for manufacturers to pull off 4K upscaling.
If you can't wait to get your 4K upscaling on (and have a device to see it!), you've got a couple options besides the before mentioned JVC projectors. There's a forthcoming Sony 4K upscaling Blu-ray player, the BDP-S790, and already on the market since last year are several Onkyo surround sound receivers. All of the current batch of "high end" Onkyo's will do the trick, starting with the $319 (street price) Onkyo TX-NR609!
If you were in this business (and can remember) back to 2003, there was an upstart format known as HDV. JVC released a camera, and most of the professional industry laughed and giggled. More than once did I hear people say "That's not REAL HD" and "How are we supposed to edit that?" which were the two major refrains. Less than 2-years later, the same people mocking HDV were shooting with new sub-$5000 Sony HDV cameras for major broadcast programming, I used one to shoot an HGTV series. Technically, if a format has even 1 pixel worth of resolution more than Standard Definition it counts as "HD", while HDV wasn't what anyone would call full HD resolution, it did in fact still qualifying as HD, and a lot of the broadcasting networks couldn't tell the difference.
It's true that the first days of HDV were a cruel joke on the early adopters. There was not a lot of resources and the first HDV camcorder on the market, the JVC GR-HD1, had about 5-stops of dynamic range. With HDV you also had to invest in an expensive deck or use your camera as a playback device to get the images from your videotapes (remember those) into editorial.
With HDV, all of the earliest qualitative, workflow and expense issues were resolved with time. You can expect the coming 4K (consumer/prosumer) experience to be no different. However, starting tapeless gives the early "consumer 4K" adopters a big advantage over the those starting out with HDV.
Nikon D4 and Fuji X Pro 1
As EOSHD is a camera/HDSLR centric website, and I myself tend to be quite camera centric, it only makes sense that I should spend a little more time on the two high-end/pro HDSLRs making their debut  at CES, of course I'm referring to the Nikon D4 and the Fuji X-Pro 1. These cameras are going to have a lot written about them (they already have), so I'm not going to get too redundant here.
I have to say that the new cameras seem very impressive on the surface. While I'm always suspect of the images that are shown at a trade shows and press events (with good reason), the D4 images shown on the monitors at the Nikon booth were exceptionally clean for an HDSLR- really lovely. I was a little disappointed that the subject matter chosen for the D4 demo images were certainly not stressing the imager. It will be interesting to spend some serious time with that camera.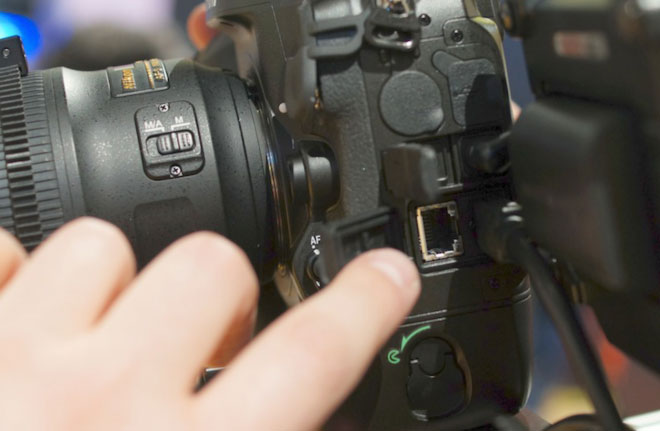 The Nikon D4 and it's fancy ethernet port!
It's worth pointing out that with the Nikon D4 this is the first time that an HDSLR has a built in ethernet port!  It's a simple addition and I've been saying to anyone who will listen for the past 3x years that such an item should be included. I didn't expect the Nikon D4, to be first, but I'm glad it's there. This feature allows the instant transfer of images from camera to a computer or network. I believe this will be a very popular option for studio shooters. As well as clients located remotely who want to see exactly what's going on- as it happens. I also expect we'll see more cameras with both standard GigE and the newer 10GigE protocol built into the cameras in the not too distant future. Streaming RAW,  uncompressed or lightly compressed HD (or likely 4K or greater) images sequences direct from ethernet should not be too many years away, and when that happens Nikon, Canon, Fuji, Panasonic or Sony will likely be recognized and humbled by the praise and awards they'll receive.
I could go on and on with an overview and re-hash specs and ergonomics of the Nikon D4 but I don't think that there's anything extra that you can glean from me, that hasn't already been said here.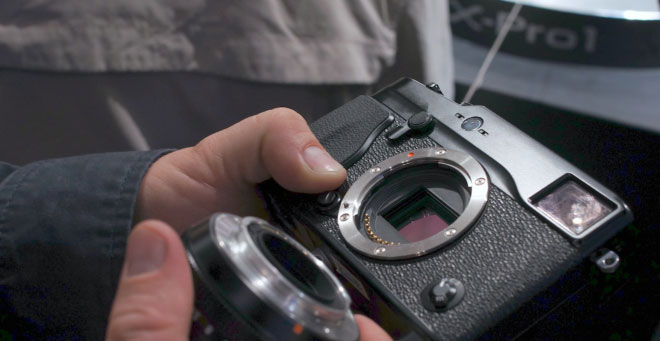 Fuji X Pro-1 without a lens, and without an OLPF!
Also on the CES 2012 camera front is the Fuji X Pro-1. It will be of particular interst to many. This camera had very impressive build quality. It is like a larger/heavier and $1000 more expensive Sony NEX-5N. The style feels a bit like a retro throwback, but that isn't a bad thing. The hybrid Optical-EVF is quite impressive and I expect you'll hear a lot more about the viewfinder in the coming months. The camera does feature 1080/24p shooting mode, and I think we'll be seeing some very nice images captured on this camera very soon. Like with the Nikon I could give a overview of the technology and features of this camera, but why be redundant when Jon Fauer has done such a splendid job over at Fdtimes.com explaining why and how there is no OLPF in the camera.
Other interesting things seen at the show, yowza- there was a few… Technology that tracks your eye movement, like something straight out of Minority Report. Undoubtedly someone is figuring out how to make this into a follow focus device. Lenovo introduced multiple laptop/tablet hybids including a dual boot device with both Windows and Android OS as well as a laptop with a docking tablet screen, take a look at the one they call the Yoga. Samsung showed OLED HDTVs that were as thin as a pencil and some that looked like a mirror when turned off. The people over at Sennheiser cooked up a $1000 set of headphones. There were a couple "green" products that debuted, one that claims their line of disposable batteries are safe enough to go to a landfill and Audi who showed an electric concept car, that will probably never reach the USA, if it ever gets made.
What was really not interesting at the show, 3-D, in all flavors- including glasses-less. I heard several people complain about the soft images, poor picture quality, geometry distortion and headache inducing images every time I got close to one of these monitors. Occasionally some kind of glasses-less 3-D would catch my attention from an oblique angle and I would think "3-D, it's been 'real' this time around, but your days are numbered, and once again you won't be missed."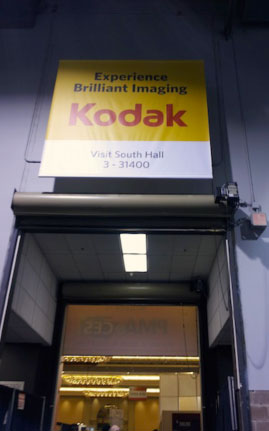 The PMA show at CES
The Photo Marketing Association or PMA convention merged with CES this year, which was an interesting choice for the organizers of CES. The PMA convention has been on the way down for many years (smaller and fewer exhibitors and attendees), even with the influx of CES attendees it was by far the least attended section of the show. I found it fitting that Kodak chose to sponsor PMA. A genuine dinosaur trade event.
The main group of members of the PMA has traditionally been 'mom and pop' photo finishers, and you know there aren't many of those left these days. With the shrinking attendance at the PMA show, I'm not certain why the CEA, the Consumer Electronics Association would think it's a good idea to merge PMA into CES. Maybe there was some concern about attendance because for the first time in many years the AVN, (Adult Video News) trade event was not happening during CES in Las Vegas. I think there were some who over estimated the importance of the concurrent adult "shadow convention" which many believed pushed up attendance at the CES show, clearly with another record breaking year, the lack of AVN had little to any impact on the number of people attending CES.
Exhibitors in the main (Sands/Venetian) PMA hall were for the most part print photo suppliers (albums, printers, paper) and some related vendors of still photo supplies. I have no doubt that booths in this hall through PMA were in some way cheaper compared to other prices at CES. It was easy to find the bargain-basement crap in this room. Such as several extremely low-quality Chinese companies promoting their $150 knock-off (of a knock-off) follow focus units, funky fake lens barrel "cine-ized" Zeiss ZF lenses, and dirt cheap plastic matteboxes. I would describe the quality of all these products somewhere between low and poor, a level that should be totally embarrassing for the manufacturers, but somehow isn't. Basically all the same cheap stuff you see on eBay, was in one room and it was appalling to see and touch. I know there are people who love to bargain hunt, but really the imitation of the imitation of Zacuto, and the OEM suppliers to some other so-called "American" manufactured companies are so bad, I feel like the people buying this stuff are being duped, and unfortunately are being taken as suckers.
I don't think you can return these Chinese eBay camera accessories when you get a bad one-  everything on display was bad. One follow focus I tried turned in an oval instead of a circle- a testament to the quality. Information on this crap, (which I think is the most accurate description) can be found on blogs and forums all over the web, usually by fools who swear (or believe) that "there's no difference". So I'm not going to spend any more time discussing them.
I hope that this show wrap up report offers a more unadulterated taste of what attending CES is really like, where I think the industry is going (4K) and what were some of the more interesting bits of tech at the show. If you are thinking of attending the 2013 CES, the absolute best advice I can offer is as follows, plan to attend the last day of the show- not the first, it's still crowded but much less than the first few days, book your hotel early (prices in Vegas were in the final days over $400 at many 2.5 star properties) and wear the most comfortable shoes you can find- you will need them!
I'll leave you with a final link to the good people over at Gizmodo who summarized the Sharp 85" 8K by 4K LCD television like this.