I decided to give my GH2 a tough challenge a few days ago – replicate the look of Blade Runner in the rain, in the side streets of Tokyo. The GH2 isn't a weather proof camera but on this occasion I felt it may as well have been, it really did get that wet. At one point I had condensation inside my Voigtlander Nokton 25mm F0.95! The weather had been fine for the whole week I was in Japan and then it all went south with a vengeance which was perfect. Tokyo looks incredibly cinematic in the rain.
The neon lights reflecting in wet streets, clouds skudding low past skyscrapers illuminated in dark green, orange and reds.
I love shooting in a film noir style with a futuristic edge – much like the look of Blade Runner which I consider one of the best looking and most mesmerising films ever made. Plus – that was shot in anamorphic. This footage isn't anamorphic but incredibly the Olympus 12mm F2 does work with the LA7200, there's no vigentting. Wow.
This was a real surprise because it is the first lens I've ever used that has gone so wide with the LA7200. The maximum I could get before was 14mm, and believe me those extra 2mm make a huge difference on Micro Four Thirds when it comes to the look of wide angle shots. Can't wait to try it out.
I much prefer the 24mm equivalent look to 28mm, it is far more cinematic and the GH2 badly needed fast wides. Now we have them. The purpose of this footage was to show what the Olympus 12mm F2 looks like. The only other lens I used on this shoot was the Voigtlander Nokton 25mm F0.95 and I feel these two lenses are indispensable.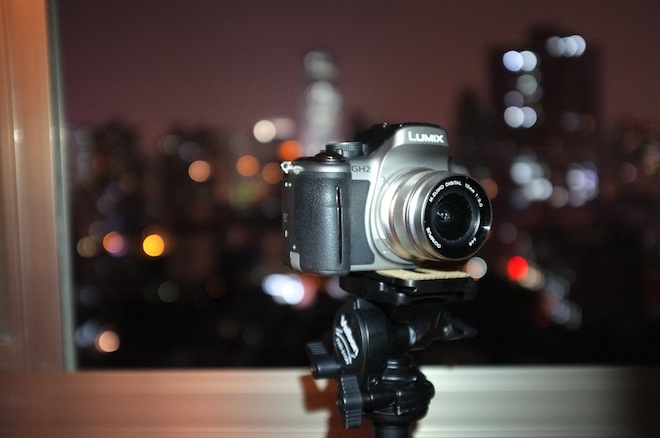 Above shot taken with the Fuji X100
The Olympus 12mm is an F2 lens not quite as fast as the SLR Magic 12mm F1.6, although I often stop that down to F2 to get flare down to an acceptable level and increase contrast. I can use the Olympus wide open and it is sharp and very flare resistant. I like both lenses but the Olympus is a MUCH more expensive. However as you'd expect it has better image quality, with hardly any distortion and it's very sharp wide open. AF is of the next-gen video optimised variety, it is extremely stable in video mode and never hunts randomly in the middle of a shot.
Amazingly I actually left it on for most of the shoot! I never use AF, always manual, but in this case it was just so rock-solid that it got out of the way and did the job for me. It is also extremely fast and silent. Focussing is all internal, nothing moves. This is what Canon need to work on with their future lenses.
The manual focus ring pulls back to activate manual focus on the Olympus 12mm, it is however distinctly 'fly-by-wire' and doesn't smoothly rack focus. This is somewhat a shame, maybe a firmware update will improve this?
With the low light capabilities of DSLRs you really can play far more with the natural light already gifted to you in big cities, and it can be extraordinarily cinematic. I am happier going to extreme ISOs with the GH2 now since the hack, because the noise is far more attractive and less detail gets smudged by compression. ISO 3200 is no problem, ISO 6400 at a push, ISO 12,800 in black and white can be magical.
There are new hack settings every day but I prefer to stick with 44Mbit AVCHD as detailed in my GH2 book (which also goes into the AVCHD Intra and MJPEG anamorphic settings) because I feel the gains after 44Mbit are marginal and at the expense of reliability. Not once did the GH2 crash at 44Mbit and since Vitaliy has been researching the inner workings of AVCHD and fixing bugs like the first two frames being corrupt and playback in-camera not working, I am sure image quality has gone up from the first release of PTools at the same bitrate. It is now spectacular and like a mini-EPIC.
I have other wide angle lenses to compare the Olympus. They are:
Tokina 11-16mm F2.8 (Canon mount). The advantages of this are of course the zoom, and the fact that it covers APS-C so you can go even wider on cameras like the NEX 5N.
Samyang 14mm F2.8 (Canon mount). Cheap and it covers full frame making it the widest of all when used on the 5D Mark II. However distortion is on the wild side it is almost like a fisheye lens.
SLR Magic 12mm F1.6 (Micro Four Thirds mount). This is affordable and has a gloriously crazy lens flare especially wide open, and is actually quite sharp when stopped down just a tad. I love the lens and it has a very solid build but the Olympus is much lighter, smaller, has AF, less distortion and a sharper image especially in the corners – as you'd expect for the hefty price tag.
Stay tuned for a head-to-head review of all these lenses and the Olympus 12mm F2.
Audio notes
The background ambience on this video was recorded with a Tascam DR-05 which like all the lenses here I have bought myself and am experimenting with. I am pretty impressed so far. The sound of the rain and the umbrella passing the camera are all from the Tascam. The things I like – it is light weight, though not particularly small it feels nice to use. The menus are snappy and the buttons are large and well laid out. The stereo microphone is in an X/Y layout and it is not as directional as a shotgun mic, it's more for ambient stereo audio. It also has a tripod mount on the bottom and you can put it on the hot shoe of the camera via a ball-socket adapter.
Full review will of course follow for this with more audio samples.