Monday, 17 December, 2012 00:06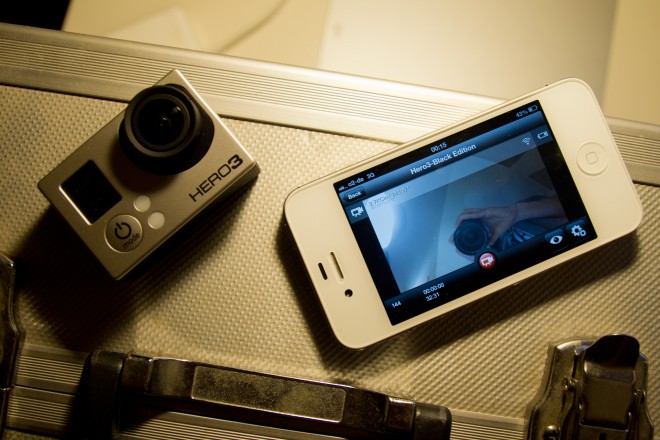 I recently picked up the Hero 3 Black Edition. It's a great overall point-of-view camera not just a favourite of sports shooters. The size of a matchbox and it does 2.7K and 4K video all at a pretty high bitrate of around 45Mbit.
Since a couple of days ago (Dec 14th) it has a new firmware update and iPhone app which gives you smooth wireless 24fps monitoring on the iPhone so I thought I'd give it a try.
Of course the Hero 3 doesn't have an LCD itself (it is a $89 clip on optional extra) so this is particularly useful. On the Hero 3 WiFi is built in this time. So with the new firmware and app you can for example monitor multiple vehicle mounted POV cameras from inside the car or at the side of the road on iPhones and iPads, to get the framing set up perfectly. All the controls available in the (somewhat awkward) camera menus are now on the iPhone so you can change the resolution, frame rate, recording mode, and all other options with the swipe of a finger.
Image quality of the Hero 3 Black Edition in good light is absolutely first rate in 2.7K mode, and of course 4K mode is exceptionally detailed. I have a few tricks relating to 4K on this camera which I will reveal in the next blog post.
For such a small camera it is much improved in low light compared to the previous Hero but of course still very noisy in dim interior light compared to a DSLR.
The WiFi video link is very detailed and smooth believe it or not. But of course the catch with WiFi is that it introduces a 4 time delay lag. This is a shame but for setting up a shot it does the job! I think for the uses this camera has, you don't need realtime monitoring any way. Just the ability to set that shot up and monitor it remotely with no cable is pretty cool for a free add-on. The app is free in the App Store and the firmware update is on Go Pro's site here.
You have to disconnect from your WiFi internet router and connect to the GoPro in the WiFi menu of your phone so they can communicate. They can do this anywhere (internet isn't required). There's a "Locate Camera" option which makes the camera emit a beep and the LEDs flash but not if you have the lights and button press beeps disabled in the menus. It isn't a GPS locator with a map unfortunately. Sound is channeled through to the phone as well from the camera's onboard mic. You can also activate 12MP stills and timelapses via the iPhone app, which is handy when the camera is in an out of reach place like on top of the Burj Khalifa

Recording can of course be activated remotely via the iPhone but the preview shuts off in most modes whilst the camera is recording.
The slow-mo options of this camera exceed anything below the FS700 / FS100 for the price. This camera is $440! 1280×960 goes up to 100fps. 120fps is available in 720p. WVGA (854×480) goes right up to 240fps. Better than any high speed compact camera sensor from Casio, Sony or Canon. Low low ability reduces dramatically at the high frame rates but resolution is about what it says on the tin, no noticeably bad line skipping, moire or aliasing is introduced at 960p or 720p, but it does show up at 240p. The only other consumer priced camera that comes close to matching this is the Panasonic FZ200 which also does up to 120fps in 720p, or 100fps on the PAL model.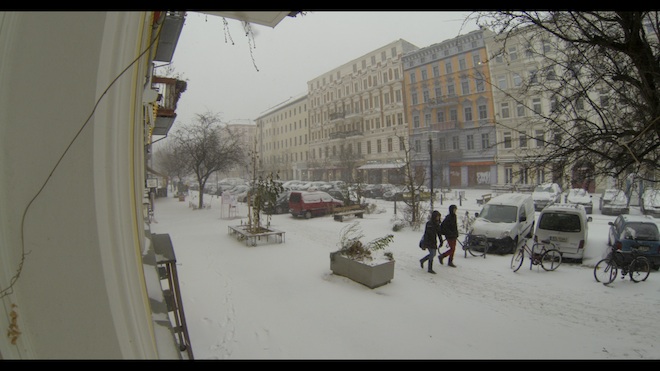 Above: decent dynamic range in 4K mode
Overall I am pretty intrigued by the creative possibilities offered by such a small camera and for the price it is great to see such solid build quality and the waterproof housing included in the box. The camera itself is rubber and alloy and the housing is very tough plastic which protects the camera from drops and allows it to go under water, as you'd expect for an action camera.
Even though the camera is literally the size of a matchbox the battery is almost as large in terms of charge capacity as the GH2′s, despite the cell being nearly half the size physically.
Woodman labs who design and make the GoPro cameras now own the CineForm codec and the camera has a flat image profile called Cam Raw which allows you to set white balance in post. There's no 'real' raw recording but the H.264 implementation is rather good with hardly any compression artefacts in Pro Tune mode. They are aiming for pro image quality on a tiny camera and it is not so much a consumer gadget, more something aimed at sports pros which is a great product philosophy. I'm very impressed with the technology inside for the price and it makes me wonder why we haven't got 2.7K on DSLRs when the processing power is already available and can be run off a tiny battery in a camera the size of a matchbox.
The processing power has doubled over the previous Hero 2 camera, so if it doubles again in another 2 years it is reasonable to expect the frame rate in 4K mode to double from 12fps to 24!
I hope GoPro have some intention on making a cinema camera, they clearly have the codec expertise (CineForm) and processing chips to do one. In fact with an interchangeable lens mount the existing Hero 3 Black Edition would make a superb 16mm cinema camera. As it stands, the fish eye lens is a bit limiting but perfect for POV stuff. You can crop into the sensor for narrower fields of view but this increases noise and isn't available at all resolutions and frame rates.