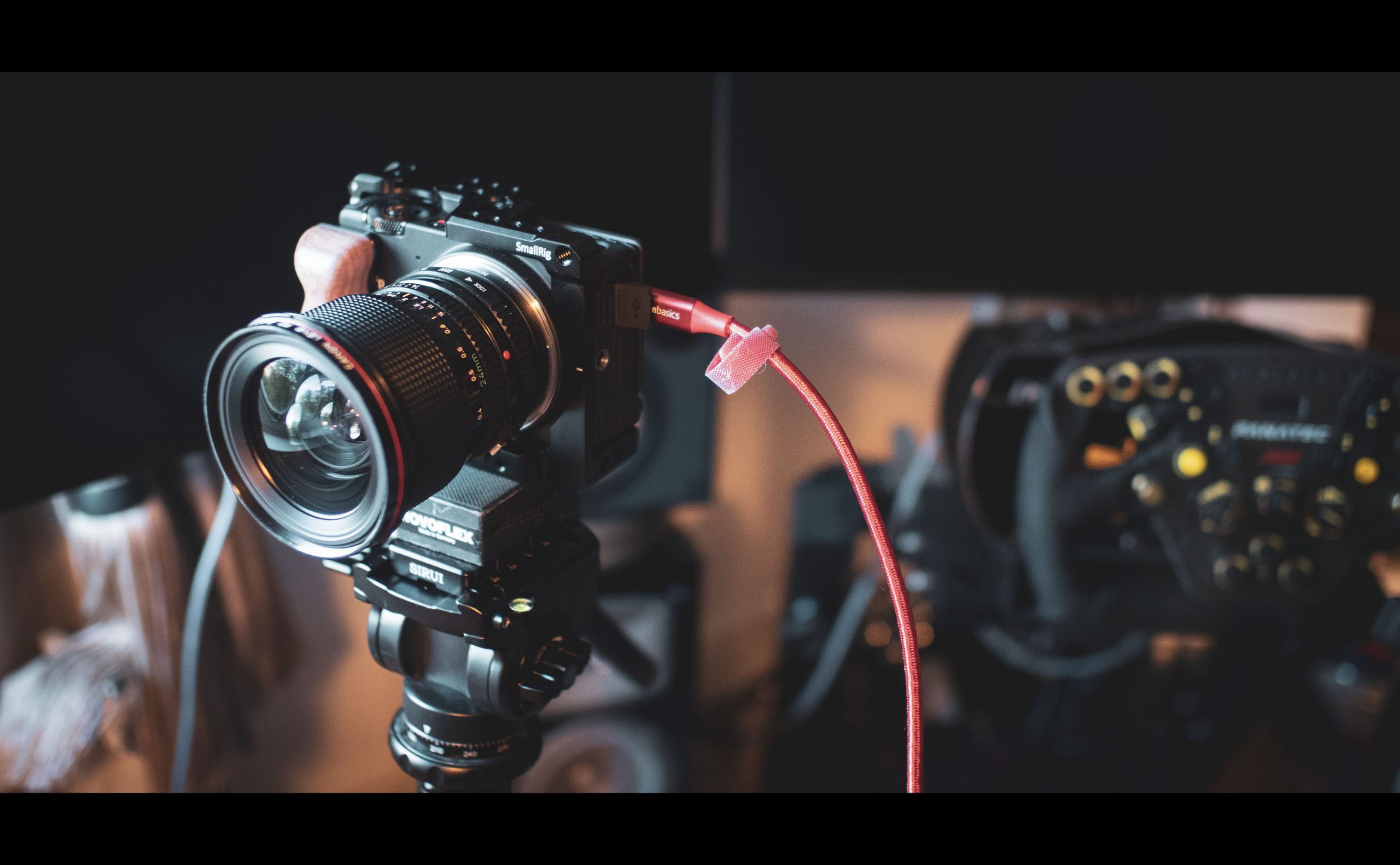 What to do at home during the lockdown? Well I have a suggestion, as I discovered during the process of setting up an F1 simulator at home during "the event", the Sigma Fp supports the USB Video Class (UVC) webcam protocol. No need to download special beta software (as Canon recently announced). It just works. Plug it in via a fast USB port and away you go live streaming with a full frame sensor and lens.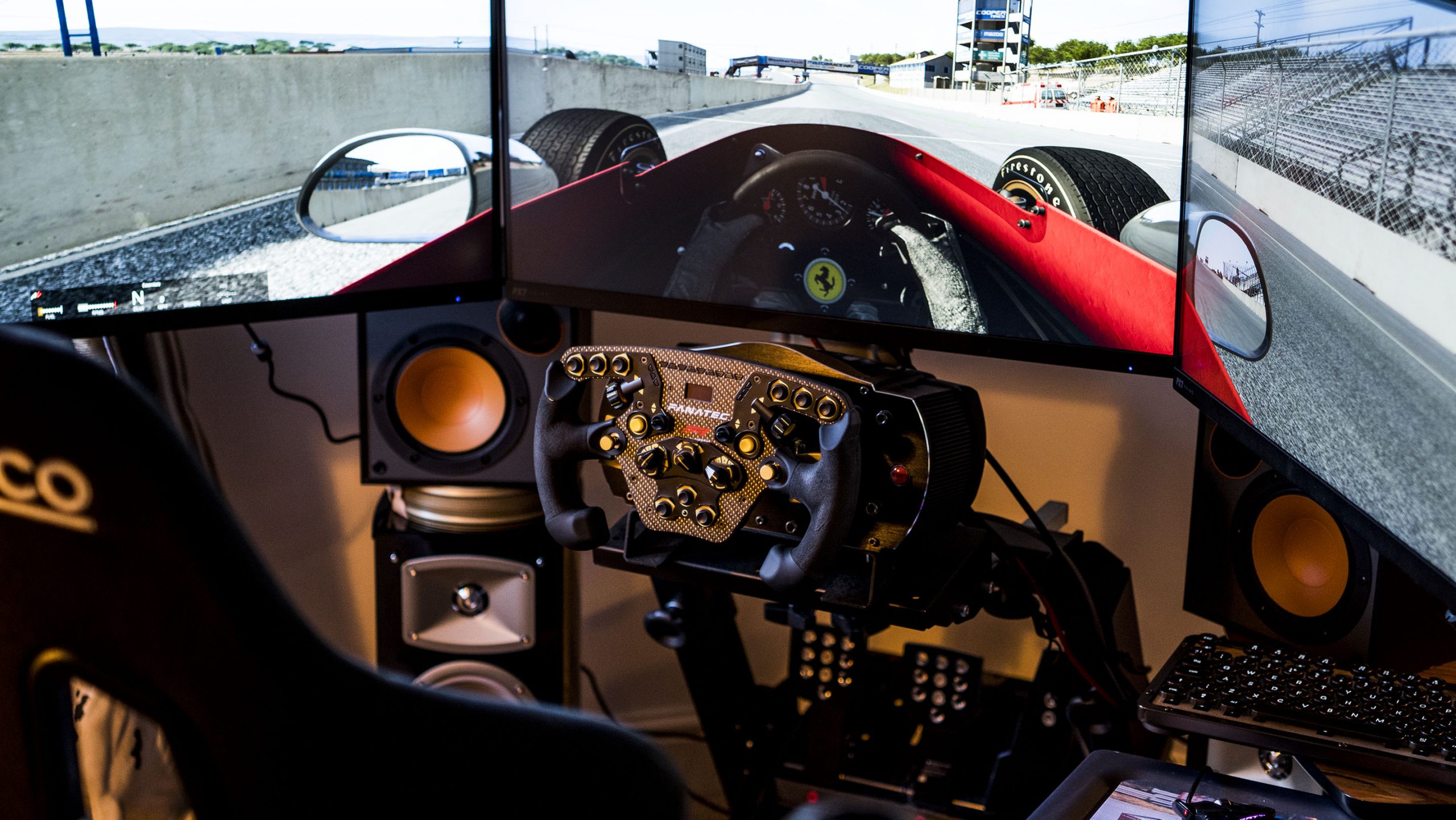 Above: the EOSHD Formula One simulator!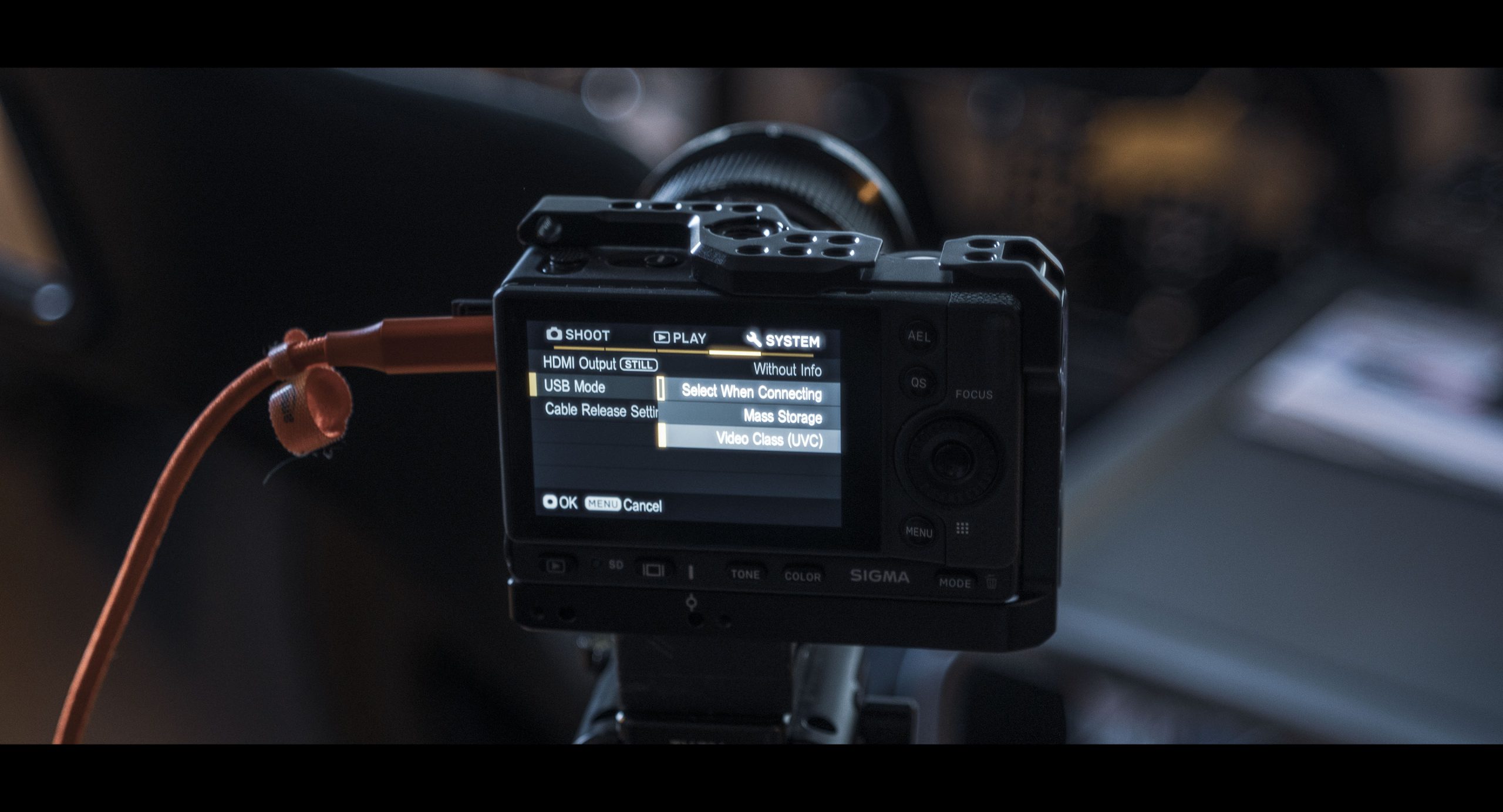 Above: Sigma Fp in full frame Video Class (UVC) mode via USB C
I found it incredibly easy to set this up for live streaming to Twitch.
I am completely new to it and a beginner but it was as easy as connecting the USB cable and selecting Video Class in the Sigma Fp menus.
The Sigma Fp instantly connects in 1080/60p or 4K to my installation of OBS Studio, which is a very good free app for managing your live streams or recording on a Windows PC or Mac.
From there, I can manage multiple streams to Twitch gaming sessions or YouTube, or any number of other supported services. The Sigma Fp is also compatible, I believe, with Zoom although I haven't tried this commonly used video conferencing software myself yet.
Because the Sigma Fp uses the common USB Video Class (UVC) protocol in webcam mode, it's got superb compatibility. Great for Skype sessions and business meetings. In fact there is no need for separate software at all – it is plug and play. You don't absolutely have to use OBS Studio although it does make it easy to manage webcam settings.
The Sigma Fp just has to be in Cine mode and set to the same resolution you want to stream in.
I recommend 1080/60p, as 4K is a bit overkill for heavily compressed live streaming.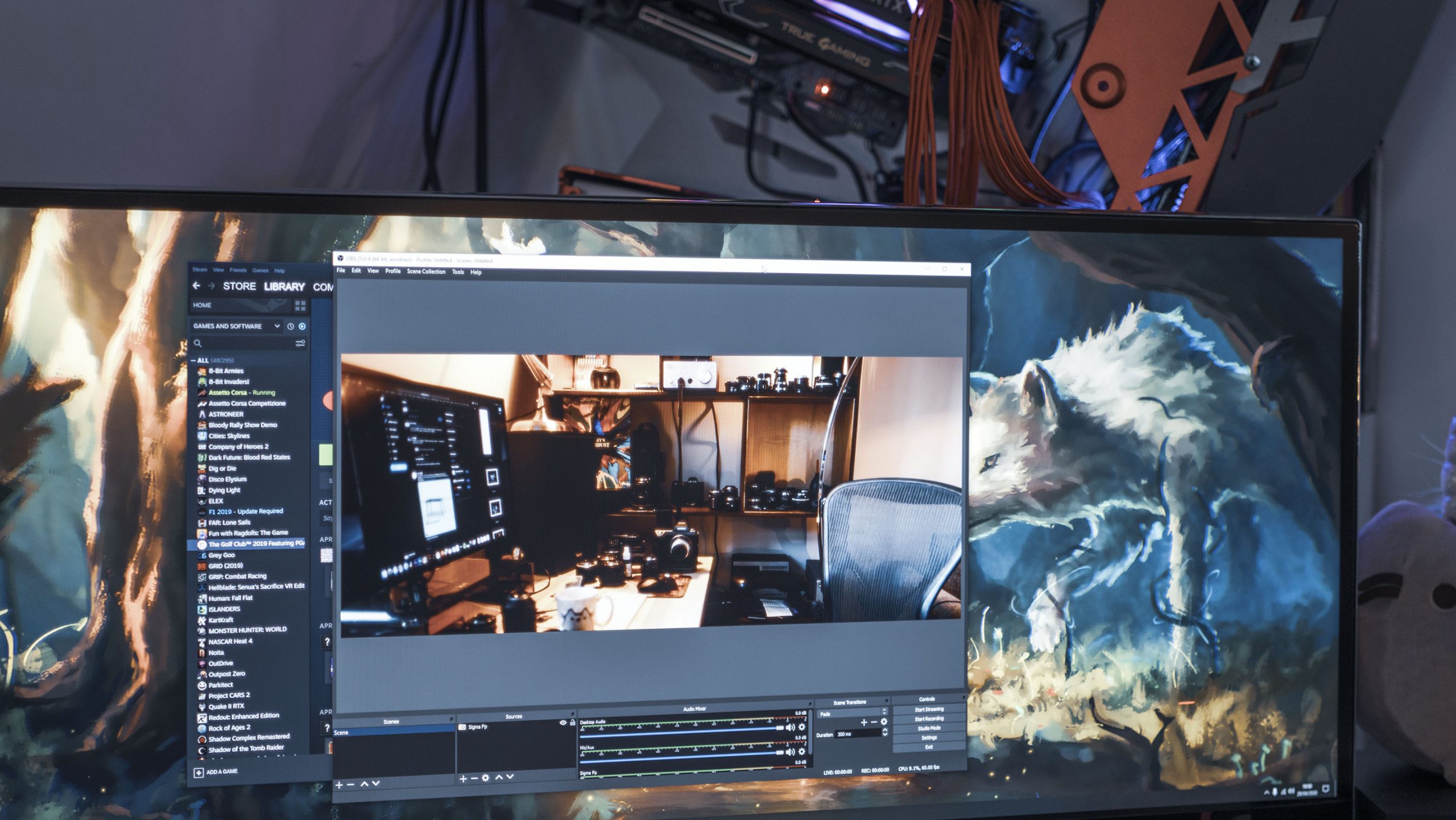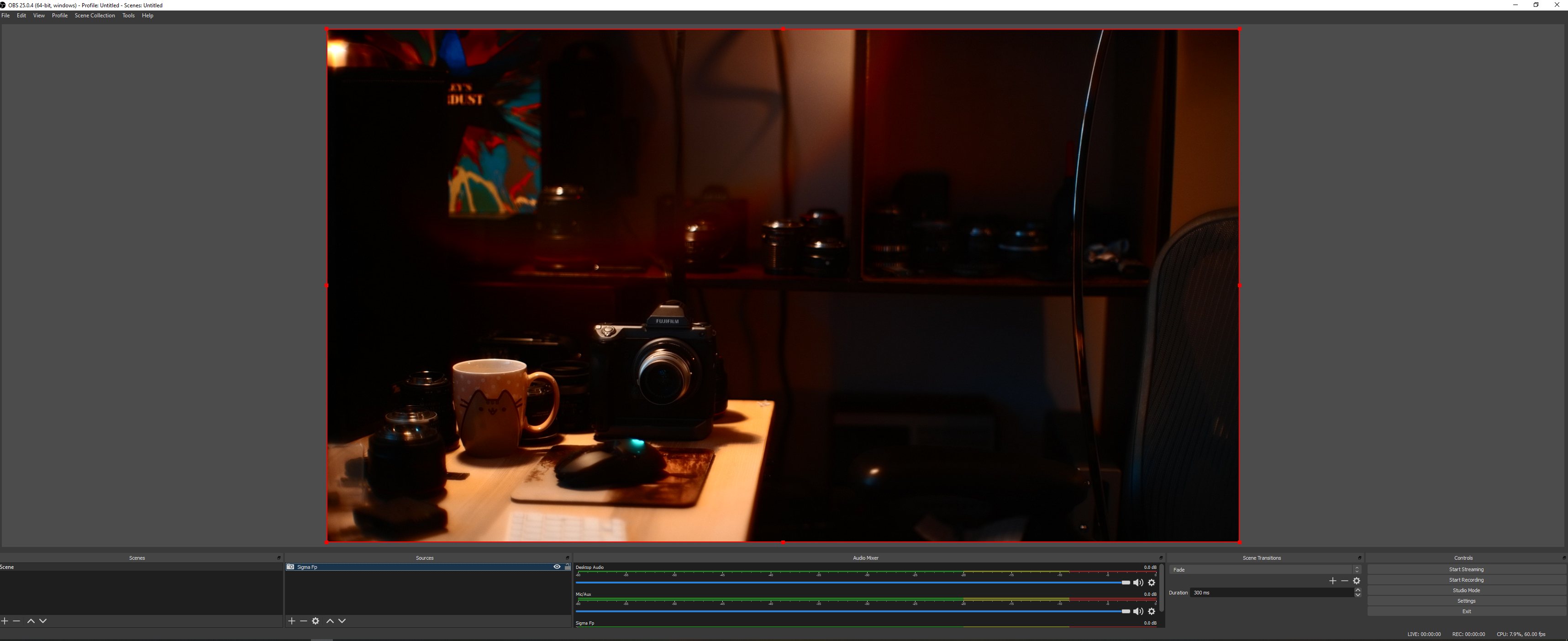 Above: OBS Studio in Windows 10
Tethered to a computer, Sigma have made it very easy to record as well… It is not restricted to live streaming.
In OBS Studio or similar, you can simply record to a local file in H.265 format.
Canon's recently announced EOS Webcam Utility is only beta software and restricted to just Windows!
The Sigma Fp works with a Mac, or indeed any device which would normally accept a standard UVC-protocol webcam via USB connection.
No, I haven't tried it with my smartphone yet! But I intend to see the full range of possibilities.
Conclusion
During these coronavirus afflicted troubled times, it's great to keep in touch with family and friends in the highest quality possible and with a lovely cinematic quality.
So when FaceTime doesn't really cut it, enter the Sigma Fp!
How about some tips for raising your live streaming production quality? Well the first is quite simple – buy the Sigma Fp. There is nothing else like it on the entire market. The full frame sensor is simply beautiful and sets you apart from the absolutely tiny-sensor look of standard live streaming cameras, especially those built into laptops for video conferencing. These modules need to be extremely thin in a laptop lid, so they're usually far worse than even a smartphone in low light. With the Sigma Fp you of course get to make use of clean ISO 6400 at F1.2, which is fantastic for dimly lit indoor locations, and a shallow depth of field.
The latter shallow DOF is extremely useful and unique for a USB webcam, for reducing background clutter or eliminating personal items from the shot.
Such is the ease of setup I found with the Sigma Fp and the portability the tiny camera body, you can take it on the go streaming and vlogging too, simply pack a normal USB C cable, a laptop and away you go… Well, when the lockdown finishes at any rate (hopefully soon).
The infinitely adjustable lens and angle of the camera can be a huge advantage as well, as laptop or screen mounted webcams tend to look up your nose at a funny angle and the wide focal length distorts the face, elongating it in an unflattering way whilst pushing the ears back! With the Sigma Fp at 35mm or 50mm on a full frame sensor obviously the look of the face is greatly improved and it's capable of picking up much flattering, less harsh lighting and subtle nuances.
Sigma have their own blog post on how to set the Fp up as a webcam here, so if you're in any doubt about how easy it is and how to start live streaming with your full frame lenses – take a look at that.
Feel free to share any live streaming tips on the EOSHD forum at the link below.
See you on iRacing fellow F1 nerds!