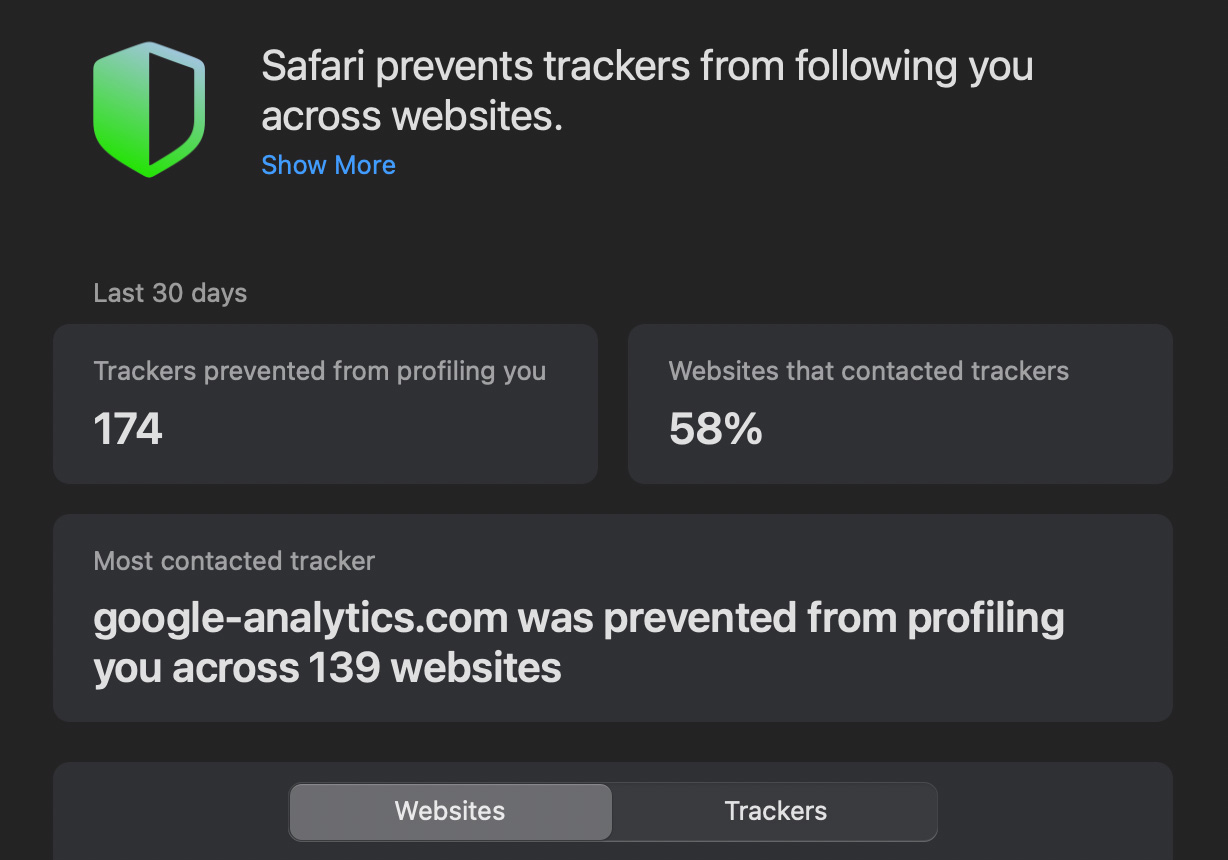 One of the great features Apple has introduced lately is to prevent tracking scripts following you as you browse the web, creating personal data profiles that are sold to advertisers. Advertises bid for banners on nearly all camera-related websites. In order to target the right people and bid for the most compelling slots, they need to know who is watching. Web surfing history and private user information is used to build a unique profile of you.
It's a very unethical practice and one of the reasons I do not run advertising tracking cookies or auction ad-space on EOSHD. I just use Google Analytics for guaging visitor numbers (this uses around 4 cookies) and the functional cookies for PayPal if you have used my checkout for premium content. The only adverts you will ever see on EOSHD will be standard HTML links to my own products and Shooter's Guides.
However, other sites are balls deep in advertising and user profiling, visible in the Safari 14 Privacy Report. After visiting some of the popular camera sites over a number of months, I gauged which use the most tracking cookies and invade your privacy the most starting with the top 3…
1 – SonyAlphaRumors, 36 tracker networks installed
2 – CanonRumors, 33 tracker networks installed
3 – 43rumors, 29 tracker networks installed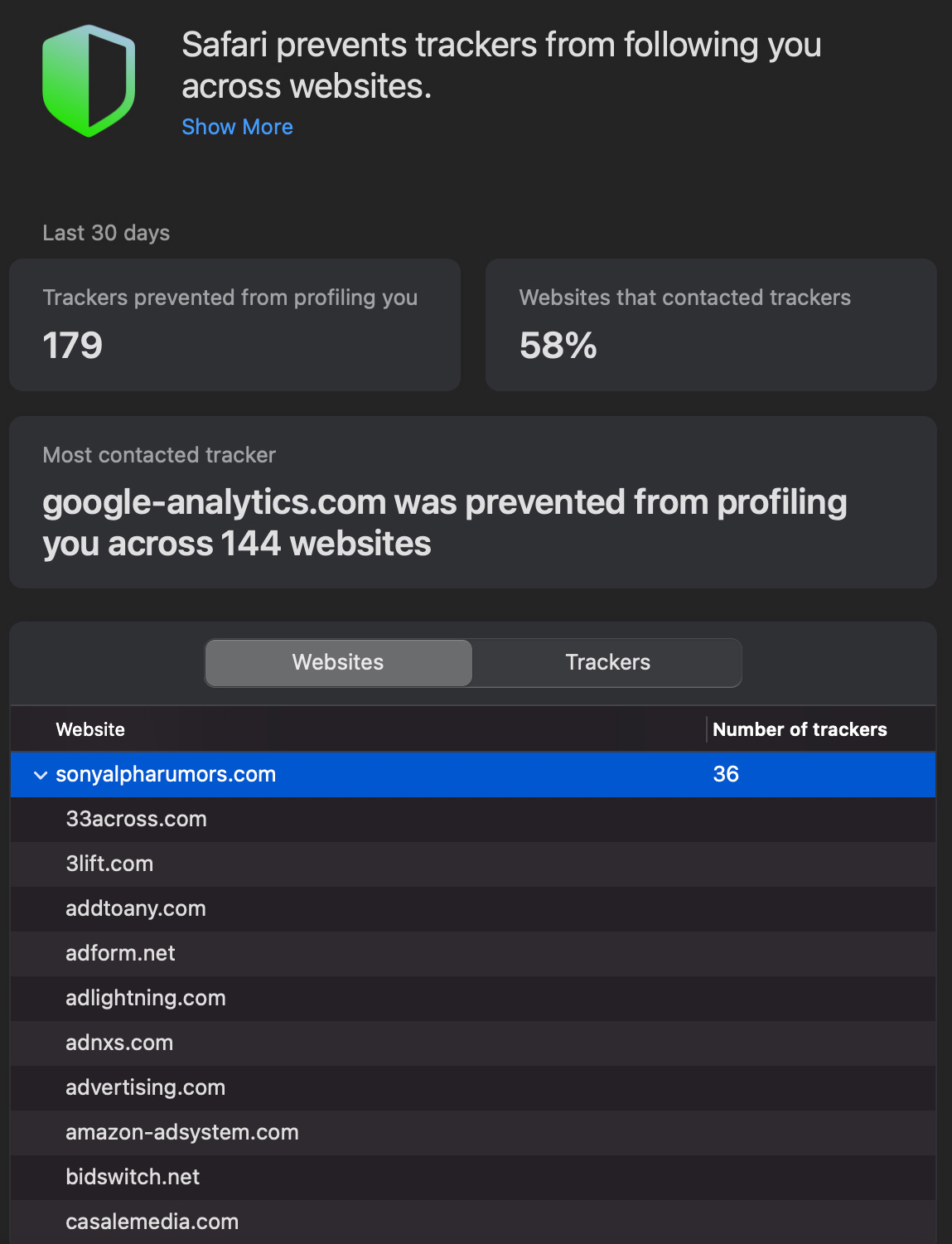 By law in Europe, websites now have to give you the option to opt-out of the web history recording networks. As with so many things cooked up by governments, this doesn't seem to work properly. I never opted in at the sites above, but still got the results you see there with the rumours sites being the worst offenders in terms of sheer numbers.
Now to round out the top 10…
4 – FujiRumors, 28 tracker networks installed
5 – PhotoRumors, 27 tracker networks installed
6 – NikonRumors, 12 tracker networks installed
7 – NewsShooter, 9 tracker networks installed
8 – CineD (Cinema5D), 6 tracker networks installed
9 – Amazon and Facebook home pages – 5 tracker networks installed
10 – DPReview, 4 tracker networks installed
The numbers don't tell you the full story of course. More importantly, the type of tracker and the provider is key.
On my own site EOSHD there's the common Google Analytics script and Google's Doubleclick.net shows up in the Safari privacy report, even though there are no Google ads or advertising trackers installed on my pages. Google Analytics seems to talk to Google's Doubleclick.net which I hadn't realised until now, so I may consider deleting Google Analytics code from the site altogether and using CloudFlare statistics instead.
I do not want to introduce any ads or the EU-mandated privacy opt-in popup on EOSHD or the forums. People quickly dismiss the annoying pop-ups without doing a deep dive into the options, thus leaving some tracking on by default. In Europe these pop-ups persistently bother the user on each visit, even when I have previously saved my options on a prior visit and supposably turned off tracking. This is what pesters me almost every time if I go to 43rumors, which granted isn't often…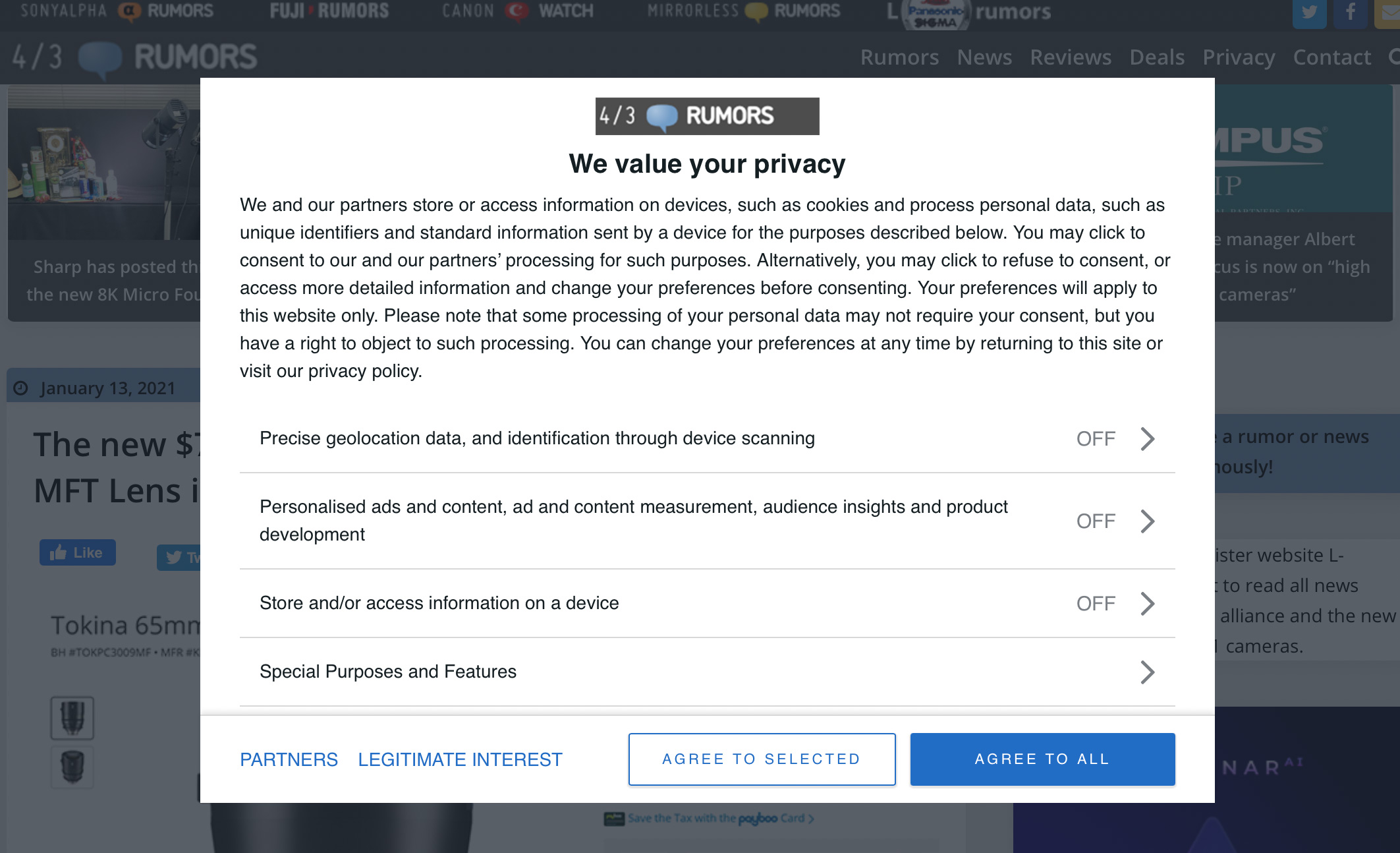 On other sites, users have no control over which advertisers obtain their web surfing history and personal machine ID or IP addresses and more. CineD (formerly Cinema5D) uses a network called Scarab Research in addition to auctioning off ad space & user data to anyone via Google. A Hungarian company, the Wikipedia entry describes Scarab Research as part of a cloud-based marketing corporation using highly personal data to offer predictive recommendations via ads "for products that match personal tastes even though the customer may have never heard of them before".
At NewsShooter, there are questions to be asked over OneSignal, a mobile push notifications service and OptinMonster which is one of the most invasive trackers on the internet. Their service even tracks the user's mouse pointer around the screen and offers a targeted message as they are about to leave a page. Optin can record precise geographical location data for each user, with Javascript timers to monitor time spent looking at certain subjects or images, and even how much of the page is scrolled through. All the advertisers share with each other various insights about you, personalised as much as possible. It is not anonymous data.
What you do on one site can be transmitted to advertisers and individuals through another.
Due to the way in which third parties bid for banner space, individual actors have deep insights into your web surfing history well beyond camera sites and niche interests, personalised with IP addresses and exact geographical locations. Your mouse pointer is tracked, and hard drive mined for personal data.
So it is absolutely right for Apple to attempt to put a stop to this. If it wasn't a problem, Apple wouldn't bother. Cupertino felt it necessary to reduce the power of cross-site tracking and alert us about exactly which sites are invading our privacy and mining us for data.
However judging by how much these camera sites know about me, and how much data about me is shared between advertisers, I just don't think the safeguards are working properly quite yet. On my new M1 Macbook Air, adverts seem far too carefully targeted for someone who has opted out in Safari 14, with my past Amazon purchases still appearing in the sidebar of some rumours sites.
None of this is to my benefit. Businesses that are rivals to my own site EOSHD will get paid commission and try to 'own' the relevant Amazon cookie on my machine for camera and lens purchases! It's completely unacceptable for me to be unwittingly contributing to affiliate network profits at 43Rumors when they are in competition to me.
I call on all the camera sites, especially the rumours sites, to come clean to their readers about what each of their trackers and affiliate links are doing. One, like OptinMonster is bad enough but the number of shady ones on the rumours sites is off the charts. Here's the full list of scripts that are installed at SonyAlphaRumors for example:
33across.com
3lift.com
addtoany.com
adform.net
adlightning.com
adnxs.com
advertising.com
amazon-adsystem.com
bidswitch.net
casalemedia.com
consensu.org
criteo.net
crwdcntrl.net
disqus.com
districtm.io
dotomi.com
doubleclick.net
facebook.net
getclicky.com
google-analytics.com
googlesyndication.com
googletagmanager.com
googletagservices.com
gumgum.com
instagram.com
lijit.com
openx.net
pubmatic.com
quantserve.com
rubiconproject.com
scorecardresearch.com
sharethrough.com
yahoo.com
yeildmo.com
zemanta.com
Maybe SonyAlphaRumors can explain why a simple site about camera news needs 35 advertising tracking scripts installed on it?
So it is important to realise that personal data in a web browser doesn't just sit on your device. It is hoovered up by websites and advertising networks – and the situation is even worse in Windows, and older web browsers compared to the new Safari 14.