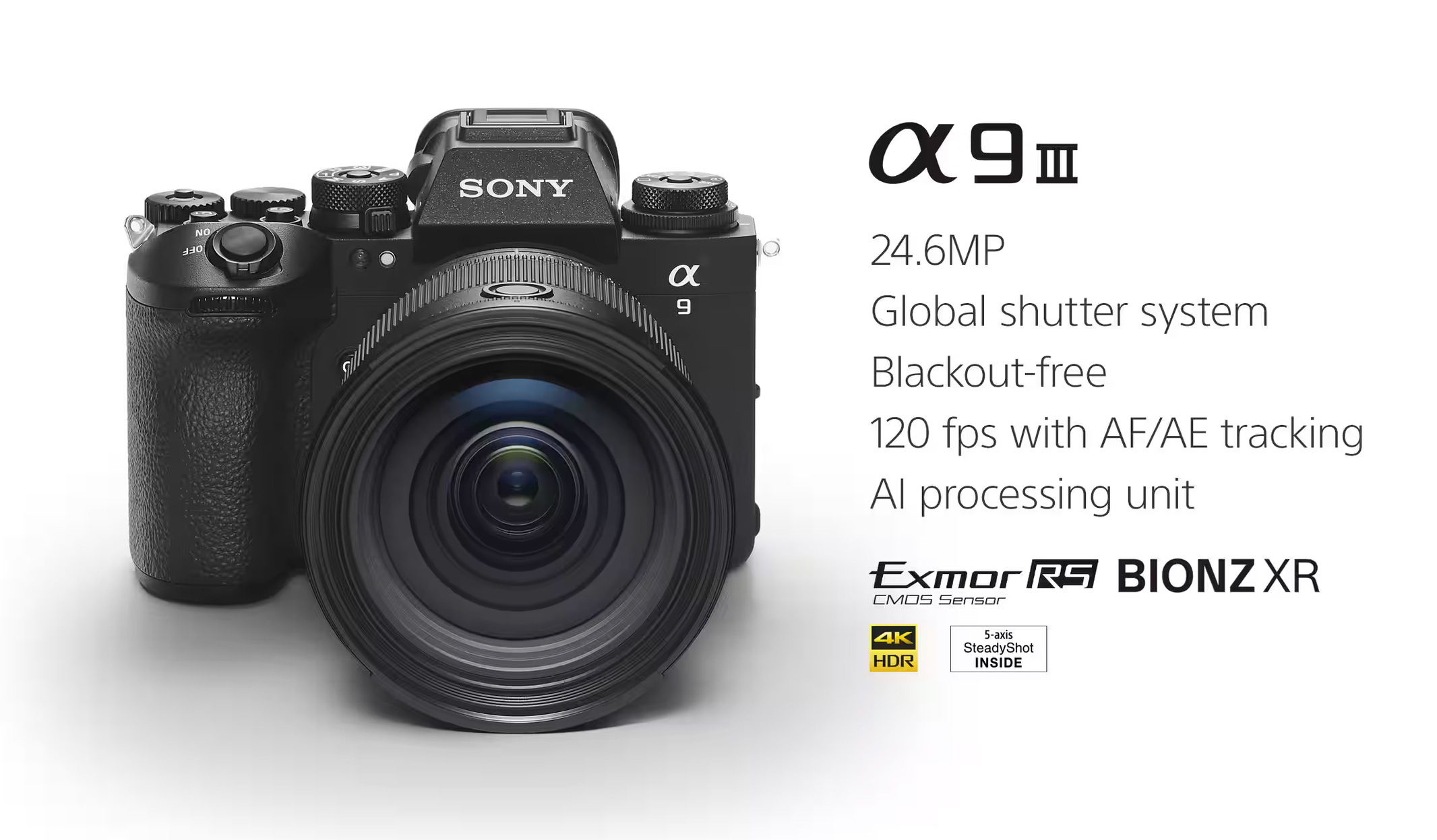 Previous global shutter cameras were the Digital Bolex (by virtue of its Kodak CCD) and the Sony F55.
Now the technology is on the cusp of a breakthrough with the Sony a9 III, thanks to the new manufacturing process of stacked CMOS chips.
Could global shutter now become mainstream even on smartphones, and is this the end of the humble mechanical shutter?
My initial thoughts are all positive on the Sony a9 III, but as an a1 owner I am not rushing into a switch. I don't need to. That's because, a fast rolling shutter stacked sensor does everything I need it to, whereas a global shutter caters for a small niche of shots. With the a9 III, I could capture lightning and camera flashes without banding, and very fast moving objects like propeller blades without distortion. Impressive though this is, it only accounts for a very small usage case in terms of overall shooting. Also, some cameras now have such a fast rolling shutter (2ms for example) that problematic shots are even less of an issue and even less of a reason to get a global shutter camera.
Explainer – why did it take so long?
Global shutter technology requires extra circuitry on the sensor, usually in a space normally reserved for collecting light. With Sony's stacked CMOS technology however, this circuitry is in a 3D arrangement sitting behind the light collecting photodiode layer of the chip. This means, in theory that low light performance and dynamic range aren't impacted by it. Whether this is really true remains to be seen when the first reviews of the a9 III drop in Spring 2024.
That said, the a9 III looks to be a superb camera and this technology is a necessary step for the industry to take. A stacked global shutter sensor allows for even higher frame rates at 8K or beyond, when image processing allows. It is the natural next generation step for CMOS sensor technology. It could also allow Sony to have even greater dominance in sensors. It isn't yet known whether rivals like Canon have the necessary patents, IP and manufacturing capabilities for stacked global shutter sensors.
Global shutter has long been a staple clickbait fodder of rumours sites, and you could probably count many cameras with global shutter "coming soon" in any given year since 2010, but it took Sony's stacked CMOS manufacturing process to really bring it to the table without compromise (although we'll have to wait until Spring 2024 for the first reviews).
If you would like a global shutter cinema camera right now on the other hand, the Sony F55 can be had for under $3-4K. I am selling one right now in Berlin, in fact.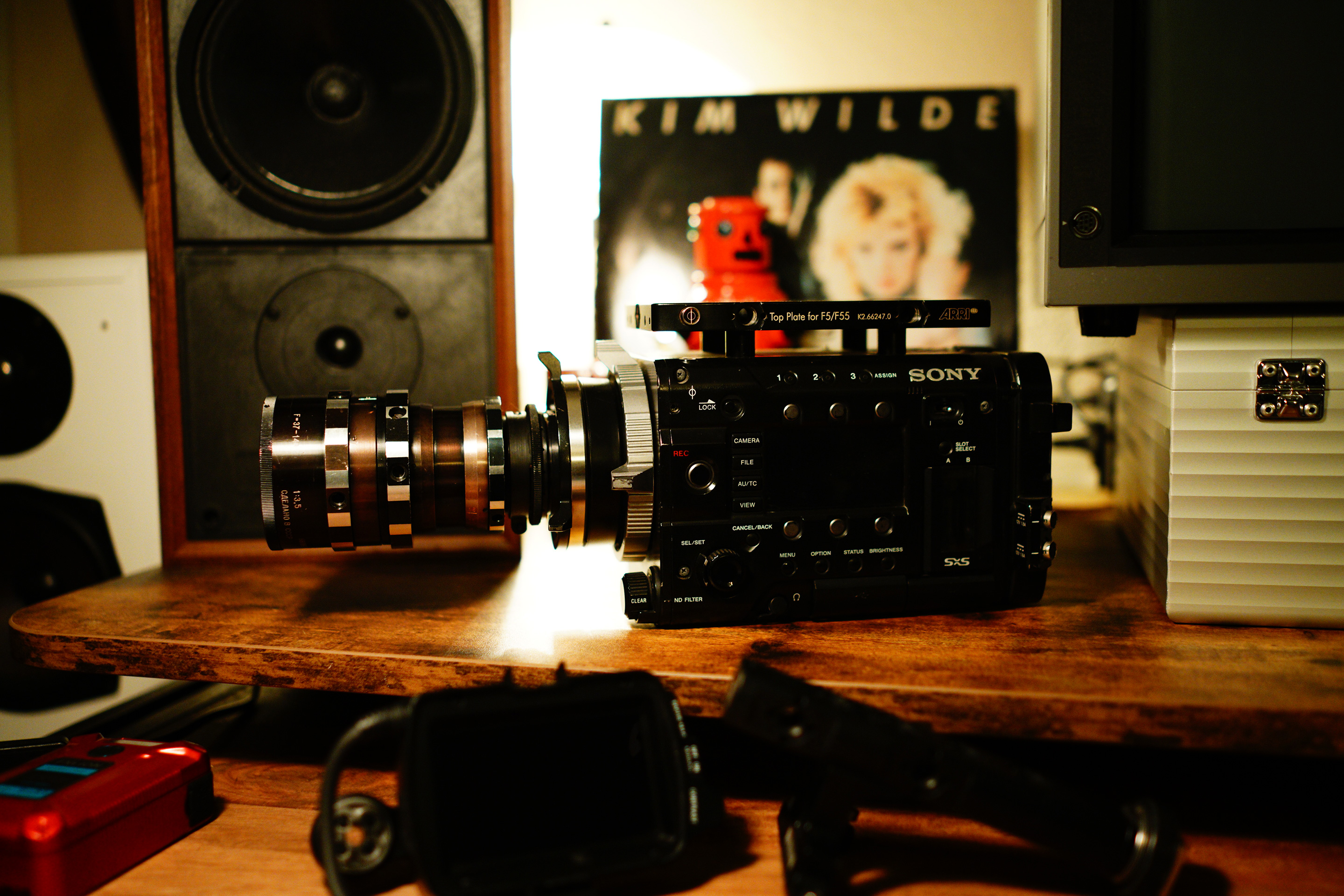 The a9 III is also the first camera in the a9 series to get S-LOG. Finally, no weird omissions like that. It does 16bit RAW via HDMI and gets the new multi-angle screen of the A7R V, as well as a newly designed grip with a more rounded shape and repositioned shutter button.
On the codec side, it is broadly the same as the last few Sony flagship cameras like the a7s III and a1. It does not however have the lovely 8K 10bit 422 at 500Mbit of the a1, which for me is the stand out feature of that camera and grades like RAW. On the A9 III we have a maximum bitrate of 200Mbit in 10bit 420, which is alright but nothing too spectacular. There's no ProRes, no internal RAW, only H.265 for 10bit and H.264 for 8bit recording. No DCI 4K or anamorphic aspect ratios, nor is there an open gate mode or Cinema 24p. The 24p on offer here is the video variant of 23.98p. Unlike on the a1, should you need 422 subsampling here, you have to abandon the Long GOP codec and shoot in ALL-I which clocks in at 600Mbit/s for 4K/60p, which is as big a file size as C-RAW Lite on the EOS R3.
Long-GOP:
3840 x 2160 (4:2:0, 10bit) (Vbr.):119.88p (200Mbps)
3840 x 2160 (4:2:0, 10bit) (Vbr.):100p (200Mbps)
3840 x 2160 (4:2:0, 10bit) (Vbr.):59.94p (150Mbps / 75Mbps / 45Mbps)
3840 x 2160 (4:2:0, 10bit) (Vbr.):50p (150Mbps / 75Mbps / 45Mbps)
3840 x 2160 (4:2:0, 10bit) (Vbr.):23.98p (100Mbps / 50Mbps / 30Mbps)
3840 x 2160 (4:2:2, 10bit) (Vbr.):119.88p (280Mbps)
3840 x 2160 (4:2:2, 10bit) (Vbr.):100p (280Mbps)
3840 x 2160 (4:2:2, 10bit) (Vbr.):59.94p (200Mbps / 100Mbps)
3840 x 2160 (4:2:2, 10bit) (Vbr.):50p (200Mbps / 100Mbps)
3840 x 2160 (4:2:2, 10bit) (Vbr.):23.98p (100Mbps / 50Mbps)
ALL-I:
3840 x 2160 (4:2:2, 10bit):59.94p (600Mbps)
3840 x 2160 (4:2:2, 10bit):50p (500Mbps)
3840 x 2160 (4:2:2, 10bit):29.97p (300Mbps)
3840 x 2160 (4:2:2, 10bit):25p (250Mbps)
3840 x 2160 (4:2:2, 10bit):23.98p (240Mbps)
4K 120fps and 60fps do not have a crop, and although the sensor is capable of a 6K/120fps full pixel readout / global shutter in these modes, it isn't known whether the 6K output is pixel binned or oversampled, before it hits the image processor. It is likely binned, as oversampling at such high frame rates might cause overheating.
You can see the full specs for the a9 III here at Sony's website.
The new sensor I hope will end up in a future Sigma Fp camera, and the Z9 II. Since these lack a mechanical shutter altogether.
The a9 III has a launch price in Spring 2024 of $6K. Historically this series has seen the most rapid and extreme second hand deflation in Sony's entire line-up. The original a9 now goes for only £1.5K second hand, and the a9 II for around £2k. If, in a couple of years you can pick up a global shutter full frame Sony a9 III for less than £2.5K, it will certainly pose a challenge for the manufacturers. What are the next features they're going to dangle in front of us to get us to part with our 6K? Surely there's not a lot left. We have massive ISO numbers, huge dynamic range, zero rolling shutter, extremely good EVFs and very fast AF. Well, surely next for Sony would be to get their anamorphic game sorted, introduce ProRes (including LT) recording internally, and have some sort of digital ND filter technology like ISO 25 or lower, so we can use a 180 degree shutter without resorting to primitive optical technology from the 1970s. A larger rear LCD would also appeal to me.
As it stands, the a9 III is an end-game camera, along with the a1. The a1's successor, possibly along with the Canon EOS R1 will probably be the first 8K global shutter cameras and maybe we will soon be seeing 4K at 240fps.
So although the a9 III and a1 are end-game for now, the game could always change at any moment.