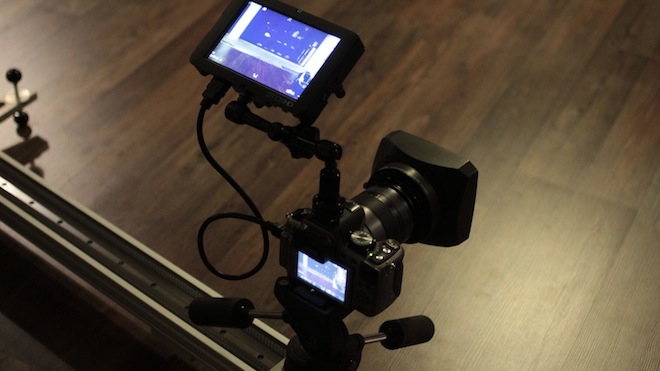 Above: GH2 with LA7200 anamorphic and Small HD DP6
Check out the full spec and price at Small HD
EOSHD recently received a demo unit DP6 from Small HD and I am excited. Why? I am finally free from ever having to enter manual focus assist mode again and squint at a tiny LCD. I am also free from the world of viewfinders, which are great for looking at the gaps between pixels, not so great for using for long periods at a time. Besides, monitors look mega rigged up especially the DP6.
I've been testing the DP6 with two DSLRs, the Panasonic GH2 and Canon 60D. Both have quite flawed HDMI outputs but it's something which will be rectified with time. More on that in a minute.
The DP6 is a 1280×800 native IPS panel (the best type of LCD), and the same tech as used in Apple's Cinema Displays. That resolution is the same as packing a 13″ Macbook screen into a 5.6″ monitor, so it's almost as crisp looking as the iPhone's retina display. It really is a beautiful looking image.
The screen is feature-packed. To name a few it has false colour, focus assist, peaking and 1:1 mapping at the press of a programmable button.
It also has a very exciting feature for anamorphic shooters which I will reveal in my full review.
The screen has picture-in-picture support and you can get a HD-SDI version for use with cameras like the AF100 and RED EPIC.
I'm finding the screen controls very intuitive – you never know what to expect in this area but they have nailed it. It has a jog wheel and two buttons on top to toggle presets and navigate the OSD.
It's small and relatively light, the firmware is upgradable and the battery life is superb – yet they've managed to make the default battery unit as small as a 2.5″ USB hard drive. This pull off from the back of the screen and can make way for a Sony pro camera battery unit, which I have not yet tried since I like the required batteries but it's a great addition.

Above: GH2 outputting via HDMI in live view mode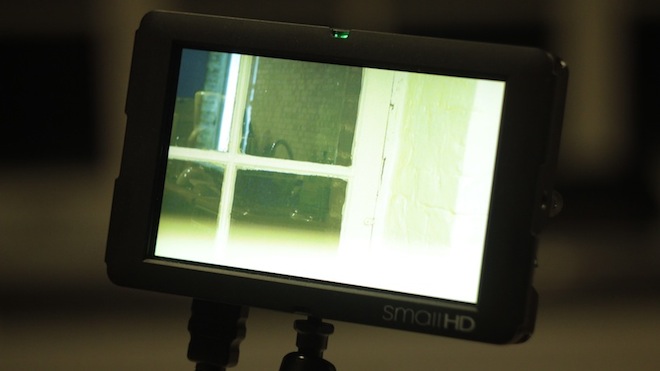 Above: GH2 when you hit record – hello shadow detail!
So let's see how Panasonic and Canon have managed to f*** it up.
The GH2 has a dramatic gamma shift when you hit record, and the 60D blanks out for longer than it takes to drink a cup of tea – it also drops to 480p. Actually, it's the blank out of the 60D's HDMI when hitting record which bothers me much more, since the DP6 does such a good job of upscaling the 480P to it's native 1280×800 resolution you hardly that notice much difference.
With the Canon 7D there is no issue, and the HDMI quality whilst recording on the GH2 is superb looking. In live view mode not rolling, it crushes the blacks and gives a very contrasty looking image – which strangely is a bit more like how the AVCHD feed looks on my Macbook screen. Seriously when are we going to get these silly gamma issues sorted with DSLRs?
Frame, focus and go.
We are coming a long way with DSLRs (the GH1 didn't even have a live output whilst recording) and I can't understate how essential this screen is. I feel a monitor and a cage are currently the hot investments. Some of them are so good they will outlast your lenses never mind the camera.
It's a pain to accurately rack focus or use a follow focus with the tiny 3 inch GH2 LCD, especially with fast lenses. A monitor like the DP6 also speeds up the setup of locked down shots since you don't need to enter focus assist mode, you can just frame, focus and go.
The monitor also benefits the documentary and run & gun guys because you can attach it to a decent handheld rig and it's light enough not to be a hassle. El Skid recently used one for his Hong Kong Super Massive Raver shoot and loved it.
I also like the supplied hinge, it's very flexible and feels solidly built. I recommend a cage like the forthcoming ReWo GH2 cage which is under production as we speak, because the GH2's chassis is made from recycled yoghurt pots. I have the DP6 attached to the hot-shoe at the moment and the camera just doesn't feel like it enjoys it!
So that's the introduction to your new friend and mine – the DP6 is a delight… full review soon.