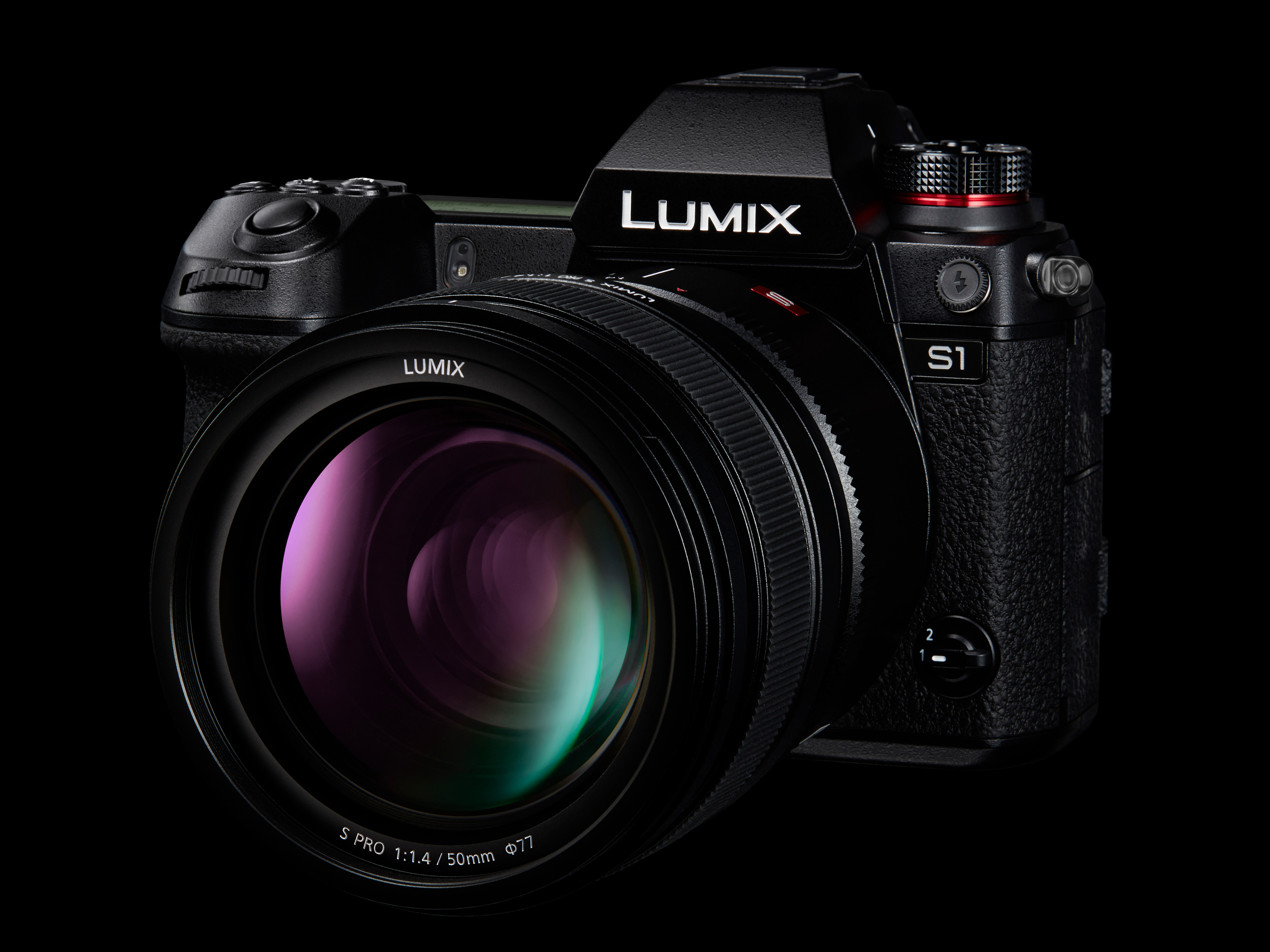 For long-time GH1 to GH5 shooters like myself, loyal from the beginning, at a time everyone else was shooting Canon, the S1 is a milestone. I have a bit of an emotional attachment to it already, being the first Panasonic full frame camera. It is not my first L-mount camera though. I've been shooting with the Leica SL for a few years now and it is still the most clean, ergonomic, minimalist full frame mirrorless body. It cannot, however, match the sheer size of the feature-set on the £2199 ($2499) Panasonic S1.
There is an incredible depth to this camera, far more to explore than the 4 enjoyable hours I had with it.
The key question is – does it offer something different or is it just "more of the very good"?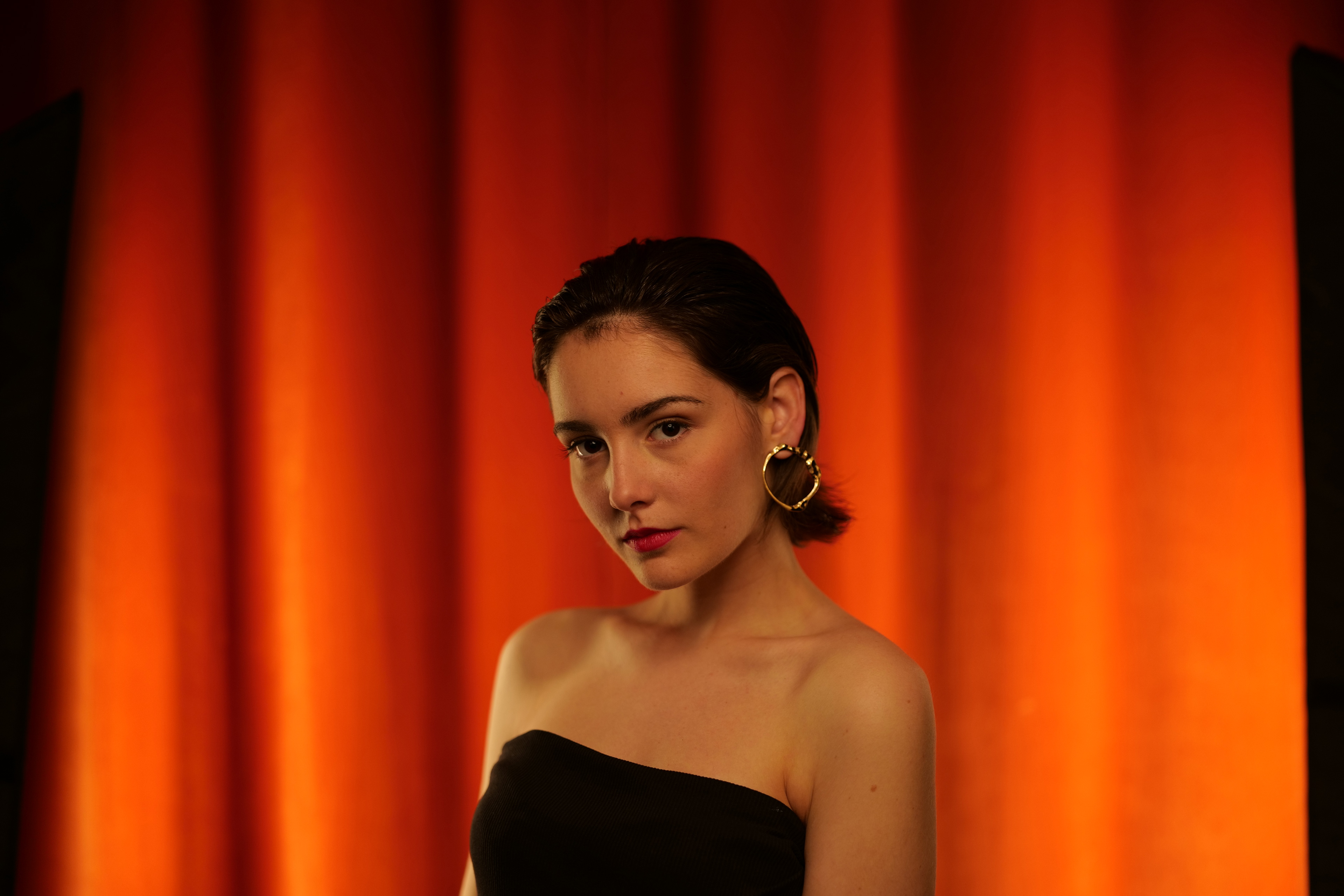 Sample image (S Pro 50mm F1.4), by Andrew Reid
At the moment we are a bit spoilt for choice aren't we? With an embarrassment of riches when it comes to mirrorless cameras, it seems like the manufacturers are falling over themselves to get a slice of the video market. For $1400 Fujifilm will give you 4K 60p 10bit. For $2000 Sony will set you up with full frame 4K S-LOG and pristine 1080/120p along with very good phase-detect AF tracking. Canon will… Give you a Canon badge. Nikon will give you the Z6 for $2400 but make no mistake, the Panasonic S1 is superior to the Z6 and Z7. It is a far more professional focused system whereas the Z6 has a bit of a split personality where it can't decide if it is a consumer or professional camera. There are also some pleasant surprises on the S1's spec sheet which make it close to being a full frame GH5 in video terms (although not quite)…
Internal 10bit V-LOG recording is coming via a paid firmware update, which for a stills orientated "full frame G9" is an unexpected bonus. This is full-fat V-LOG not V-LOG-L, I'm told. The colour science on this camera is very pleasant at first glance. It's a big step forward for skin-tones. The new Flat profile is easy to grade and offers enormous dynamic range. For anamorphic users there is a 5K H.265 video mode in 3:2 (and I believe 4:3 as well), although no dedicated 24p anamorphic mode like the GH5 has. Slow-mo goes all the way up to 180fps, which is a first for a full frame camera.
The S1 is generally superior to the S1R for video and of course a lot less expensive at around the same price as a Sony A7 III. Although the camera shoots full frame without a crop for the most part, there are some instances where the sensor goes into a windowed mode to speed things up. So some of the higher frame rate modes are a crop. 4K/60p is a 1:1 crop of Super 35mm. Only the 4K/30/25 and 24p are full frame (full pixel readout from 6K). Also some of the 1080p slow-mo is cropped. This is pre-production firmware and things may change in the final release.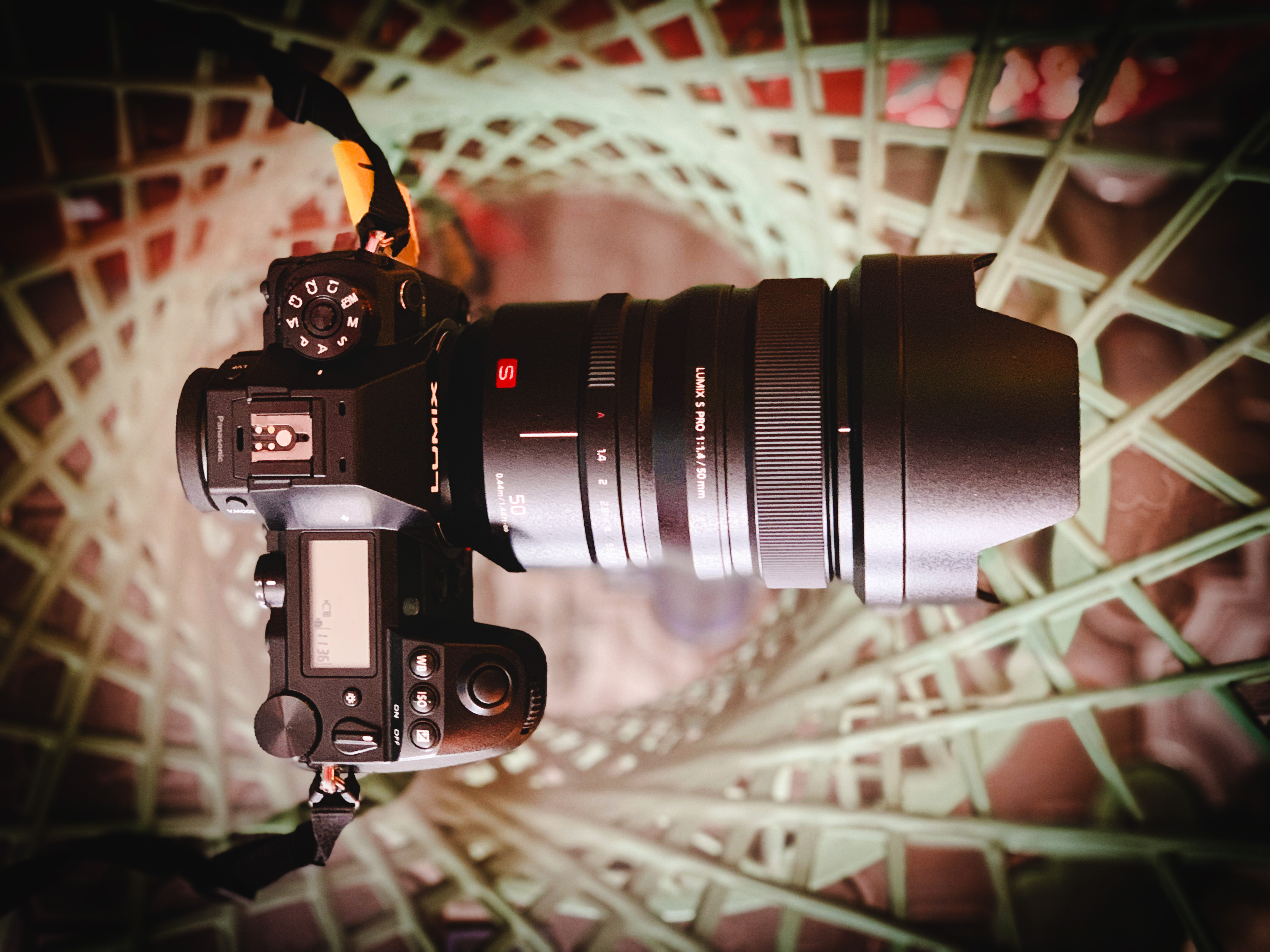 Canon EOS R and Nikon Z users will thank Panasonic for putting dual card slots on the S1. One SD and one XQD. There's only one XQD slot on the Z6 and the EOS R makes do with one lousy SD card slot like a bargain basement camera.
The mechanism by which the screen tilts is controversial, with a Panasonic presentation at launch not going down as an audience pleaser. The presenter, yanking at the screen and dangling the camera by the LCD, revelled in her ploy to demonstrate robustness – but obviously in reality only an idiot would hold a full frame camera, with large heavy lens, by the screen. It's disappointing not to see Panasonic maintain the GH5's tilt-out screen (at least on the S1, if not the S1R) – it will lose them a significant portion of YouTube / vlogger sales. For actual filmmakers it's not really much of an issue.
The autofocus… Now, bearing in mind this isn't the final firmware, DFD contrast detect based AF with Ai was inconsistent. Most of the time with the 24-105mm F4 and 50mm F1.4 (an absolutely fantastic lens), focus was silent but felt less snappy than the G9. In video mode it felt similar to the GH5 with older firmware. For stills, it would be fast to select a detailed object in the foreground but slow to snap onto the background. It would rack focus all the way to close-up and then all the way back to infinity. I thought DFD was meant to avoid this so perhaps it's a firmware issue. Whatever, Panasonic have made a mistake to stick with contract detect AF. I find the accuracy of on-sensor phase-detect AF just fine, and performance to be far more consistent. With Sony pushing hard with the latest firmware for the A7 III, A7R III and A9, Panasonic will have to be careful autofocus doesn't sink the S1 and S1R versus the Sony and Canon competition.
Interview session with Toshiyuki Tsumura, Panasonic
General Manager, Product Planning
EOSHD: Is the autofocus performance final? Will it improve?
Toshiyuki Tsumura: Yes, we will have more progress.
EOSHD: What's the market position of the Panasonic S Pro lenses? Will these be high-end and Sigma mid-range?
Panasonic: From Panasonic's side we can't decide anything about competitors. Every company has their own philosophy in the alliance. The strategies are independent.
EOSHD: So Sigma is free to make high-end lenses as well for the S1?
Panasonic: Yes, and also their own L-mount mirrorless camera!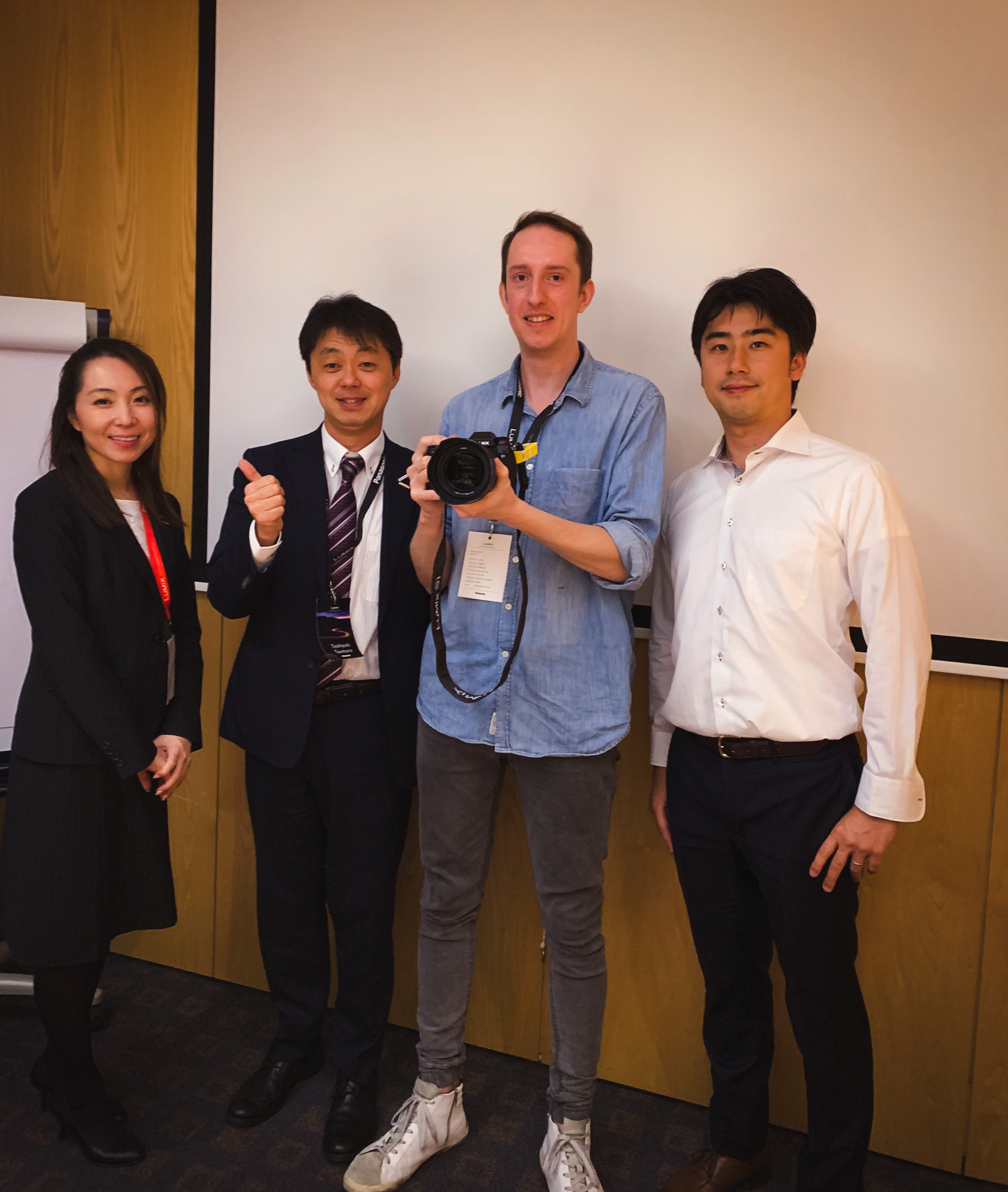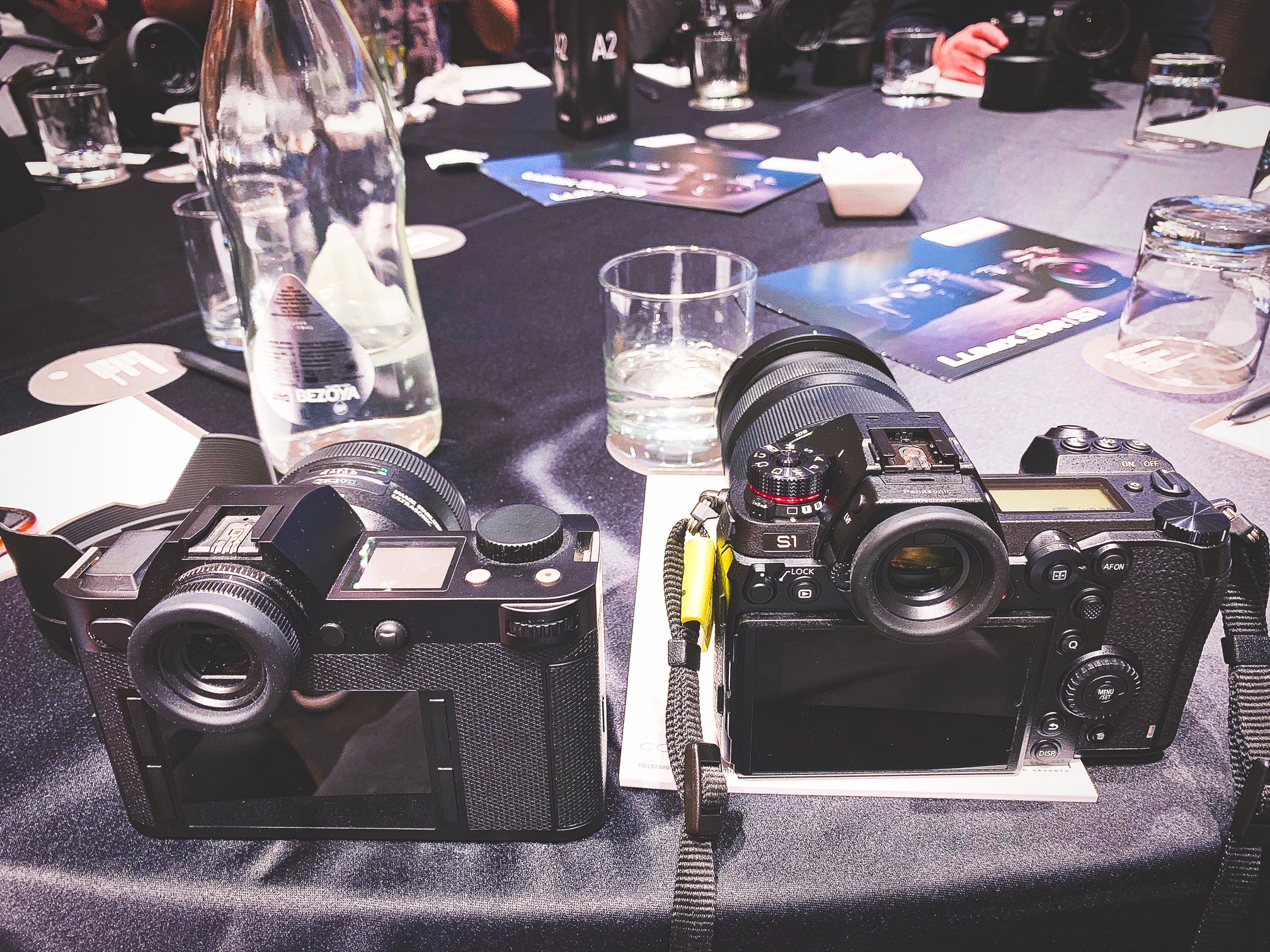 Above: The Panasonic S1 is a large professional mirrorless camera, similar in size to the Leica SL which was £6000 upon release. The S1 is just £2199 and packs a more extensive feature-set.
EOSHD: I'm very interested in the viewfinder technology – best on the market at the moment, but I like the approach of a hybrid viewfinder too – like on the Fujifilm X100F. It would be nice to see such an approach from Panasonic, but obviously this would have to be a rangefinder design.
TT: Our camera is 120 frames per second (for the EVF), is this not enough? (Laughter)
EOSHD: It's very good! Compared to the same EVF in 60fps mode. Far less smearing, far less blur. Is it an OLED?
TT: Yes, it's OLED. [Note: The Leica SL EVF is LCOS – correction from earlier edit!]
EOSHD: My other question is about the artificial technology, especially computational photography. I think previously smartphones have been consumer, casual, but now the software intelligence is opening up new opportunities for enthusiasts and even pros to manipulate images. I think there is a market opportunity to have similarly advanced AI on a camera like the S1… At first, very slowly introduced, in the form of a larger touch screen. The current touch screen interface is too small, whereas I'd like to see a gesture based interface instead. That's a lot easier when you're shooting, rather than aiming for a small user interface.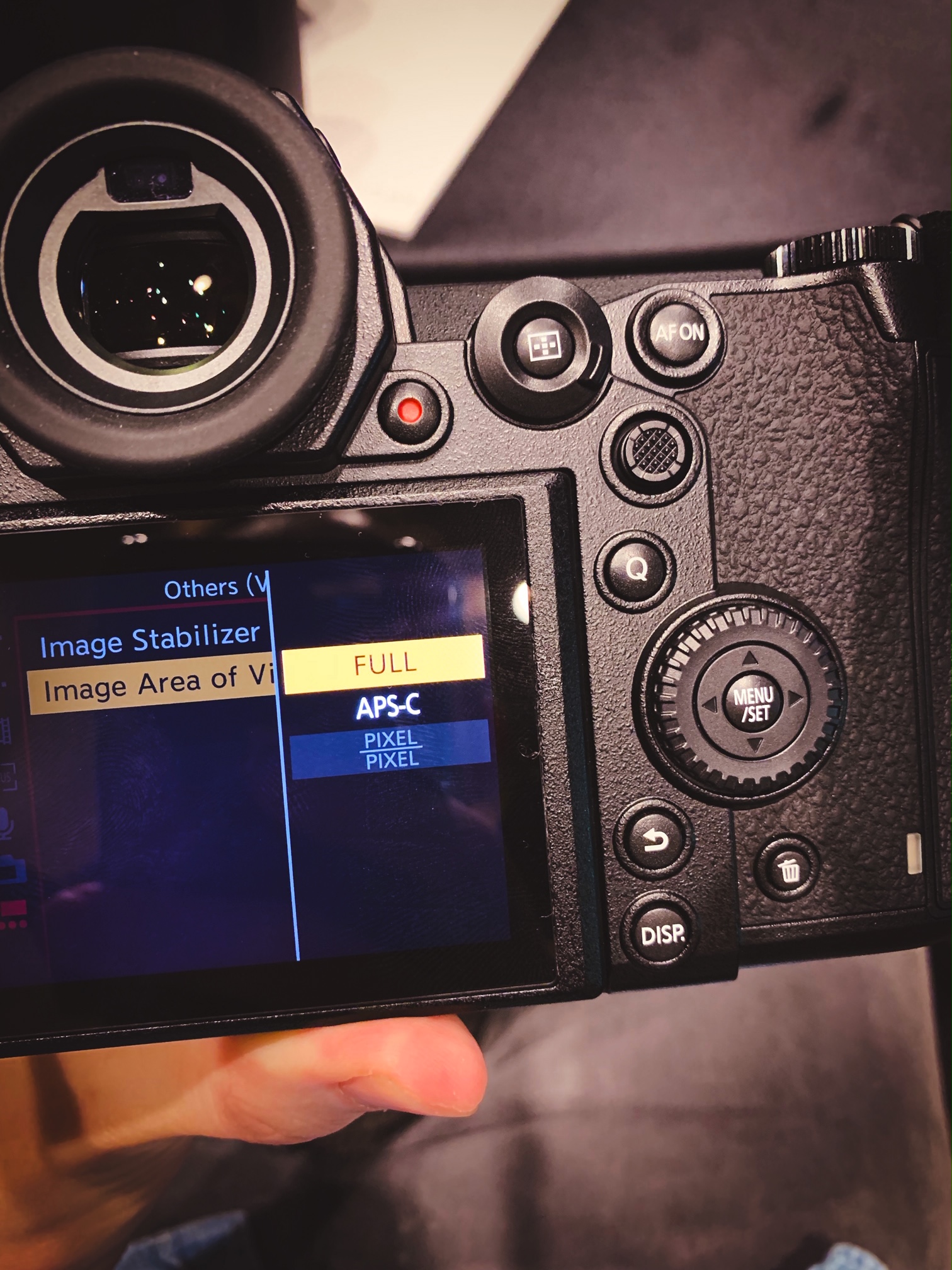 Above: The S1 features a both 1:1 pixel and APS-C crop modes
Panasonic: I think your favourite camera is the Samsung NX1! (I also had a Galaxy NX with me, featuring a Super 35mm sensor and large Android touch screen interface)
EOSHD: Yes, although the Galaxy NX, by no means is it the best camera, there are things Samsung did right. I also think an electronic sim chipset is needed, so Instagram can be integrated into the camera rather than relying on wifi pairing.
Panasonic: (Discussion in Japanese). The problem which we recognise from our experience with the CM1 (Panasonic's smartphone camera) is that the technology in the smartphone market improves every year, so if we built in these software [aspects]and sim-card [e-sim] technology in the camera, once the software is old, there is nothing we can do – the speed between the camera industry and the software & smartphone industry is a big problem for the manufacture (long product cycles of smarter cameras).
EOSHD: My other idea, would be to use Bluetooth LE (low energy) to transmit a continuous stream of proxy JPEGs to a locked smartphone in the shooter's pocket, a background transmission during normal use of the camera on a shoot. Then after the sports match is finished (for example), the entire shooting reel is available instantly to upload to social networks or to transmit wirelessly to a client (like a newspaper).
TT: We already develop Bluetooth LE (in the S1)
EOSHD: So it just needs the software to transmit that feed of images…
TT: At this moment it's not available, but we decided to develop a new smartphone application for the S range. You will be able to download some new software, but it can be improved of course!
EOSHD: I have a friend who is a professional sports photographer, and he has developed a wireless remote for Panasonic cameras, which is useful for filmmakers as well, when the camera is out of reach – for example rigged onto a car exterior. I think this kind of smart accessory is something Panasonic should encourage.
[Toshiyuki Tsumura takes notes]
EOSHD: I would also like an ND filter, by the way (in-camera) or indeed similar to the EOS R ND filter adapter.
Panasonic: On the FZ1000, the ND filter could go into the lens, but on a mirrorless camera the flange is just so short, so physically there is no space. But as you said, if we have an adapter to use a longer flange type of lens, it could be possible.
(Editors note: Sigma will be bringing an MC-11 style EF adapter to L-mount later in 2019).
EOSHD: Maybe with a PL lens adapter for cinema lenses (to avoid the large matte-box and slot-in filters)?
Panasonic: Ahhh! Good suggestion!
EOSHD: That'll be £200 for that idea! (Laughter).
EOSHD: I also think there are opportunities in Playback mode, for a more smartphone OS inspired approach to image review and RAW conversion. The user interface has far too many steps compared to a smartphone. It would be quicker to have a gesture to swipe this way, and that way, to show a client instantly a different grade or LUT over the footage or a photo. The speed of the interface is important, customers don't have any patience!
(Laughter)
[Toshiyuki Tsumura takes notes]
Panasonic: Do you have any questions about the update coming later this year, for the S1 (V-LOG and 10bit video internal)?
EOSHD: When I first read that information, I think I misread it because I thought it said V-LOG and RAW video internal! My request would be RAW video, internal to XQD card (as top priority). I also have the idea to bring the video connection into an external monitor via the hotshoe, to avoid the wobbly HDMI cable.
Toshiyuki Tsumura: At Panasonic we frequently communicate with Atomos, and we are discussing about how to improve in future.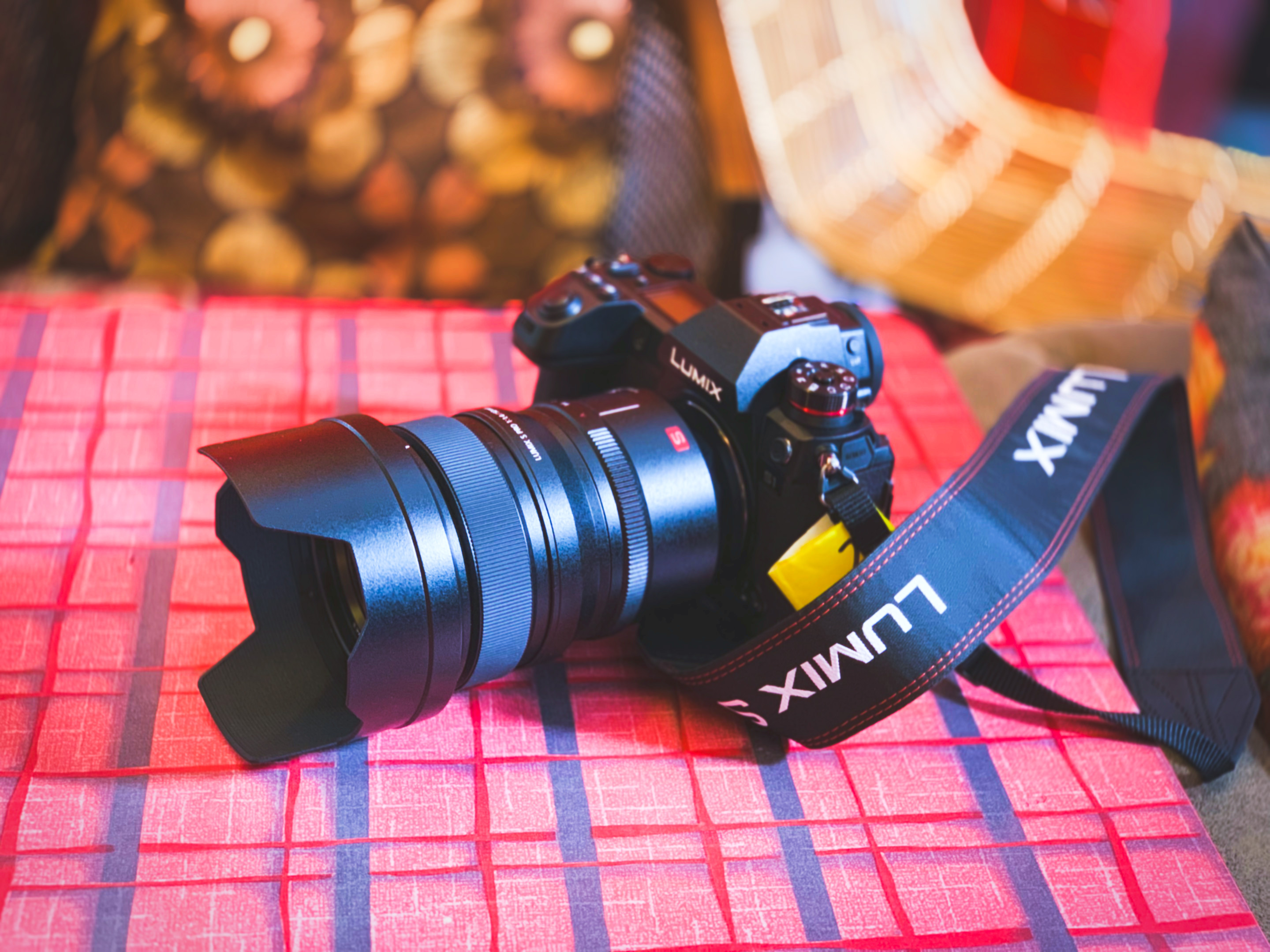 A word on lenses
The launch lenses are the Panasonic 24-105mm F4 Macro, the 70-200mm F4 S Pro and 50mm F1.4 S Pro. The zooms both have O.I.S. for stabilisation. The prime relies on in-body stabilisation alone.
The S Pro lenses are Leica certified.
The Macro capability of the 24-105mm was impressive, but I was most taken with the 50mm F1.4. It has an absolute cut-glass sharpness wide open and beautiful rendering.
Unfortunately these lenses are not quite as affordable as the S1, with the 50mm prime costing more than the camera body itself. Is a lens that can only be used on one system worthy of that kind of investment?
The 50mm F1.4 has a clutch-engage mechanism for manual focus, mechanically coupled rather than fly-by-wire mode. That's similar to some of the Olympus Micro Four Thirds primes and nice to see it return here. In addition you can set the focus ring travel to linear, making the Panasonic lenses suitable for use with a follow focus.
Above: the Panasonic 24-105mm F4 "kit lens" is tac-sharp, and pretty light as well
First impressions
Pros
Spacious body design, professional ergonomics
Incredibly customisable controls
Similar video quality to Sony A7 III and Nikon Z6
Extra bonuses over the competition include 4K/60p in Super 35mm mode and 180fps 1080p
Very satisfying skin-tones and dynamic range
Photo Styles include various video optimised settings, including CineLikeD, Like709 and a new Flat profile
More extensive Photo Style customisations including Knee
Incredible 5,760k-dot EVF – huge, but without the distortion of the G9. Highest resolution panel on the market. Better contrast than Leica SL EVF.
Very large capacity battery (large physical size as well)
The Panasonic 50mm F1.4 S Pro is their best yet, on any system whether L-mount or Micro Four Thirds. Simply stunning.
Cons
Although good, in-body stabilisation is not to GH5 standard in video mode
Autofocus performance is inconsistent, but will benefit from future firmware updates
Triaxial screen will disappoint vloggers, YouTubers, but fine for most pros and filmmakers
Small launch lens-range and expensive pricing especially of the 50mm F1.4
By no means is this a definitive "review" (it's a pre-production camera after all) – just a chance to get my hands on the camera before I buy one. Thanks to Panasonic for the chance to do that. I think there's quite a lot left to explore in the menus, which I didn't have time to dig into. It's a pity about the AF and the lack of RAW video capability, now that Nikon has announced ProRes RAW with Atomos on the Z6 and Z7. I think Panasonic have done a good job for filmmakers though overall, in bringing some of the unique benefits of Micro Four Thirds into an all-new full frame system (size advantage aside), even if it's not a direct video-oriented replacement for the GH5 (or a Blackmagic) there is a clear desire to pack in the video features. There are things here that just aren't in a Sony rival, like the sensor-shift high-res mode for stills and 6K Photo mode. HDR stills and 4K/60p are other firsts, as is the extremely high resolution viewfinder.
There's a clear desire to leave the size advantage to Micro Four Thirds and allow the S1 to go large. That has pros and cons in itself. It's not a lightweight system and will weigh as much as a high-end DSLR. Wasn't that supposed to be one of the benefits of going mirrorless? Whereas the Sony A7 III body is a little bit too cramped, the S1 is as large as a DSLR and the lenses far larger than Leica M glass. I think there's a happy medium in there somewhere, perhaps the Samsung NX1 in terms of body size and more smaller primes. Even the more affordable Leica M lenses from Voigtlander prove you don't need to sacrifice fast apertures like Nikon have done, check out the size of the 35mm F1.2 and 50mm F1.2 Aspherical vs Nikon's Z series 35mm and 50mm F1.8! Panasonic will argue that the 50mm F1.4 is so big and heavy for the benefit of the image, and indeed it is, especially to reduce vignetting and increase corner sharpness but all that glass is also mega expensive. Why wouldn't you  let customers choose between a smaller, lower performance, artistic, more affordable set of primes, as well as the expensive cutting edge stuff? Why launch a mid-range priced enthusiast camera with only one standard fast prime that costs more than the camera itself? At least this is a temporary problem, and I am excited to see what autofocus lenses Sigma bring to L-mount. Probably the entire ART range and then some.