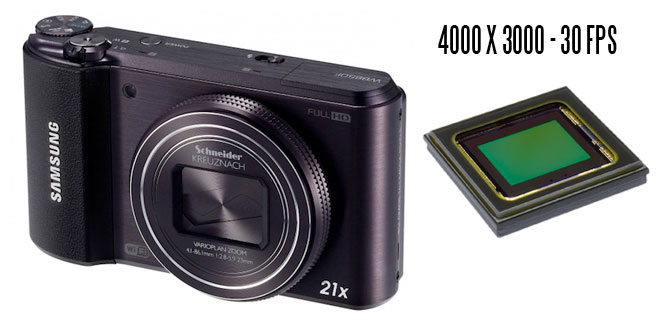 Samsung have revealed a new CMOS sensor which does 4K/30p (12MP at 30 frames per second). The bad news? It is trapped inside the body of a $400 compact camera!
The image processor mated to the sensor does not store the 4K video stream, instead it downscales to 1080p and allows the simultaneous capture of 12MP stills. The impressive sensor is a 16MP 1/2.3″ BSI CMOS with digital readout and shows something of a breakthrough in terms of data throughput and speed. Whilst 1080p is recording to the card, every frame the sensor sends to the image processor 30 times every second is a whopping 4000×3000 4K image, continuously.
It is definitely a sign of things to come, once the consumer camera image processors catch up.
Since the sensor outputs 12MP it scales very evenly to 1080p, so it should be interesting to see how clean and detailed the video is on this camera compared to previous compacts. The Sony HX9v for example does a great job of video scaling from a 16MP sensor, beating the Canon 7D, Nikon J1 and Sony NEX 7 in terms of resolution, moire and aliasing but it is not at the GH2 level.
The WB850F also has WiFi which connects to an Android or iOS (iPhone) device. This means you can download onto the iPad wirelessly or onto other devices out in the field and use an app like Camera+ to retouch the photo and post on social networking sites. It isn't quite the 'App Camera' we need for 2012 but it is closer than ever.
It all begs the question –
If a $400 compact can have a 4K/30p sensor and WiFi why doesn't a $5000 DSLR?
The WB850F ships in April for $379.