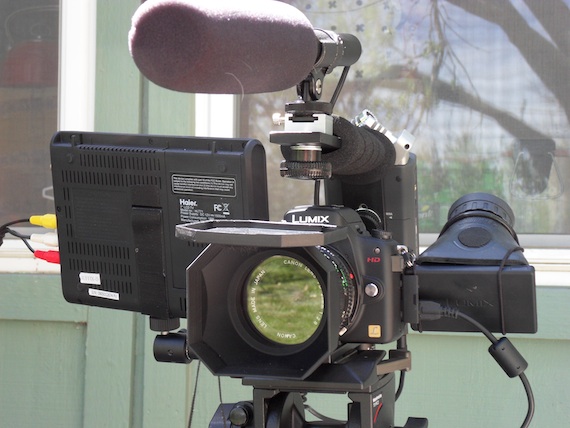 (Rig by Jay Shaffer)
Good news. I have received a rumour from a very good source close to the Panasonic group that the Panasonic GH2 features manual audio control.
At this stage we should take it as just a rumour and not a life changing event. Please don't sell your Zoom H4N just yet!
For better audio, the the Panasonic GH2 will support external mics in a much better way than before. This makes sense for Panasonic, who hope to sell their own external mics – similar to the shotgun mic they produced for the GH1 which fits into the hotshoe.
The GH1 had extensive manual control of the image in video mode but nothing for the attached mic, which lead people to rely solely on AGC. This becomes a real problem when trying to record somebody speaking in the midst of 360 degree noise, for example on busy streets.
I recently bought a Zoom H2 for dual-system audio and synced using PluralEyes in Final Cut Pro. This is a great solution but it does require the Zoom handset to be positioned correctly, and out of the shot – often this requires a second person to assist, or for a bulky audio rig.
Currently I think the dual-system audio solution is best for DSLR filmmaking, because none of the current DSLRs other than the 60D and 5D Mark II with Magic Lantern hack have adequate control over audio when a mic is attached.
As Photokina approaches, here is a reminder of what Panasonic's official product brief for the GH range of cameras was back at a presentation at PMA 09. They had the following on the slides…
– Creative HD hybrid
– Creative control with Creative Movie Mode
– High image quality
– Easy of use
After the disturbing recent actions of Sony and others it's good to see the emphasis is on creative control at Panasonic!
Within 2 weeks myself and 43Rumors will announce the full specs for the Panasonic GH2, ahead of it's unveiling at Photokina which I will attend on the first two days – 21st and 22nd. Hope to see you there!