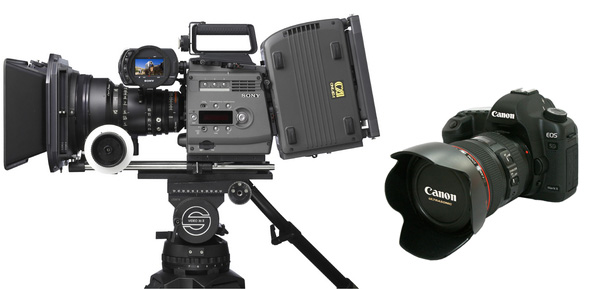 "indistinguishable" – Rick McCallum
In an interview with Cinema 5D at NAB, the Star Wars producer revealed that the Canon 5D Mark II was used for footage in Lucasfilm's new movie Red Tails starring Cuba Gooding Jr., Terrence Howard and written by George Lucas. Philip Bloom was behind the B camera.

Wow – great interview. You can tell from every answer that McCallum totally gets HDSLRs. He's not a technical guy but he gets the concept and what the movement is all about. This is what I like about people with this mentality. They don't get bogged down in technical detail, they can see the bigger picture and the potential affect technology can have on an art, an industry.
The footage was intercut with the main camera, a Sony F35 and was "virtually indistinguishable". The small size of the 5D Mark II meant the crew had more space to work with when shooting cockpit shots in the World War II movie about African American combat squadrons.
"Hollywood has always been number 2 in innovation, reluctant to change… the truth is nobody needs them anymore. Anyone can go out and make a movie."
"It's a democracy, with these cameras all you need is talent"
At the moment McCallum thinks the only issue preventing the 5D Mark II's full frame sensor from making the leap to 'A' camera is the codec. He doesn't sound too concerned about line skipping, aliasing or rolling shutter that's for sure.
"Once we get RAW, it goes from B or C camera to A camera, and that's going to be really exciting"
Canon too understand how powerful a weapon they have on their hands. It has the capability in the future to make some very expensive 'A' cameras obsolete. So they're pushing to get to the front of the new market, pushing the movement and working with top-grade filmmakers like Lucasfilm by providing them with the 24p firmware early, and providing support. If it wasn't for the massive potential and getting to future markets early, it's possible that the 5D Mark II would have remained without video firmware updates, and would still be thought of as a stills camera.
Rick also has praise for Zacuto and Redrock. "These are the guys off the main hall at NAB that are the real innovators"
He says that for too long filmmaking has been a myth and an elitist industry, especially in Hollywood.
"Everybody has always tried to mythologise a movement. What's so great about this movement is people are trying to demythologise it, people are saying – no, look – this is all you have to do"
Great stuff!