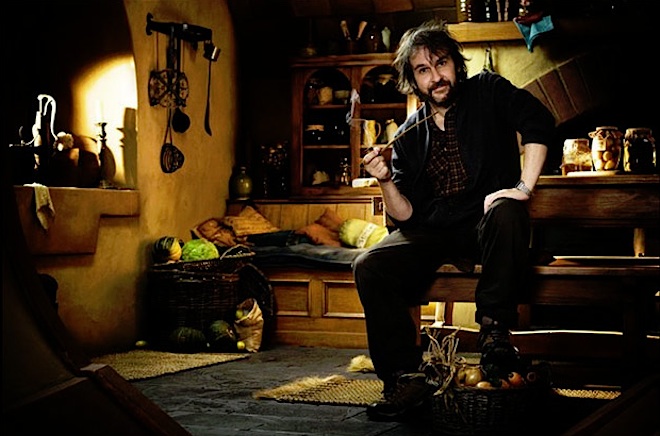 Peter Jackson is unfazed by criticism The Hobbit looks un-cinematic by saying the clips shown at Cinemacon were unfinished and their duration not long enough for the audience to acclimatise.
Speaking about the 10 minutes of EPIC shot footage in 3D at 48fps which is the source of the criticism, Jackson remarks:
"It does take you a while to get used to. Ten minutes is sort of marginal, it probably needed a little bit more. Another thing that I think is a factor is it's different to look at a bunch of clips and some were fast-cutting, montage-style clips. This is different experience than watching a character and story unfold… I personally wouldn't advocate a 48-frame trailer because the 48 frames is something you should experience with the entire film. A 2 1/2 minute trailer isn't enough time to adjust to the immersive quality."
According to the Hollywood Reporter article, Jackon watches dailies at 48fps every day, sometimes up to 2 hours worth.
"You get used to it reasonably quickly,"
Jackson says that having aclamisted to the new frame rate he feels the shortcomings of 24fps more and more.
"I'm very aware of the strobing, the flicker and the artefacts."
Presumably the artefacts he mentions are related to 3D 24p. He goes onto explain that the footage at Cinemacon had not gone through the final post production process and that the final film would look a little less like I Claudius HD.
"We have obviously seen cuts of our movie at 48 and in a relatively short amount of time you have forgotten (the frame rate change). It is a more immersive and in 3D a gentler way to see the film. We are certainly going to experiment with different finishing techniques to give the 48 frames a look that is more organic. But that work isn't due to start until we wrap photography in July"
The footage is being shot in 5K on the EPIC, and lacks the traditional motion blur associated with film's 180 degrees shutter at 24p.
Simplistic and dream-like or glossy and crisp? I suppose it a sense I like my art to be primal, raw and primitive and the constant march of technology and my urges for better images run counter to that. Maybe it is time to take stock and look at the old cover of The Hobbit below (though not the original 1937 first edition version – that was even more primitive!) to realise what we're missing in many modern motion pictures.
A very similar thing has happened in the evolution of video games – in the way the touch of the human hand during the retro days of hand draw sprites has been swept away by more and more photo realism, 3D and high frame rates. There will always be room for the artistry of a human hand however primitive and much as I love technology, 2D cinema is going nowhere in my opinion. And this isn't some nostalgia thing!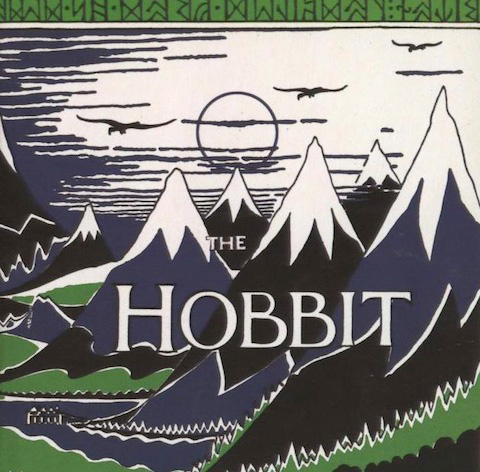 Via the BBC
Source Hollywood Reporter
Prototype Zeiss anamorphic coming at IBC in September 2012
From a Zeiss product manager:
We only showed a Concept Anamorphic at the NAB Show. [This] Concept anamorphic is the result of a technical study which shows advanced and outstanding 
technology which is already well improved and will be further developed and focused by our
 product management. We decided to name it a concept following the example of the automotive industry.
 We will show a first prototype on IBC 2012 in September and release all the technical details as well.
Thanks Stéphane
Nikon D3200
The Nikon D3200 could be interesting for DSLR video shooters not ponying up to recent pricey models such as the Nikon D800 and 5D Mark III.
I'm curious about this camera because it partners a 'Nikon developed' version of Sony's NEX 7 sensor with the very capable EXPEED 3 processor – the same found in the D800 (and $6k flagship D4) which does a rather good job of video (at least in the D800!). How will it compare to the already very capable NEX 7?
The camera also has a few 'bonus' features that you wouldn't expect for the price – like on screen audio meters and full manual control of video, PAL / NTSC worldcam switchable 24p and 25p, 60p in 720p and a 921k LCD. ISO goes all the way to 12,800 in video mode.
HDMI is fit for monitoring but isn't clean of icons so no external recording to the Atomos Ninja on this one (unless the final firmware is adjusted to support this).
It is unlikely to offer a better image in video mode than the GH2 but it is worth keeping an eye out for proper sample footage (not heavily compressed YouTube stuff) ahead of its release in May.