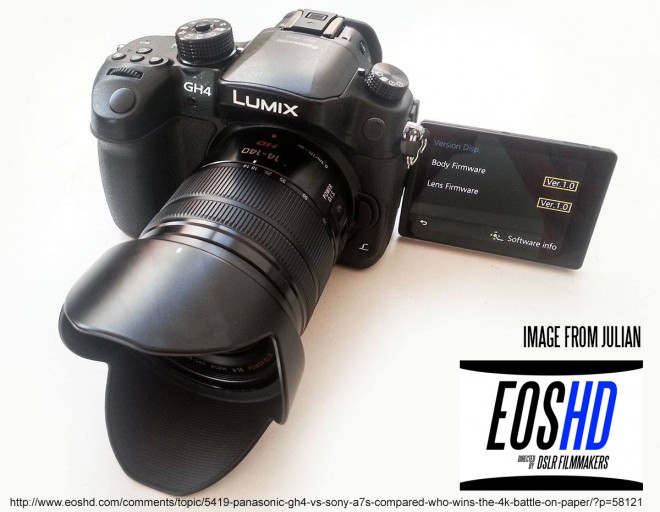 First bit of news – the highly anticipated Sigma 50mm F1.4 DG HSM ART now has a price. Lower than expected at $995. Early reviews say this lens is close to the $3.5k Zeiss Otus in performance terms.
This will be an exceptional piece of glass to use on the GH4 with Speed Booster. Pre-order the Nikon mount version at B&H for $995 if you plan to use Speed Booster. The Canon mount version is also available. If you prefer to buy from Adorama you can order the Nikon mount version here as well as the Canon EF one for the same price.
Now onto the GH4. The above shot by EOSHD forum member Julian confirms that Panasonic have now completed the final production firmware for the GH4 (version 1.0). The unit pictured above was loaned to Julian but it is a good sign the camera will be shipping on time from stores – possibly by the end of this month in less than 2 weeks.
The unit myself and Frank Sauer are currently shooting with has pre-production firmware (version 0.5) which is why I have not yet put out a final definite review.
I hope to complete this before the camera ships and if not will just use my pre-ordered unit when that arrives as I am buying this camera myself.
I am shooting more at the weekend with the GH4 so the next part of the production diary is on the way.
Until then be sure to have a play with the 10bit 2K converted with Rarevision's GH4 444 app and post your results on the EOSHD forum.
I said it before and I'll say it again… 4K = great 2K! It isn't just about resolution.
I think if you just want better 1080p then now is the time to upgrade from the GH3 and hacked GH2.