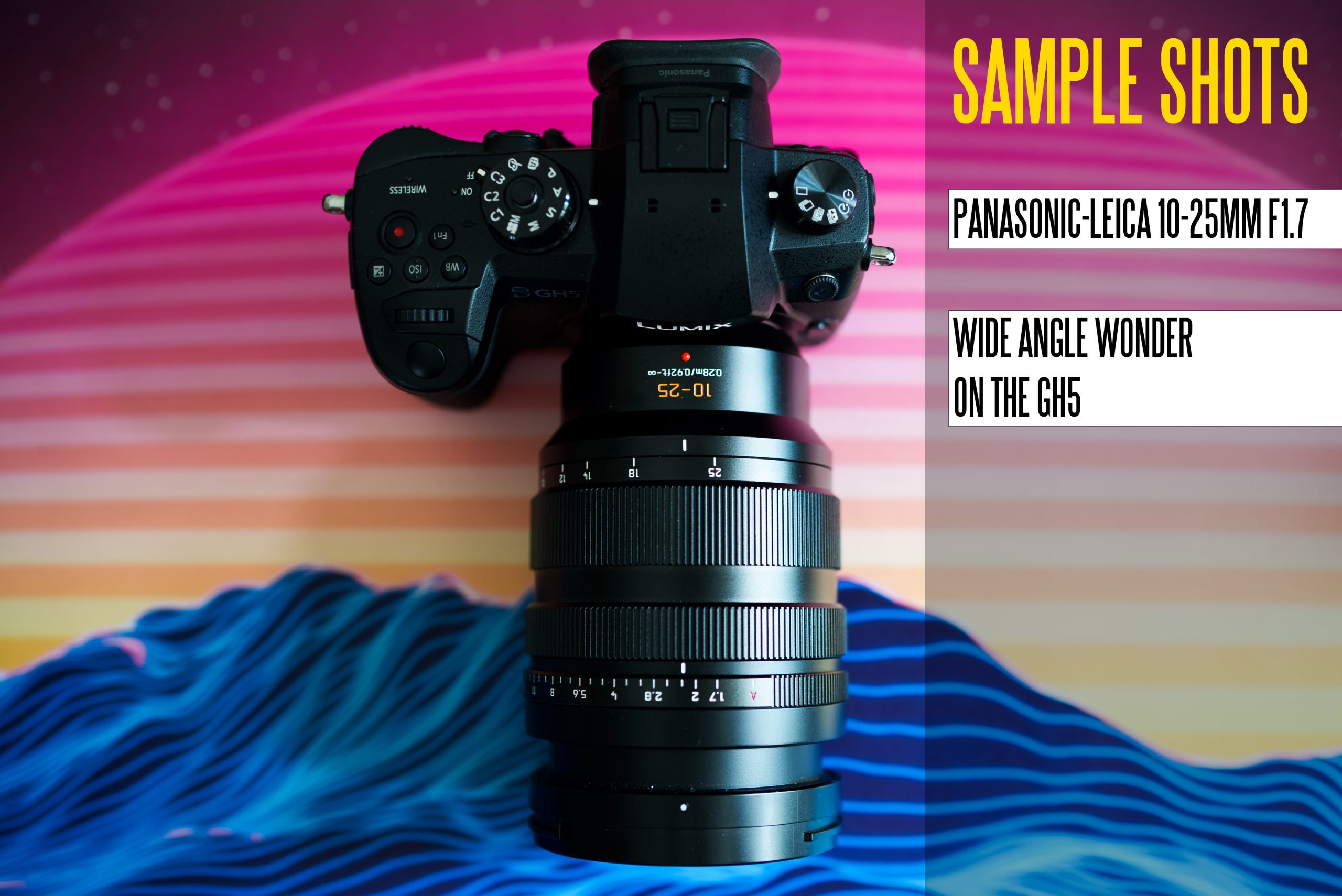 The 10-25mm F1.7 will soon be getting a sister lens, to extend the range through 25-50mm again at F1.7.
I am taking the original for a trial run to see how it performs.
With Panasonic and Micro Four Thirds equivalency to full frame has haunted the system for a long time. Ever since TONEH did his silly chart.
On paper the 10-25mm F1.7 is cutting edge optics – and it is. In full frame terms it is a 20-50mm F3.4 which doesn't sound as appealing does it?
So what is it really?
It used to be that Micro Four Thirds biggest selling point was size. Small lenses, small prices, big image quality.
The 10-25mm certainly isn't small or at the affordable end of the lens range.
In recent years full frame cameras have got smaller, and Micro Four Thirds lenses have grown!
Now the Panasonic S5 is out, and taking onboard feedback that the S1 was too large, the S5 is tiny and you can put a Sigma 28-70mm F2.8 for L-mount on there and end up with a smaller camera than the GH5 with 10-25mm.
So for photographers, the S5 is probably going to win the argument. Given the choice most full frame users would go for 24-70mm F2.8 or sacrifice the wider end for the Sigma 28-70mm because it's smaller. But 20-50mm F3.4 (equivalent) would have been the kind of range and aperture you'd see on budget lenses or the very early zooms in the SLR days and 1980s.
However Panasonic created the 10-25mm F1.7 for GH5 and GH5 II users so that they could have a vlogging lens for YouTube, and an all-round run & gun lens for documentary filmmaking. It has a big advantage in low light with the extremely bright F1.7 aperture, and it replaces no less than 3 primes and is as sharp as a prime as well.
The convenience of not having to change lenses in the middle of a scene, or to carry on recording during an important moment in a documentary is worth the extra money for most videographers. It could also see use at weddings and for general commercial videography. The manually engaged clutch mechanism for mechanical manual focus (with hard stops) and manual aperture ring are great to have and quite rare to find these days.
So this lens is not really the equivalent of anything. It's unique.
All the following shots were taken wide open at F1.7 on the Panasonic GH5. The sharpness, even in the corners and lack of vignetting is apparent. I found the lens makes for perfectly frames portrait shots with no distortion at the 25mm end, so yes it can do people, and it captures amazing vistas and wide angle landscape scenes at the wide end again with upmost clarity.
Once again I find myself compelled by something niche, which is separate on the market from all the copycat zoom lenses for full frame cameras out there. Enjoy the shots…